Writing Lessons for the Year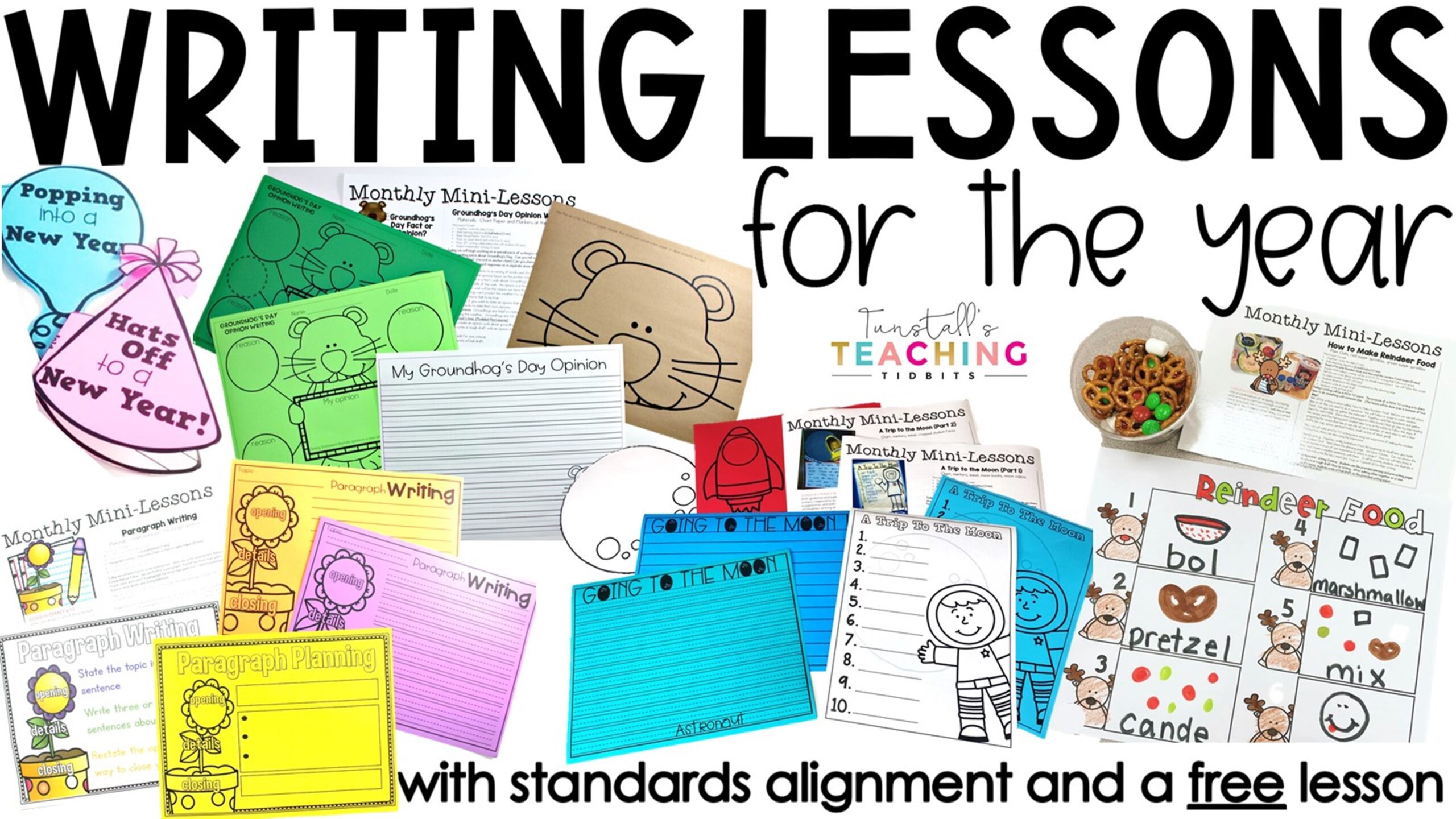 A year of writer's workshop mini-lessons that addresses the age-old question, "What am I going to do today for my writing mini-lesson?" Each mini-lesson helps to build competent, equipped, and motivated writers! This post takes a look at month-by-month writing lessons for the year.  Every writing lesson is standards-aligned to CCSS and Texas TEKS for Kindergarten, first grade, and second grade.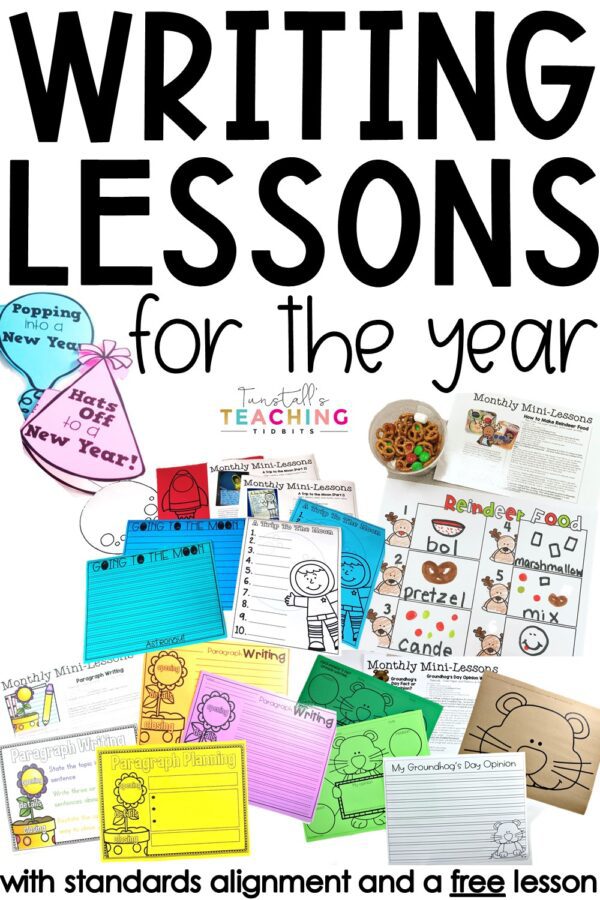 This is a free download standards-alignment guide for my bundles of writing workshop mini-lessons for the year for Kindergarten, first grade, and second grade.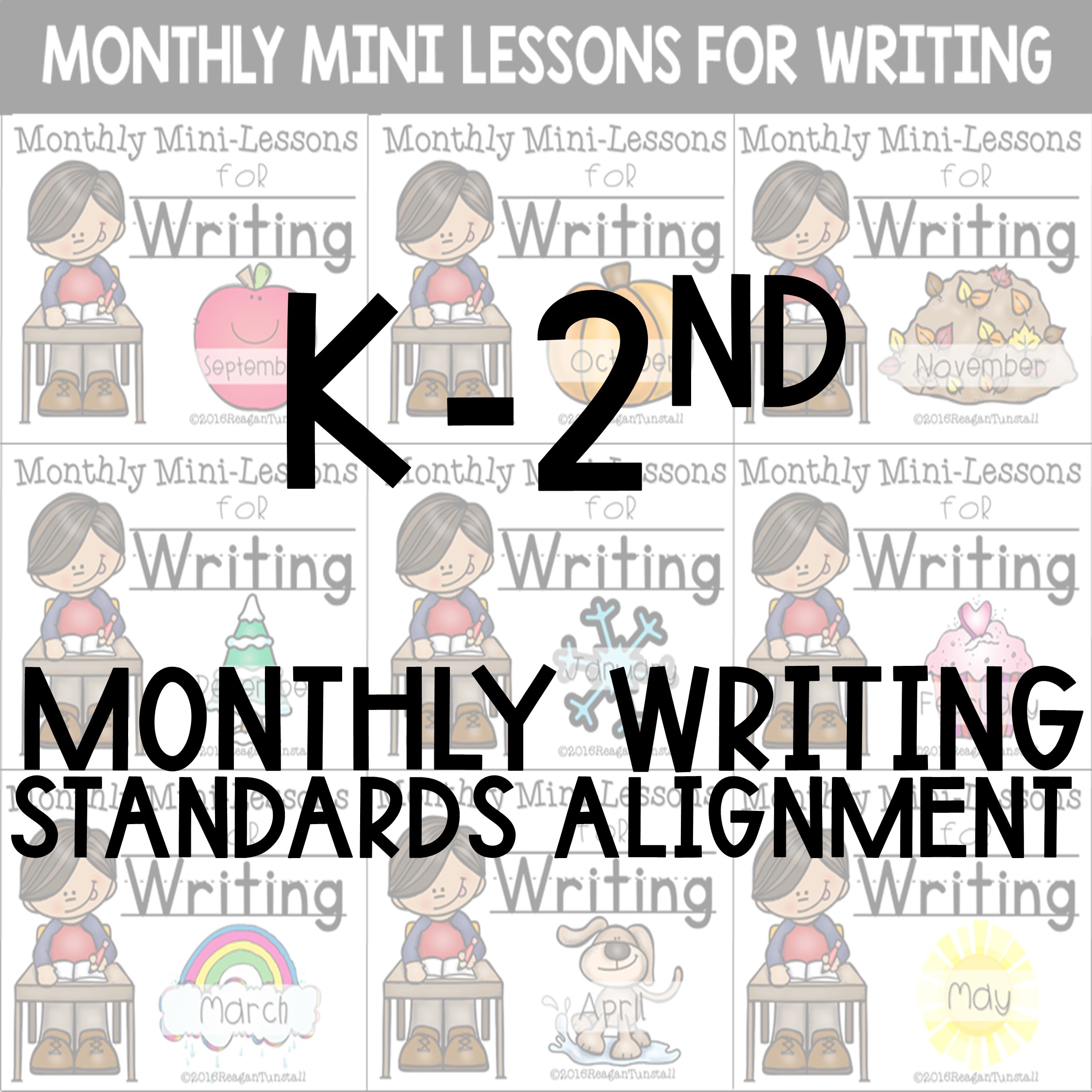 There is also a free sample lesson plan and writing templates from the February unit included.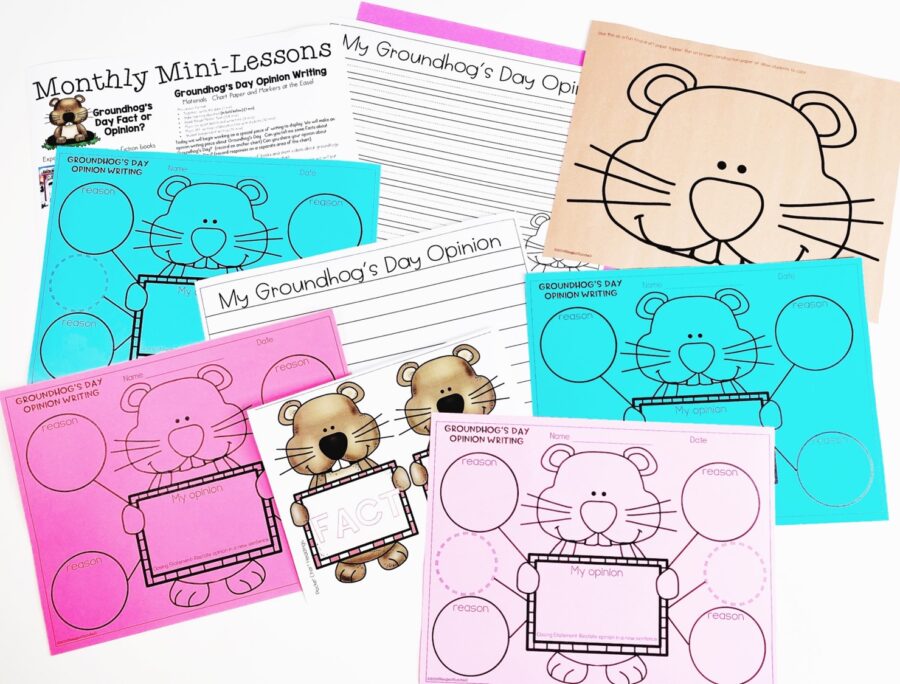 What is Included in the Year of Monthly Writing Lessons?
Each monthly writing mini-lesson unit contains:
General information on writer's workshop and the mini-lesson
Lesson plans and prewriting templates when necessary to fill the entire month
A variety of scaffolded writing paper templates for many levels of writers.
Extra writing paper for your writing center *optional
All of the units contain a variety of types of writing.  Some lessons can be done in a day or two.  Others allow for the full writing process.  How far you take each lesson is up to you and your budding authors.  You do not have to do all of the lessons to progress through the months. The units spiral review all the types of writing so students do not get in a rut and produce the same piece many times over.  When we change out the focus more often and then spiral back students begin to weave voice with word choice with perspective and have a wider range of skills to tap into.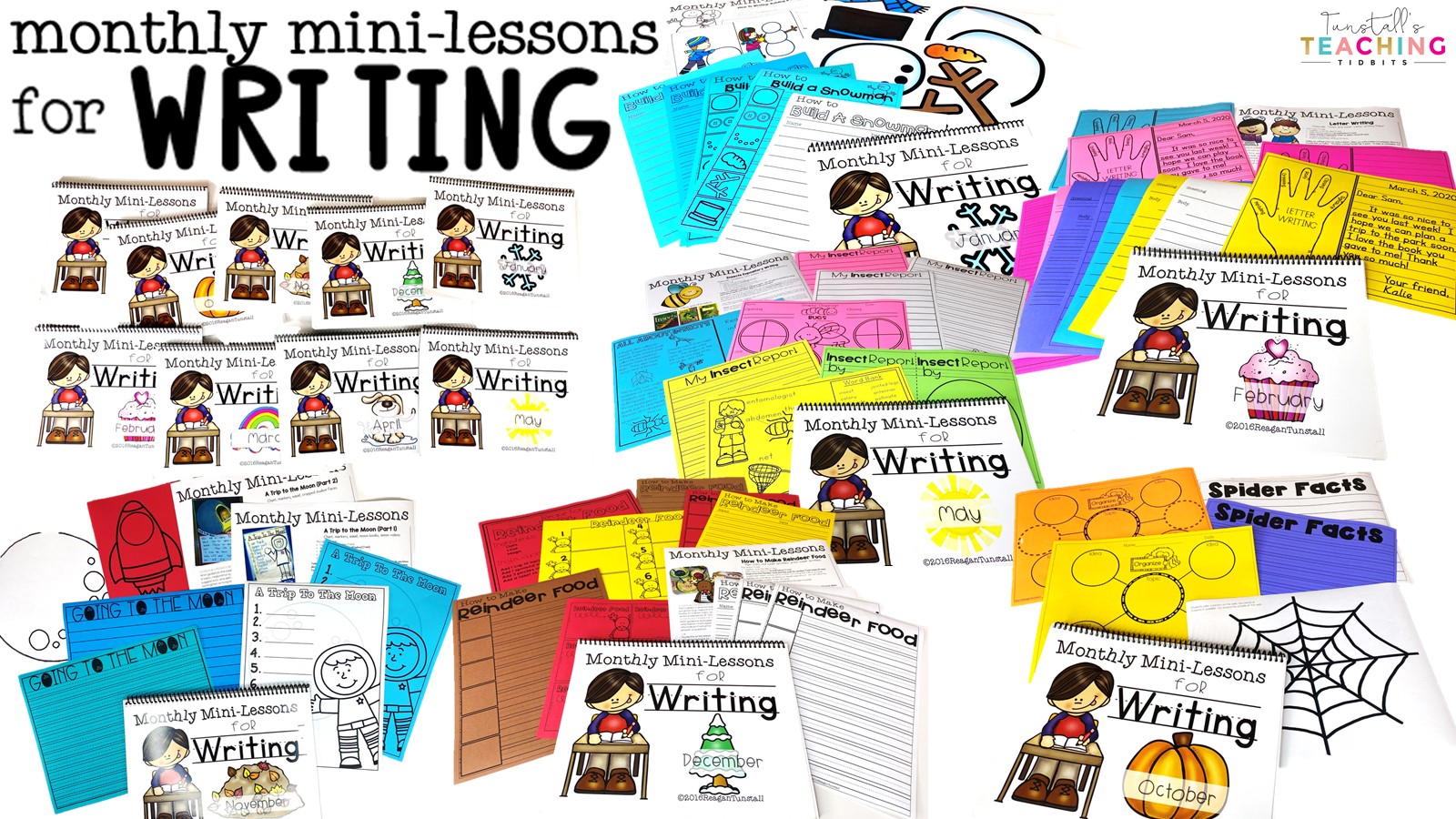 Grade Level Writing Mini-Lesson Bundles
To see the full year of lesson plans in a bundle you can click the links below. From there you can purchase individual months if that's what you need.
Below is a breakdown of the lessons for each month of the year.
Lessons in the August/September Unit
Our first month of writing is important to set the tone for the year.  Wasting no time, we jump right into encouraging all levels of learners to express themselves through drawings, words, and phonetic spelling.
Drawing and Labeling
Bubblegum Spelling
My Memories
Adding Details
Focus on a Topic
Starting Sentences
I know all about me!
A Special Fish
Johnny Appleseed Informative writing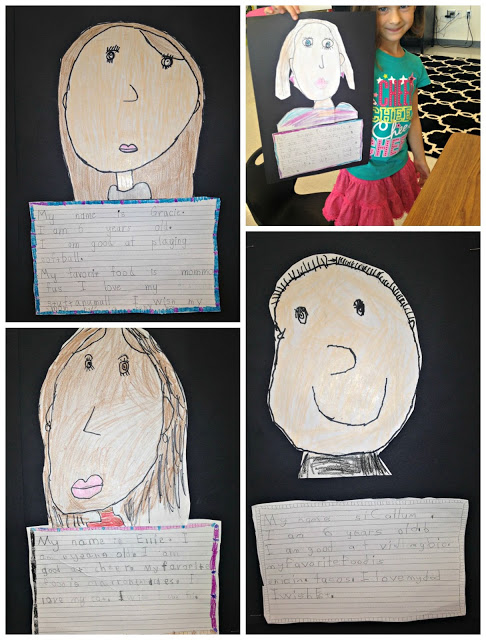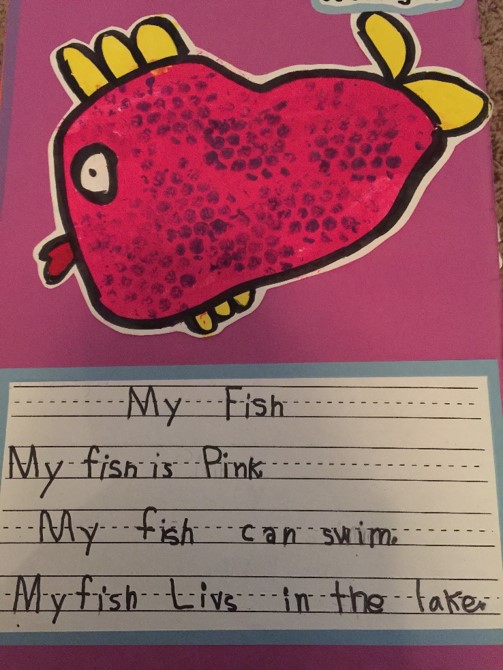 Lessons in the October Unit
This month is packed with spooky topics to excite reluctant learners to the world of writing.  Through the use of scaffolded writing organizers and templates, every level of writer can be successful.
Writers Organize Part 1
Writers Organize Part 2
Spider's Web of Organization
Spiders- Informative Writing
Bats- Eplanatory Writing
Bats- Opinion Writing
Apples and Pumpkins Contrast
Pumpkins Sequence Writing
Fire Safety Sequence writing
Lessons in the November Unit
November brings on a closer look at a writer's voice.  Students begin to find their own voice through careful practice and fun exploration lessons.
What is Voice?
Using Voice through Feelings
Voice through Word Choice
My five Senese for Voice
Head-To-Toe Voice Writing
America the Brave Research-Report
A Trip to the Moon (Part 1)
A Trip to the Moon (Part 2)
Talking Turkey Explanatory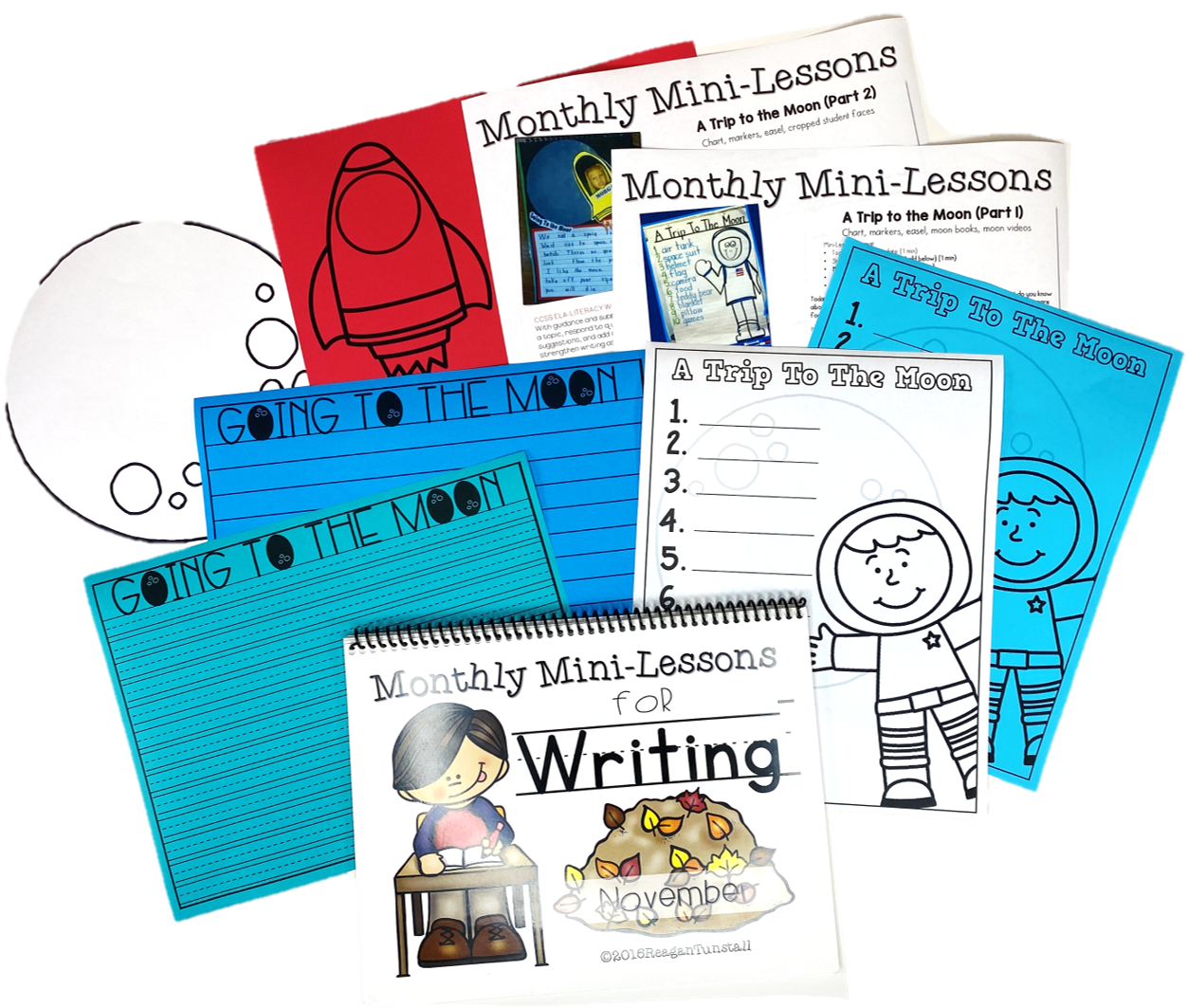 Lessons in the December Unit
Although December typically isn't our most engaged month of learning, our writing begs to differ.  Students make important leaps in learning during this festive time.
Word Choice Introduction
What Makes a Complete Sentence?
Animal Card Word Choice
How to Wrap a Gift writing
How to Decorate a Tree
My Gingerbread Story
How to Make Reindeer Food
Story Starters- Paragraph Writing
Story Closers- Paragraph Writing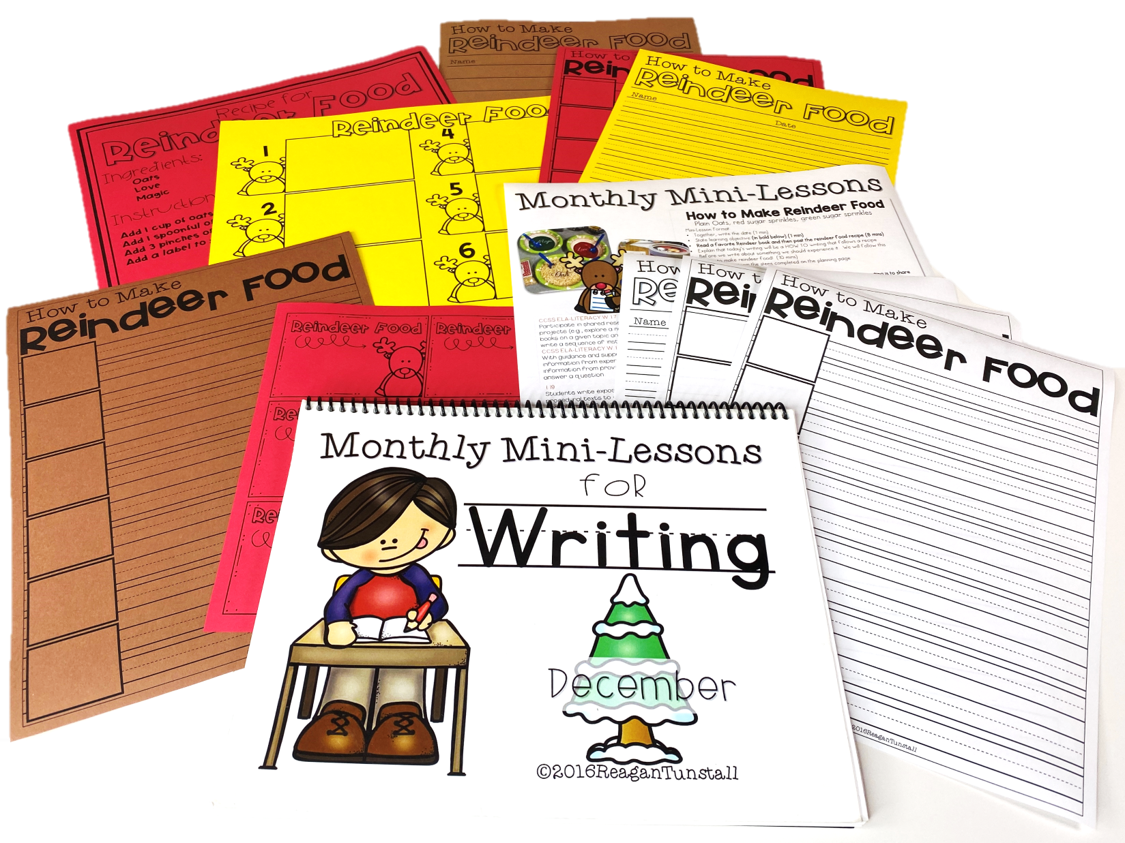 January Writing Lessons
Throughout the month of January, students use templates to learn more about the world around them.  This time of year we see that big growth begins to bud in our students.
New Year Goal Writing
Stories have a Beginning, Middle, and End
Influential People & Me!
Writing to Inform: Penguins
Research Writing: Winter Animals
How to Writing: Building a Snowman
Opinion Writing: Winter
Character Traits: Tacky the Penguin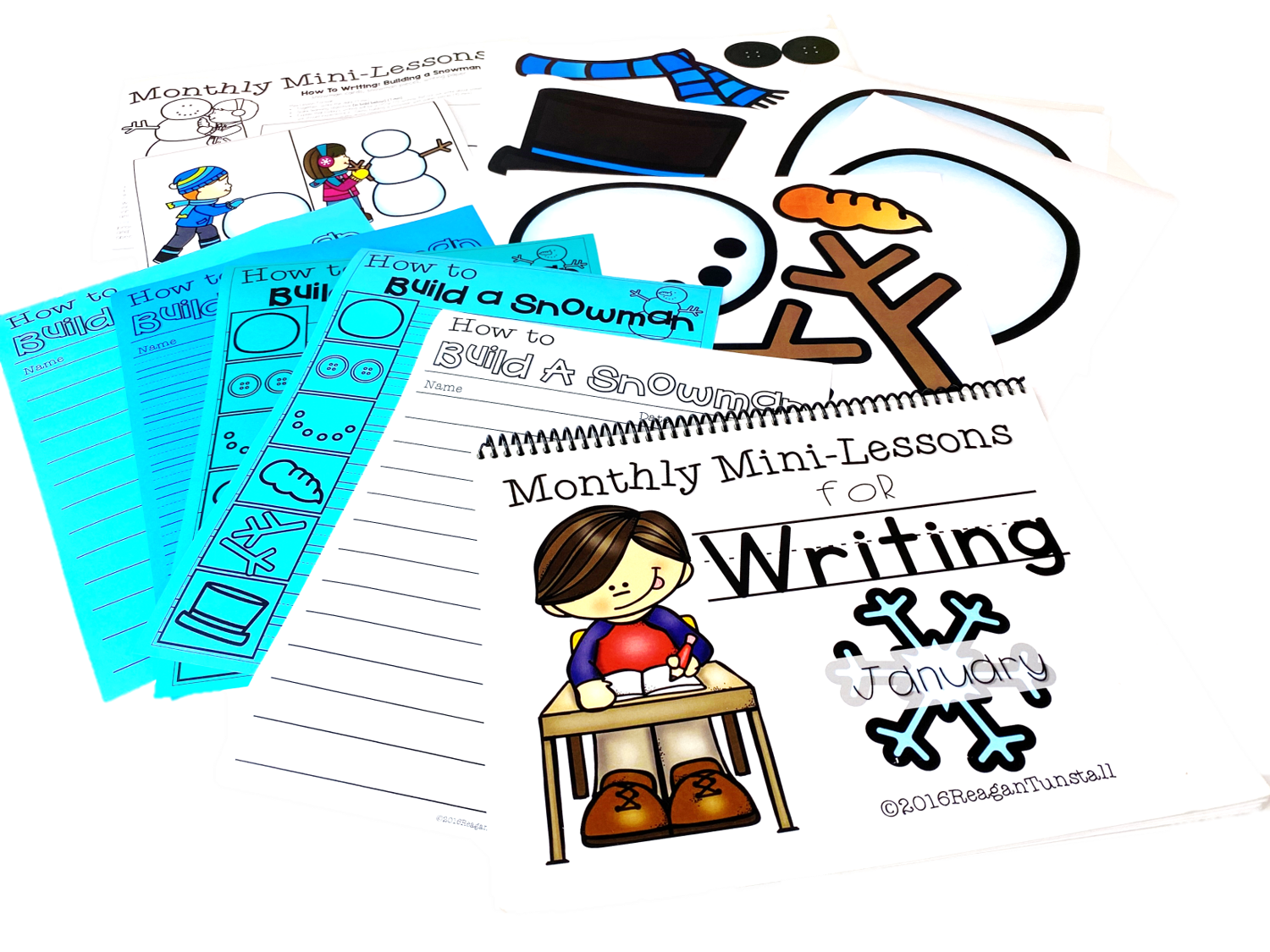 February Writing Lessons
February brings so many high-interest topics to the table.  We learn to write to a focused topic and share our opinion all through this exciting month.
Groundhog Fact and Opinion- Opinion Writing
Abraham Lincoln- Informative Writing
George Washington- Expository Writing
If I Were President: Personal Narrative
Dental Health-Sequence Writing
Letter Writing
Paragraph Writing
When I am 100- 100th Day of School Writing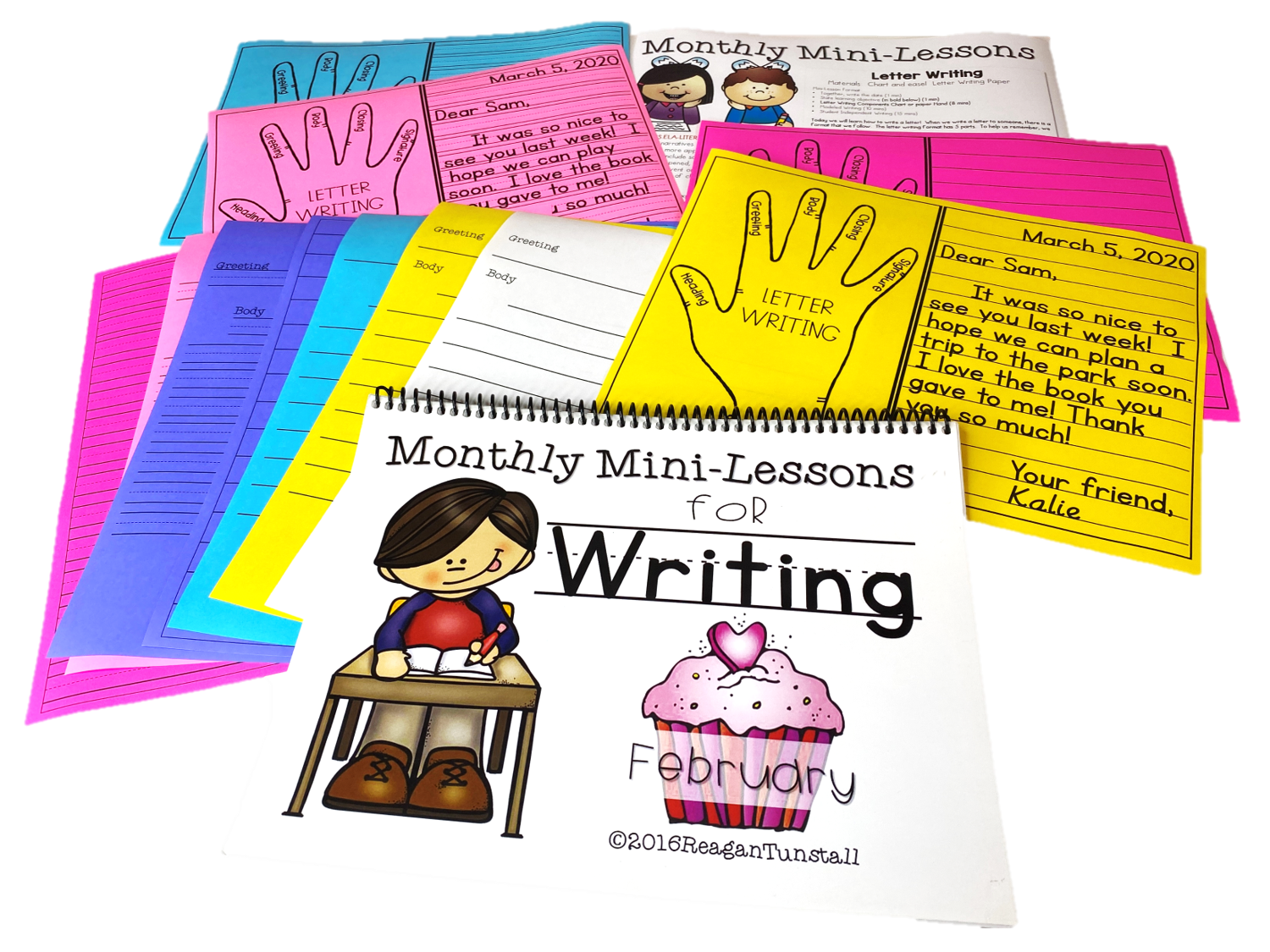 Grade Level Writing Mini-Lesson Bundles
To see the full year of lesson plans in a bundle you can click the links below.
March Writing Lessons
March brings more writing development!  We are now competent independent writers.  Through different topics and lessons, we flex our writing muscles in all sorts of exciting ways.
Leprechaun Adjectives-Descriptive Writing
My Lucky Life- Personal Narrative
Report Writing-Expository
Rainbow Template- Paragraph Writing
Life Cycle Sequence Writing
Season of Spring- Opinion Writing
My State Brochure- Informative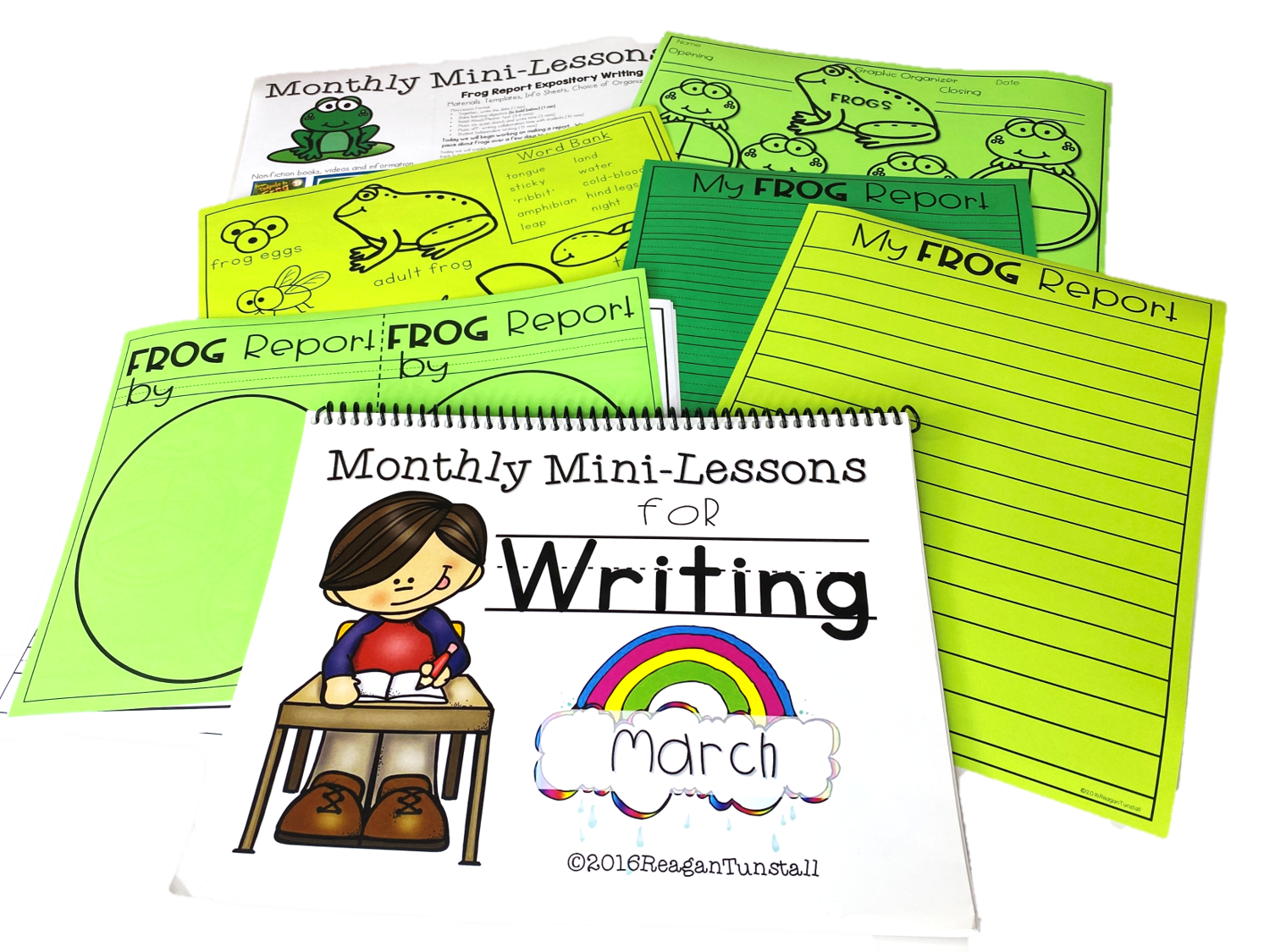 April Writing Lessons
In April we take a look at poetry.  Throughout the month of April, students explore poetry and use templates as they learn different ways to express themselves through poems.
Poetry is as easy as1,2,3 Number Poems
Animal Poem Riddles
Senses Rain Poetry
Days of the Week Poetry
Speak to Me: Picture Descriptive Word Poetry
A Little Seed Sequence Writing
Alliteration & Tongue Twisters Poetry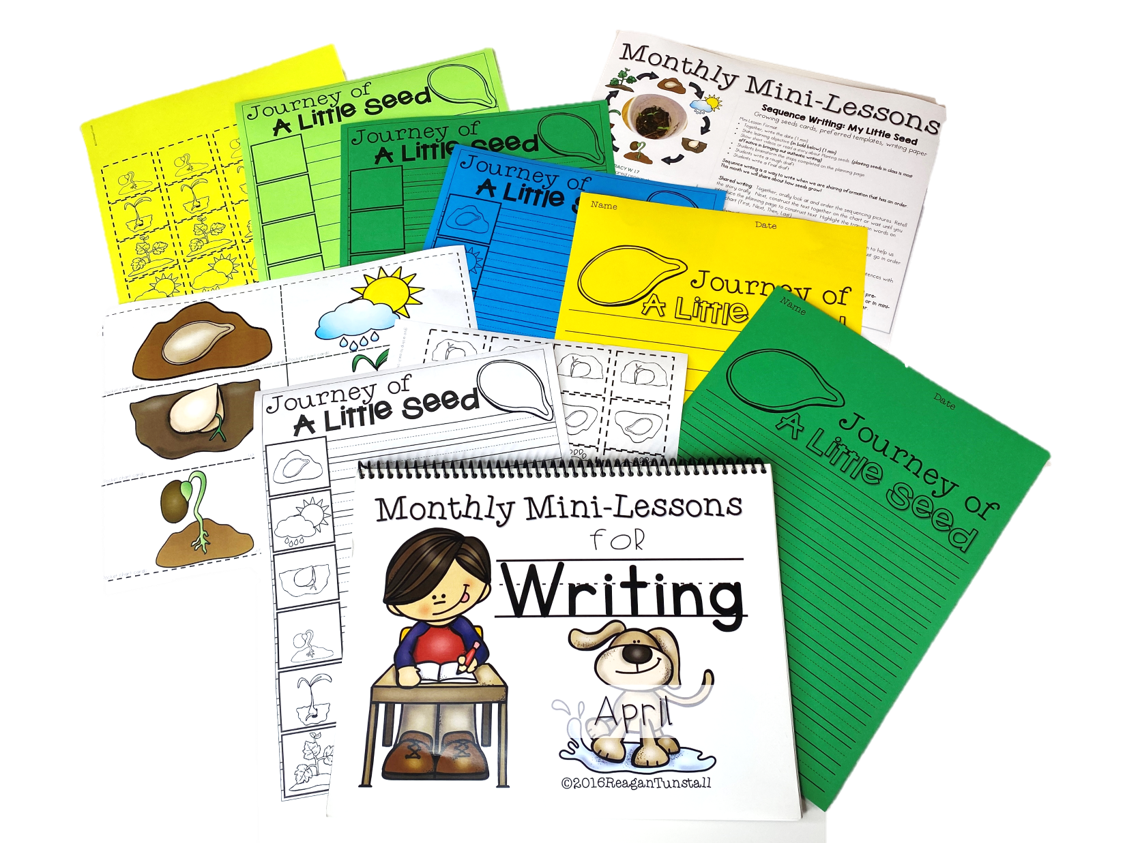 May Writing Lessons
Mother's Day Writing
A Special Woman in my Life Writing
Insects Expository Writing
Life Cycle of a Butterfly
Sequencing Writing
Dinosaurs Opinion Writing
Paragraph Writing Summer Topics
Rainforest Animals Report
Grade Level Writing Mini-Lesson Bundles
To see the full year of lesson plans in a bundle you can click the links below.
Writing Station
How does the writing center differ from the writer's workshop lessons? Come read THIS POST to see how I set up the Writing Station Suitcase. Or go digital with Digital Writing Warm-Ups.