Create the "Write Climate" in your Classroom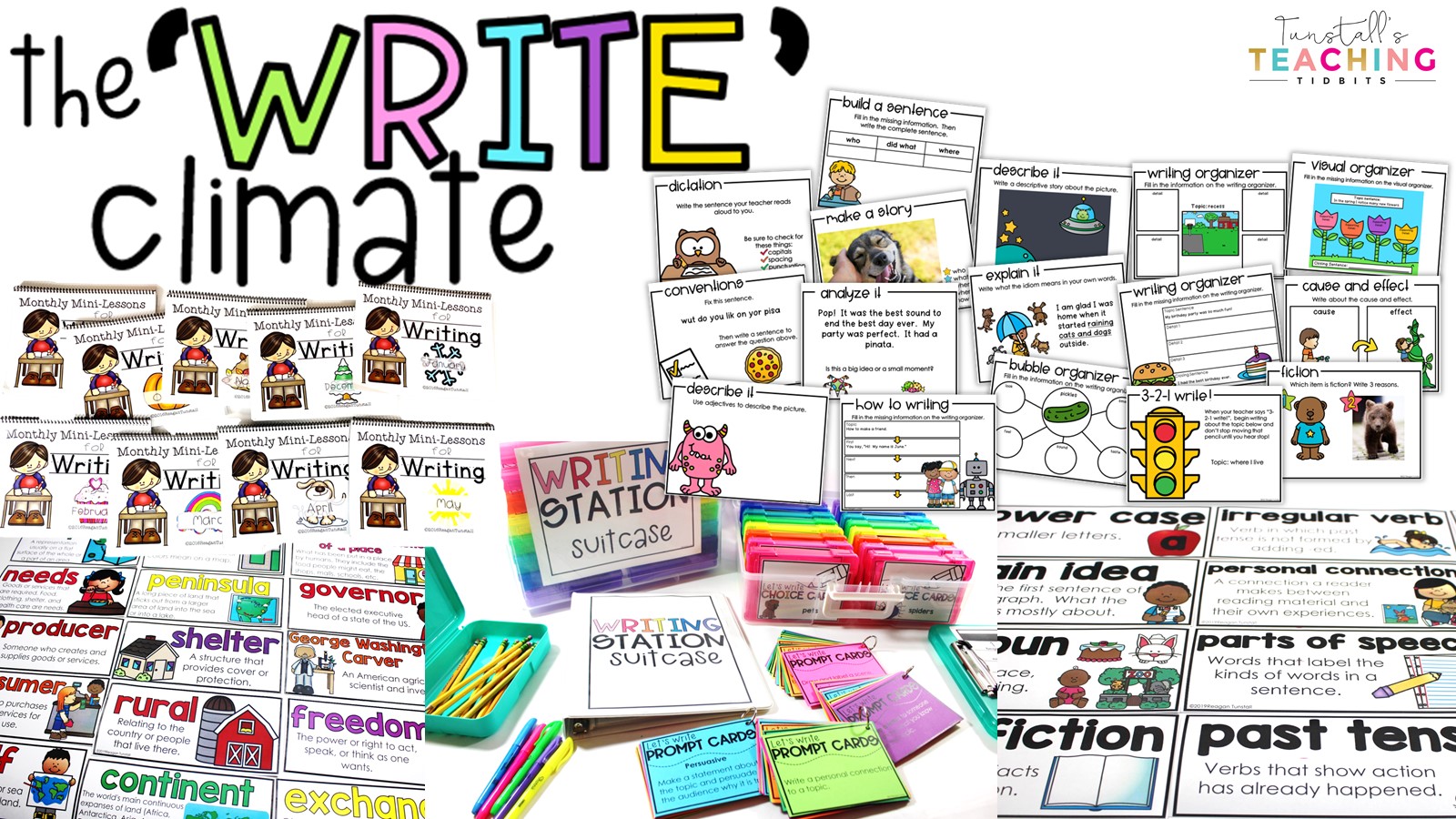 When it is time to teach students to write there are a few key things that make the process effective and rewarding.  Pulling ideas from thought to print requires a lot of skills to be at work.  Fueling not only the ideas and opportunities for writing, but the skills and process to put pencil to paper is a monumental task.  In this post, we will cover how to create the "write climate" in your classroom.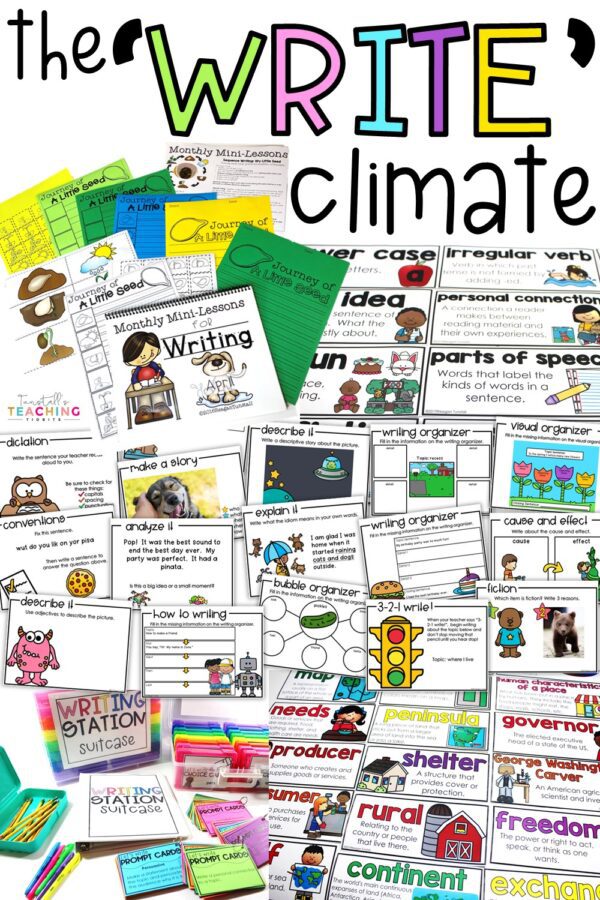 CREATE THE WRITE CLIMATE
Whether you teach the ELA side of a departmentalized block, or you enjoy a self-contained classroom, creating a classroom climate for writing requires weaving inspiration and opportunities to write throughout the day or class period.  When it comes to the multi-facets of writing, I think of providing four experiences.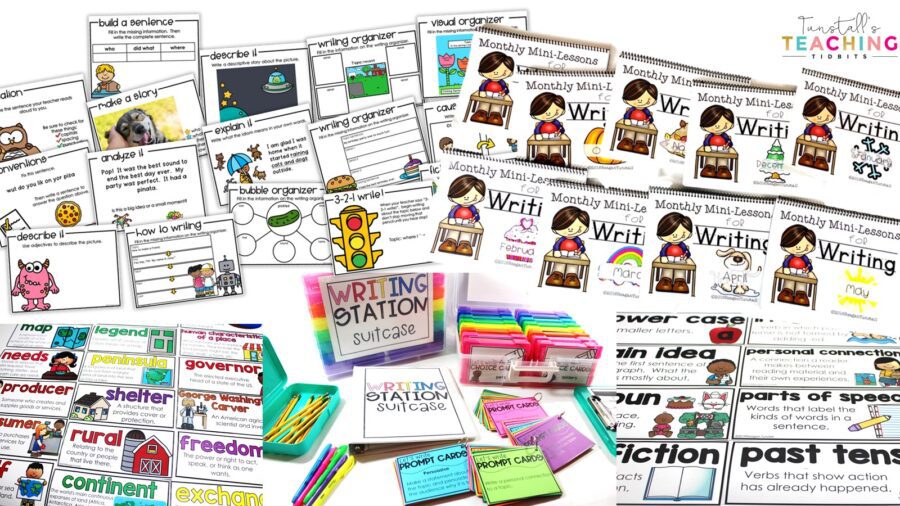 THE WRITING WARM-UP
It's so easy to fall into a rut with writing.  Realistically, inspiration doesn't come every day at 10:42 when the writing lesson begins.  No author in this lifetime can say they find inspiration to write quality material daily.  Writing instruction marries the rules of grammar, convention, syntax, with creativity and storytelling.  These skills are taught separately in the hopes that they will transfer to the written word in our students.  One way to keep students fresh on all of the skills that go into writing is to begin the writing time or ELA block with the chance to practice and apply these very skills. Just like we do math warm-ups, and literacy warm-ups, we also want to use writing warm-ups!
Writing warm-ups ensure that we are practicing and applying all of our standards through the school year with a specific focus on transfer in our writing.  When we do a writing warm-up, students not only have their own process for responding to the prompts but also see how others create a written response.  This is a powerful tool in writing growth.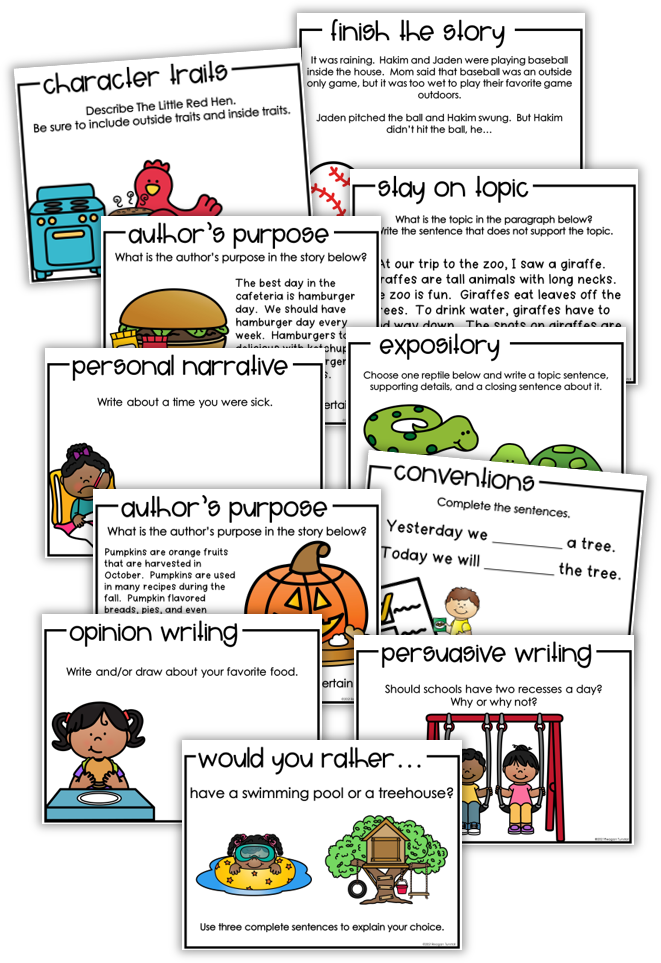 THE WRITING MINI-LESSON
Creating consistent and meaningful writing mini-lessons is a daunting task even for an experienced teacher.  I learned that teaching writing has powerful breakthrough moments.  Cue the single tear rolling down my cheek as I read a touching moment shared with voice, expressive vocabulary, and proper spacing in student writing.   Along with the breakthroughs, we also encounter lulls.  This is completely normal.  Not only in student engagement but in the lessons we teach.  So how do we keep the "write climate" and pace all through the year with mini-lessons? Present excellent writing examples and thought-provoking topics with experiences for writing.  No. Big. Deal.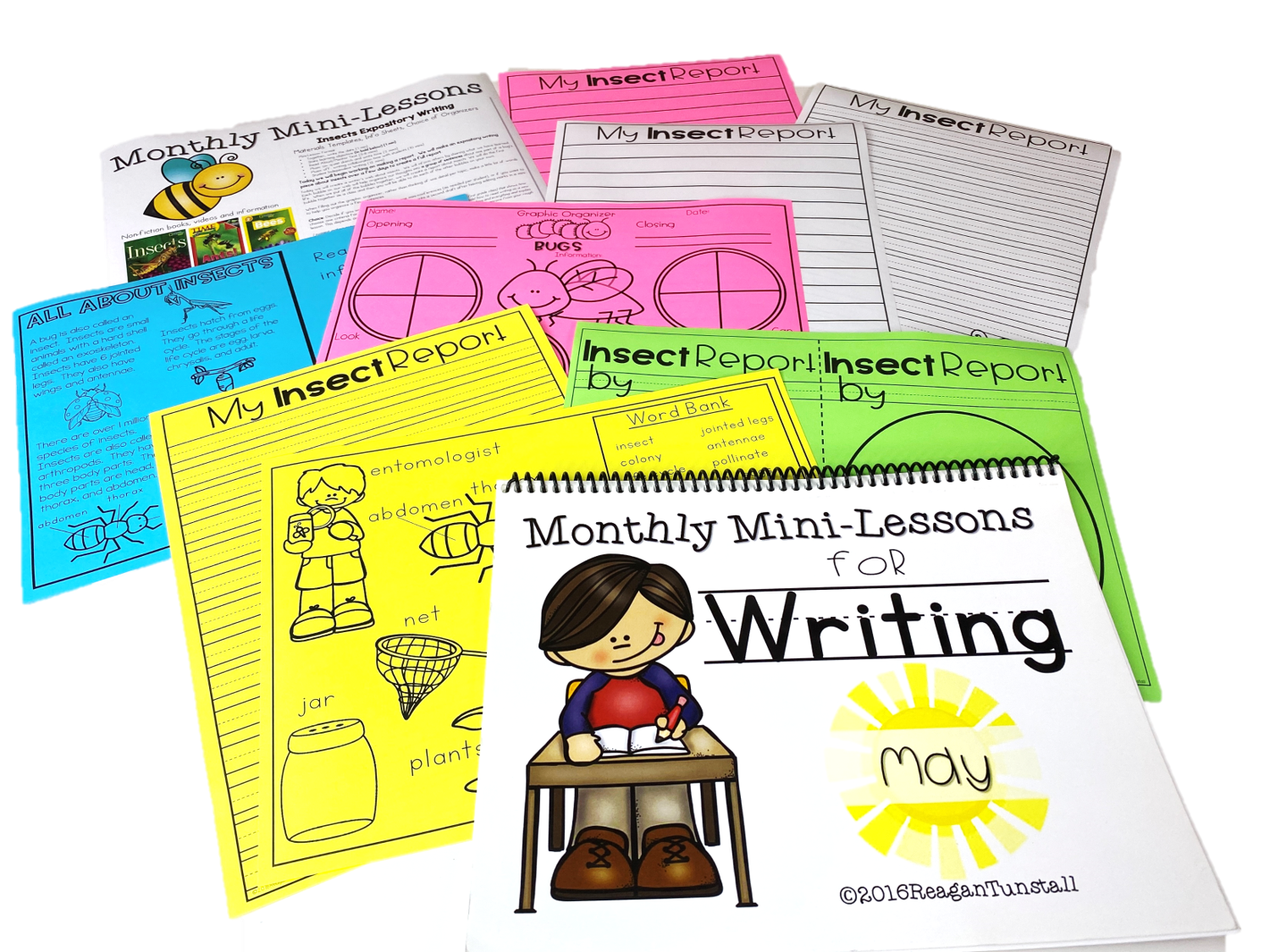 DIVIDE THE WRITING TIME
The writing mini-lesson consists of a short writing lesson from you as the writer.  During this mini-lesson, we highlight a wonderful piece of writing or use of skill within our writing standards.  Then we model using that same skill in our own writing process or piece.  The same goes for our budding authors.  First, they learn the new writing skill through seeing examples of it and watching you try it. That's the mini-lesson.  Then they have their own time to process and apply the skill in their own writing.  That's the independent practice time.  Generally speaking, I like to divide my writing minutes 40/60.  So, if I have 40 minutes to teach writing, I have a 15-minute mini-lesson and a 25-minute independent write time.  I can scale that up or down depending on how much time I have for writing each day.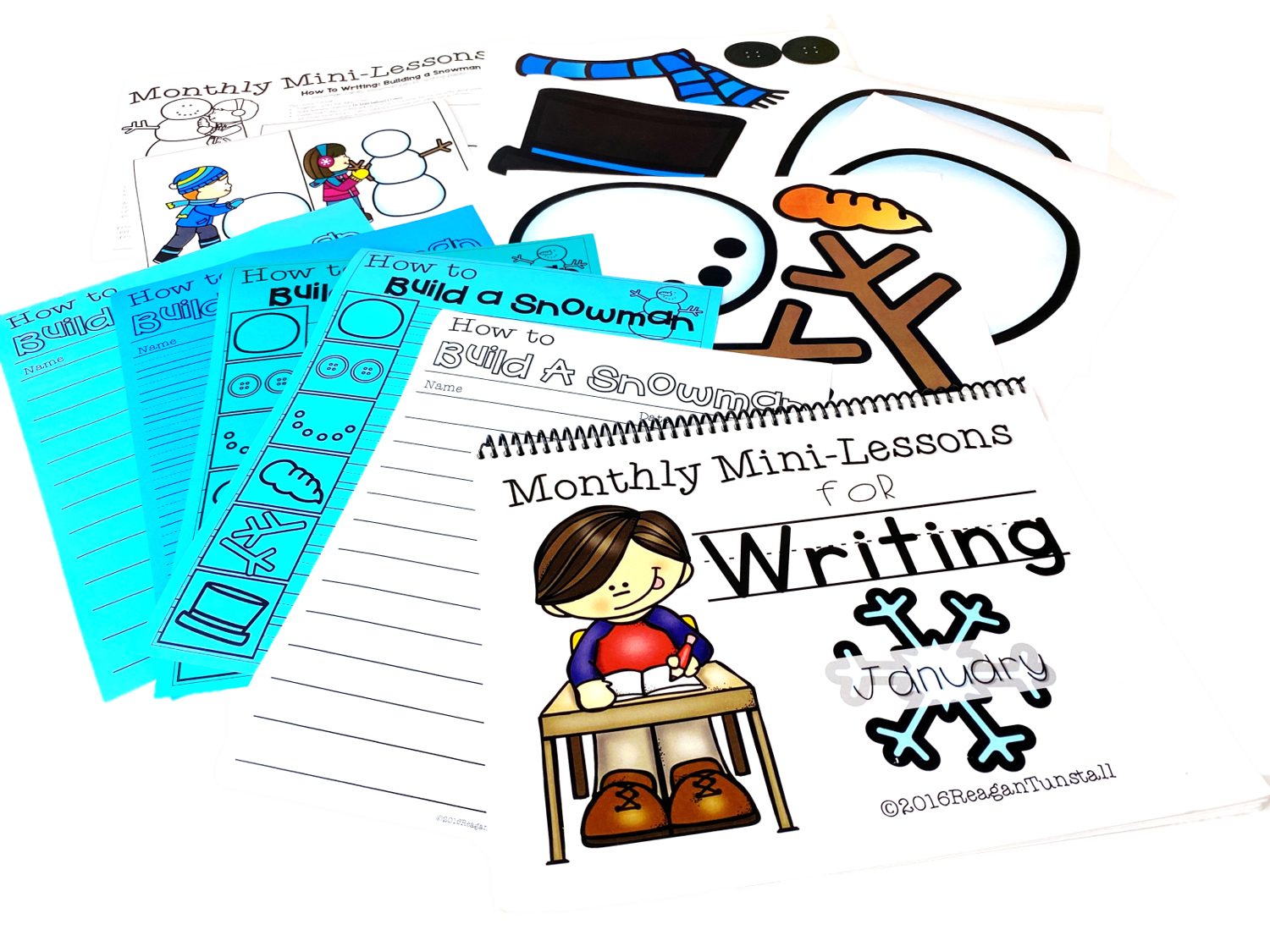 Integrating science and social studies in my writing began as a natural connection to the world around us and how we relate to it.  This also allows me to use the science and social studies minutes in writing.  As a teacher with a limited amount of time each day, this connection also makes sense because I am able to teach three important sets of standards through integration.  I find a lot of inspiration from looking at the seasonal changes in theme, science standards, and natural connections to our community and the world around us.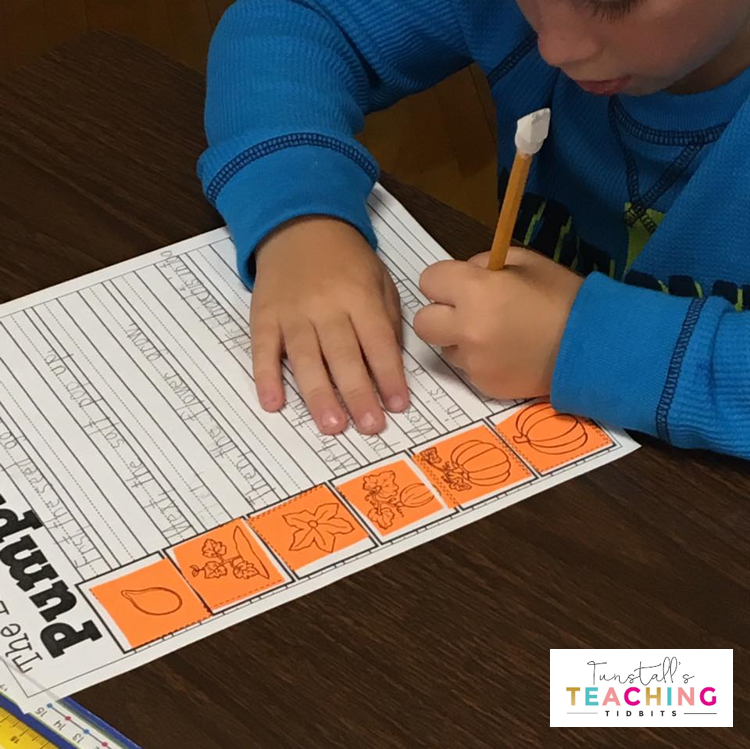 Consistency in exposing students to great traits and then allowing them the time to apply them in their own writing is crucial.  Students can't develop their writing without being given the time to write.  If we simply ask students to write without exposing them to new goals and traits of great writing, we will continue to get the same writing back.  It isn't about flashy bulletin board writing, but in the simple day-to-day exposure and practice through writing mini-lessons.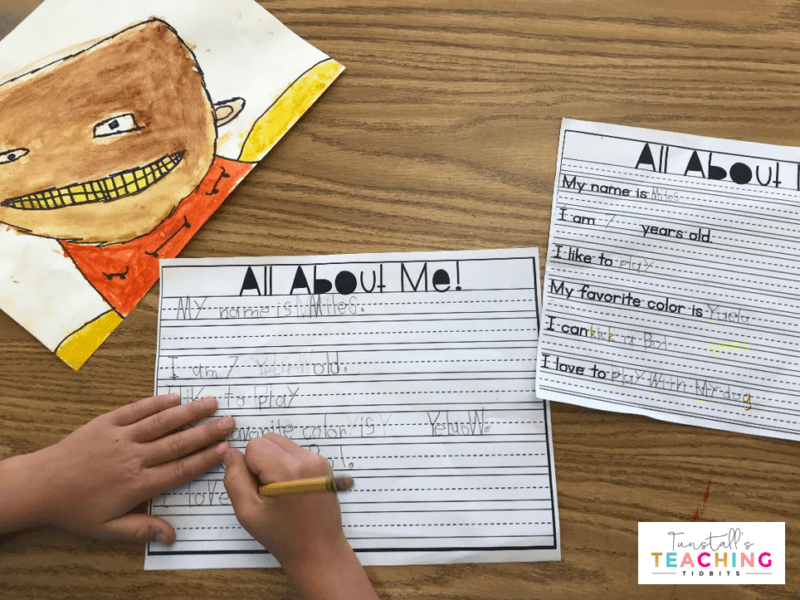 For a look at examples of two of the August/September lessons, you can read THIS POST.
Kindergarten Bundle of Writing Lessons for the Year
First Grade Bundle of Writing Lessons for the Year
Second Grade Bundle of Writing Lessons for the Year
THE WRITING STATION
To create the write climate in our classroom, we want to integrate writing into as many places as we can.  My favorite way to do this is through a writing workstation.  I run the writing station during our reading block, and it reopens during our writer's workshop time.  During these two times of our day the writing station holds different purposes.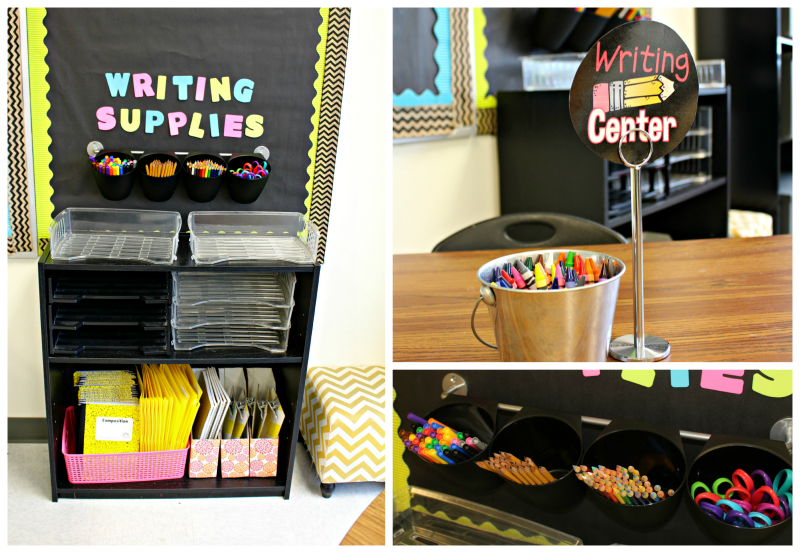 First, it is a place for all the materials for writing.  A variety of paper, fun writing utensils, topic and vocabulary cards, and tie-ins to our mini-lessons.  This workstation is constantly changing to match our seasonal themes, topics of science and social studies, and genre of writing.  Students can also find fun props and books to further enhance and engage them with our writing topics.  The extra effort we put into our writing workstation not only creates the write climate within our students, but creates writing connections to inspire daily practice.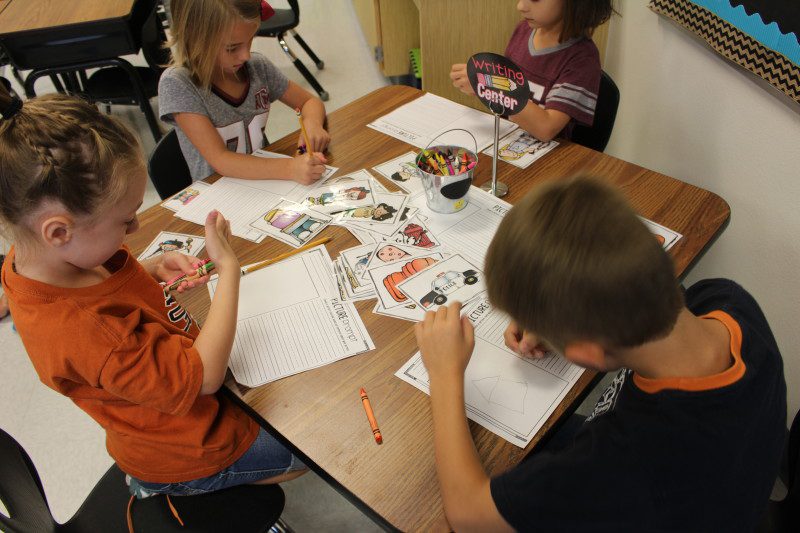 THE WRITING STATION SUITCASE
The Writing Station Suitcase includes everything needed to run a successful writing station for the year!  Prep, set expectations, and slowly release the materials to students.  There's a variety of levels of learners in every classroom.  For this reason, this resource has been differentiated to support emerging to advanced writers in grades K-2.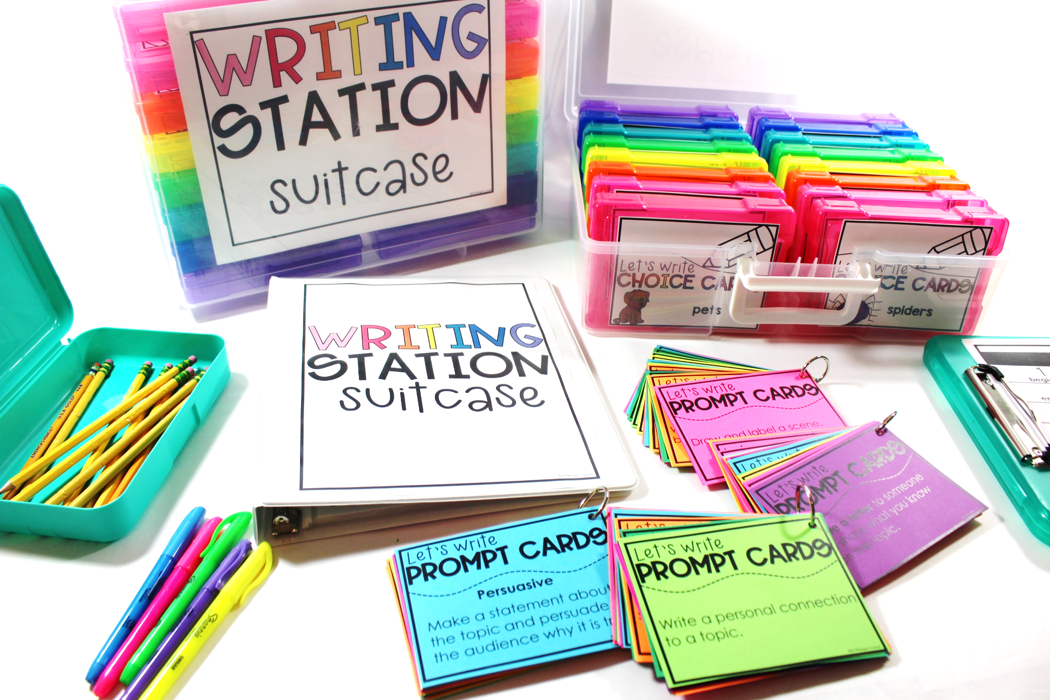 THE WRITING TOOLKIT
The writing toolkit is for more advanced writers.  Packed with important skills, prompts, vocabulary, and rubrics, you can challenge and inspire any level of a writer!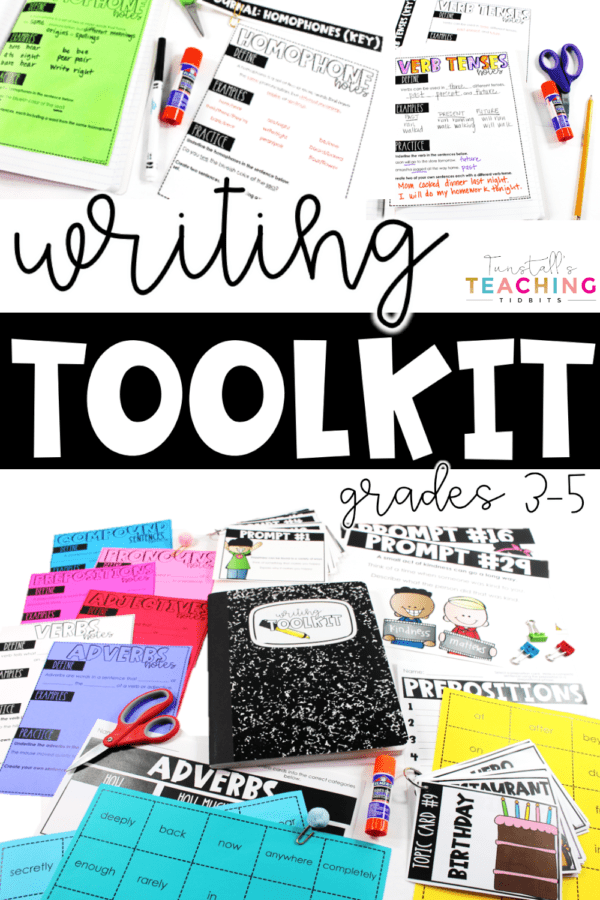 GRADING WRITING
The writing station suitcase and the writing toolkit both provide extensive writing rubrics to cover the different genres and skills taught by grade levels.  When it comes to grading writing, students work through the writing process and are a part of the grading process.  By meeting with students during independent writing time, we can talk about what's going well and make goals for improvements in future writing pieces.  This is all done in an encouraging writing conference using specific examples and praise.
THE WRITE ENVIRONMENT
I have a few other tricks up my sleeve for creating the "write climate" in the classroom!  Providing a rich vocabulary or print-rich environment is just great practice in every subject area.  I love creating focus walls for my subject content and highlighting a few important words each week.  This is also something that I change out seasonally.  This bundle of Word Wall Vocabulary cards makes it easy to expose students to an array of wonderful vocabulary with a visual and definition too!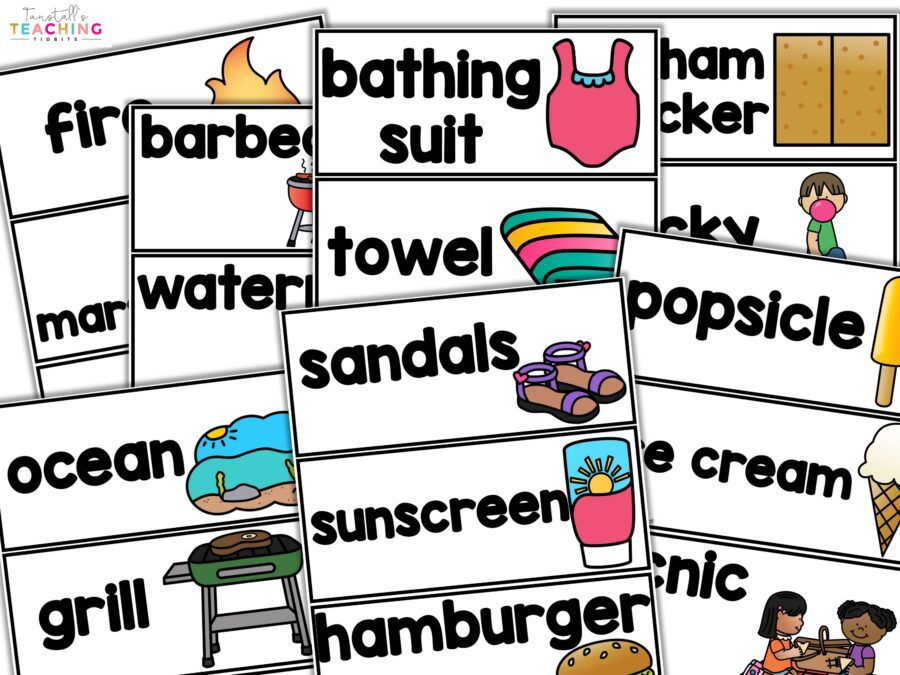 The linked bundle includes
Along the same lines as content vocabulary, we also want to help students with the phonics and sounds they are learning during our school year.  We do this with systematic phonics activities and the use of a sound wall.  When students are writing, they can glance at the sound spellings for quick help.  This creates more equipped and confident writers.  Getting stuck trying to make sounds makes writing difficult.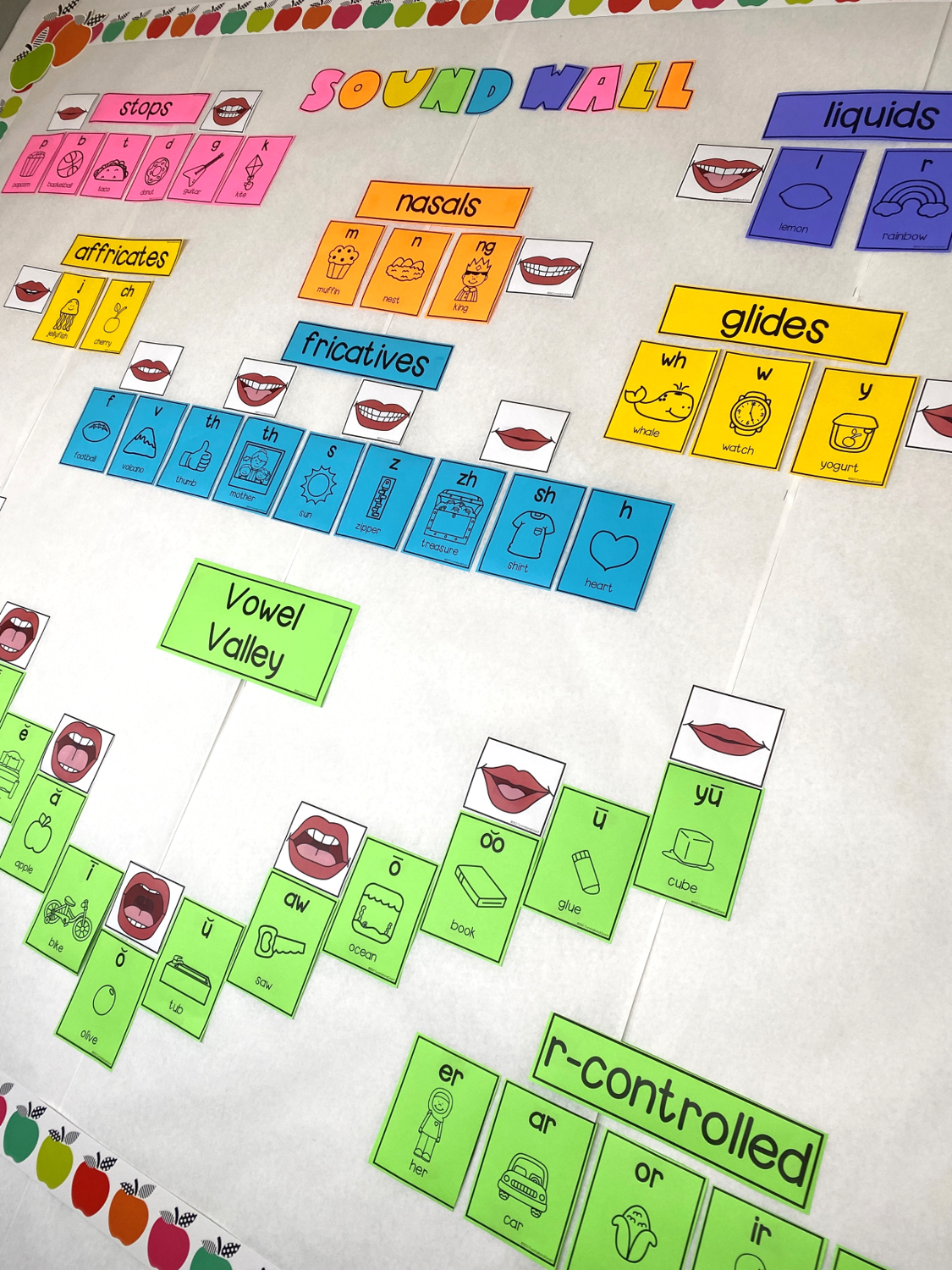 MORE PHONICS INSTRUCTION
Below are two posts regarding phonics instruction.  Practical information followed up with ready-to-go resources!  To read more, just click the pictures.
CLASS PET WRITING
As a final layer of creating the "write climate" in the classroom, I reintroduce Class Pet Writing.  This activity has been going strong for two decades and is a MUST HAVE writing experience!  This post will take you through the class pet procedures.  The most authentic way to engage young learners with almost no effort on your part!  Hooray!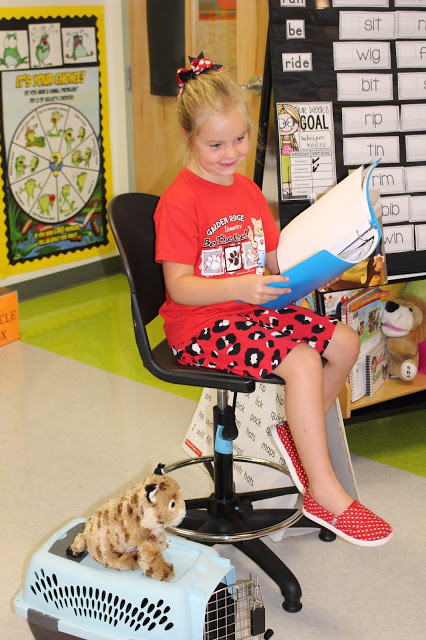 YOUNG AUTHOR CELEBRATION
This post shares how we culminate the writing year in a young author celebration.  There are so many writing experiences and milestones to celebrate!  Come see how we create portfolios of all of our magnificent work.