How I Run Guided Reading Workstations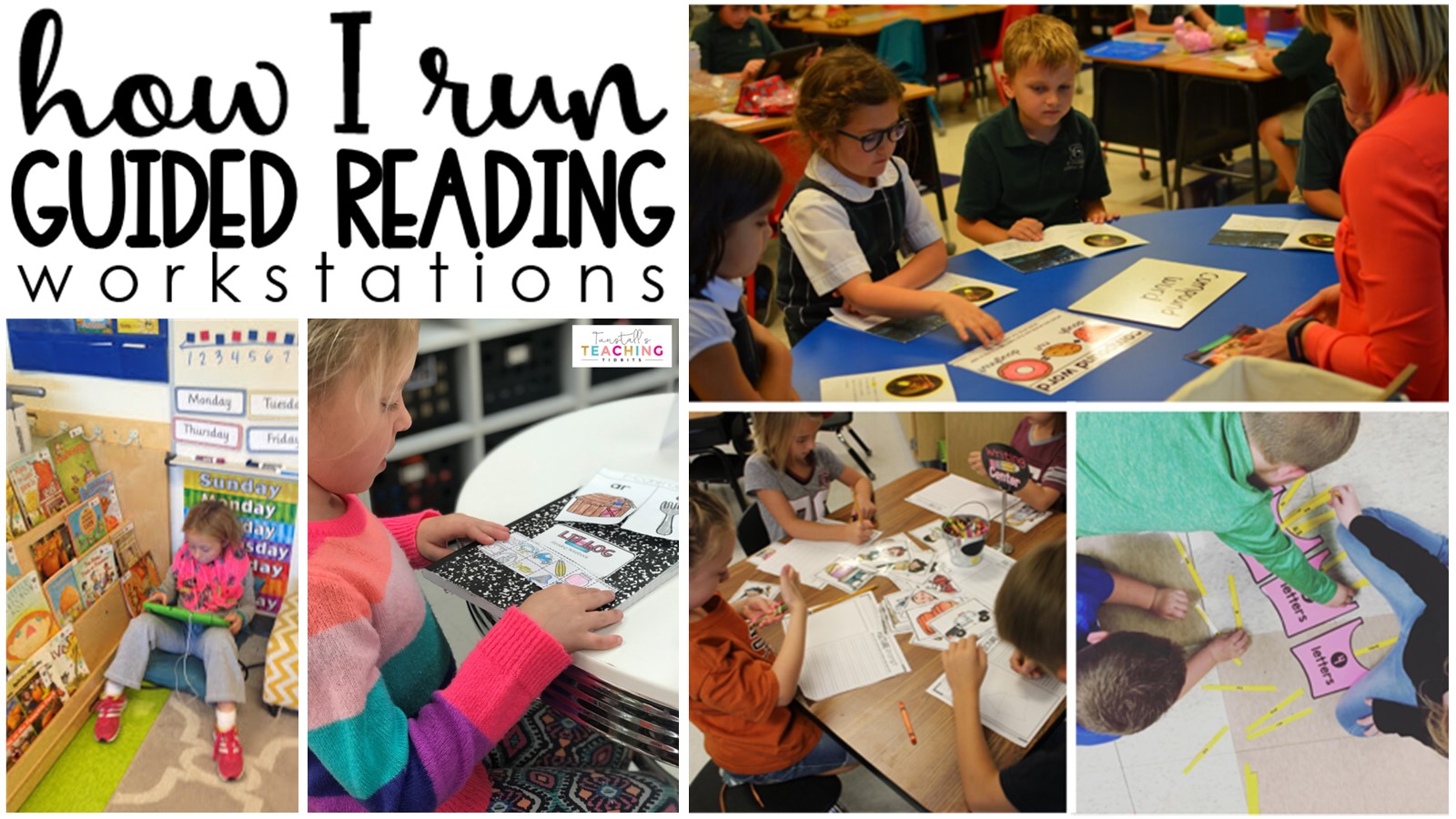 Through the years I have tried many ways of running guided reading workstations.  The workshop time is always a student favorite, but I found a way to make it my favorite time as well.  I was spinning my wheels to keep up with changing out all of the stations each week until I landed on LEARN, my acronym for how I run guided reading workstations.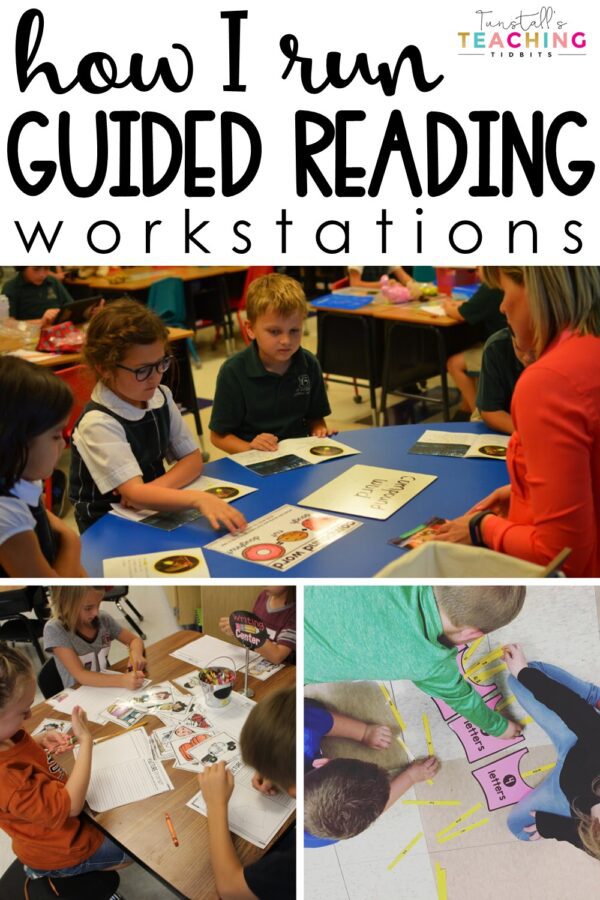 HOW I RUN GUIDED READING WORKSTATIONS
The best part about running guided reading now is how simple it is.  Teaching reading is difficult and along with that responsibility, we pile on even more to make it exciting and engaging for our young learners.  Before we know it, we lose our joy and frustration creeps in.  Let's tackle this once and for all.  Our new goal is to let our resources do the work, while we focus on our students!  Using the acronym LEARN, we will set up evergreen workstations and plug in the activities with ease.  Let's get started.  The board below links to THIS FREEBIE where you can grab these fun wall display items.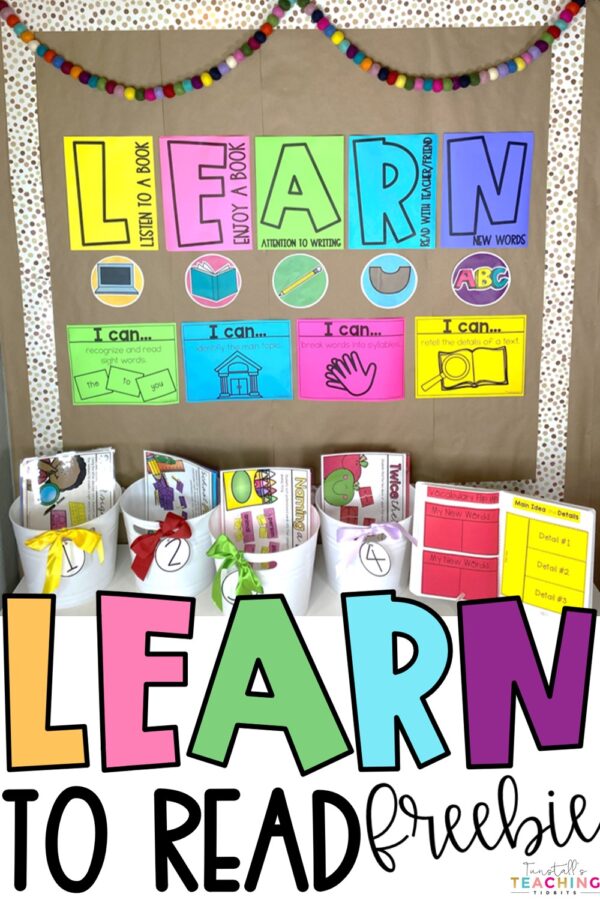 LEARN TO READ
The LEARN acronym is just a way for me to create a well-rounded reading experience for my students.  It isn't necessary to teach the students the acronym, nor do you need to do all 5 of the stations if that's not best for you.  We need to focus on our own students and do what is best for them.  I know it is hard to not compare to the teacher next door (or on the internet), but hopefully, we can all embrace different ways to teach.
L for Listen to Reading
This is an age-old and well-loved workstation.  How we approach it varies from teacher to teacher.  Some of us older gals (and guys), love a good listening center with comprehension questions while others have loved the ease of websites where the books are leveled, and the questions are built right in.  The idea is that students are listening to expert readers in a variety of genres of literature.  Some ideas for Listen to Reading are listening center, apps, computer programs, district ELA web-based programs, YouTube, books on tape/CD, podcasts, and audiobooks.  This is the one workstation where I don't stick to a tried-and-true resource but pull from a variety of experiences.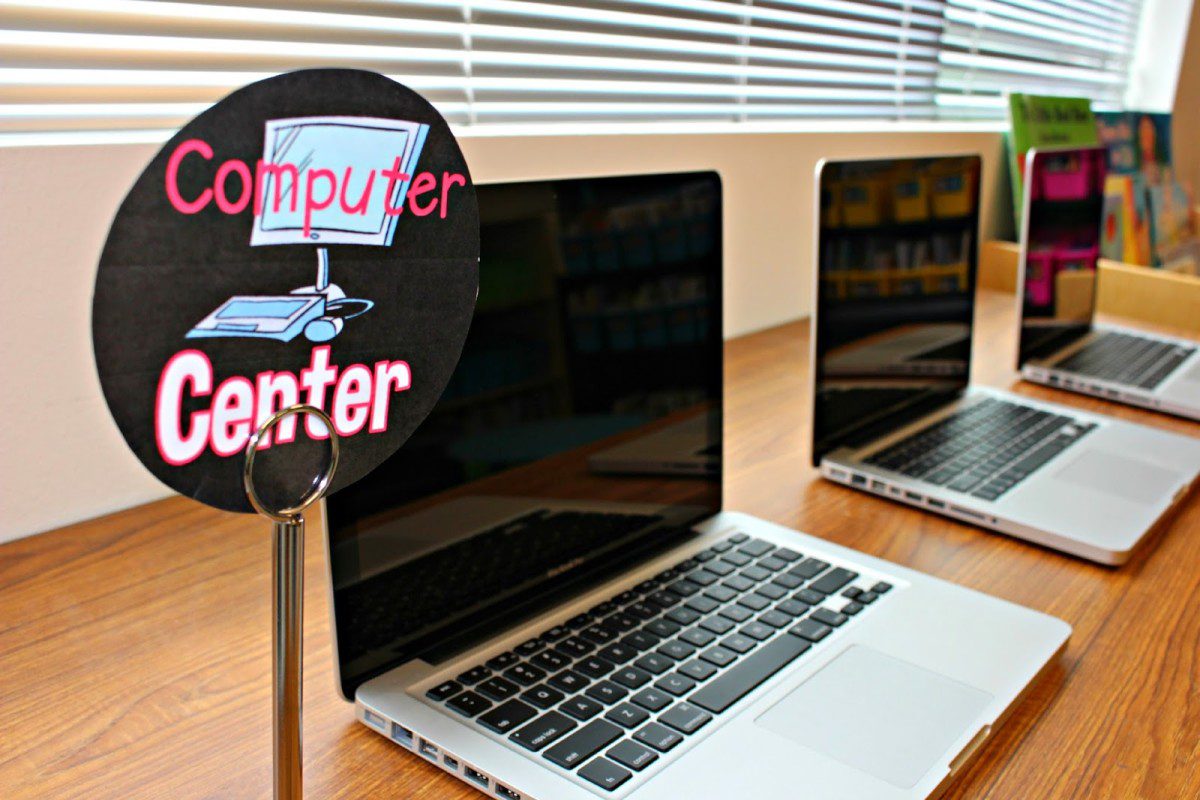 My go-to websites for listening to reading are Reading Eggspress, RAZ Kids, Accelerated Reader, Scholastic Bookflix, Tumblebooks, and Lexia Learning.

E for Enjoy a Book
This rotation is all about getting in leveled reading practice!  Students have a book box and can shop for books in our leveled library.  They can read to themselves or read with a friend, and they do so in our classroom library. The work for this station is all upfront, and then it becomes one that doesn't require changing out.  Students simply read for enjoyment.  They can read a book from their book box.  The library area also has a few other extra Enjoy a Book activities which I will share below.  I used the scholastic wizard app one summer to level my student library.
I also love books grouped by type and genre, but for the Enjoy a Book station, they shop the leveled library, big books, and phonics resources. This ensures they are really reading.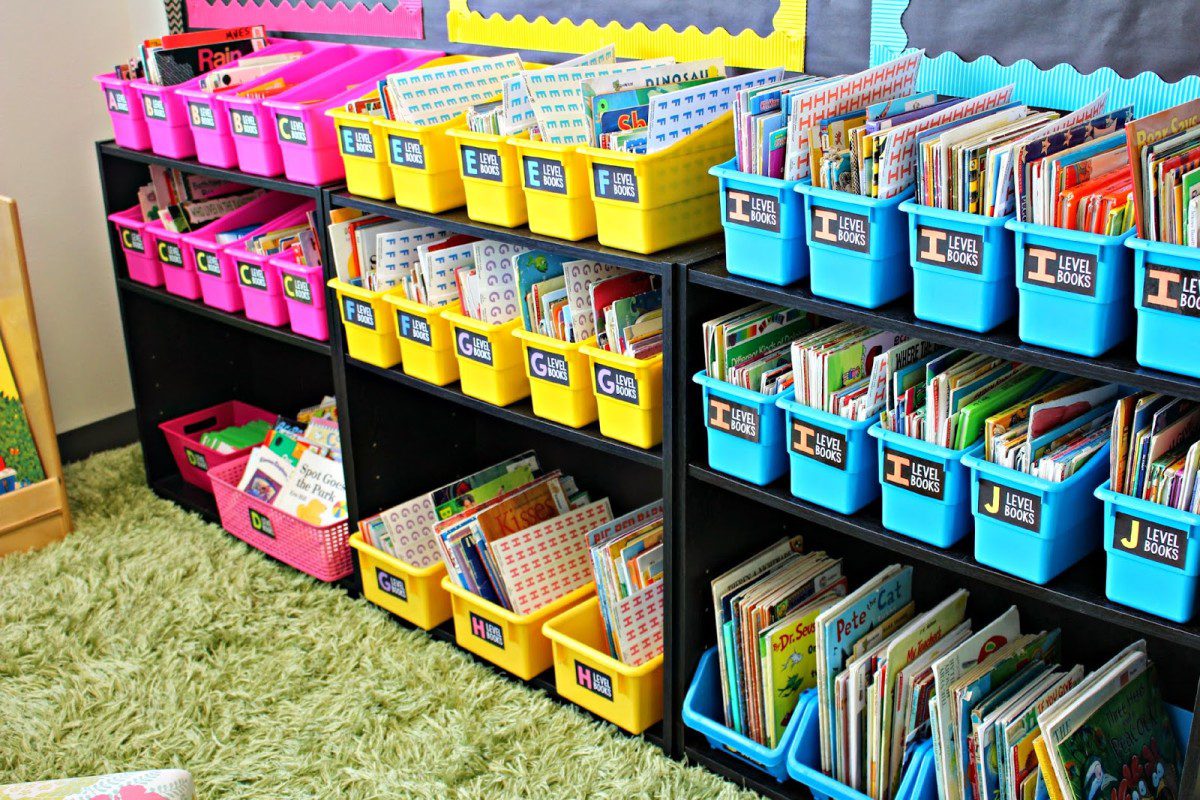 close up of level C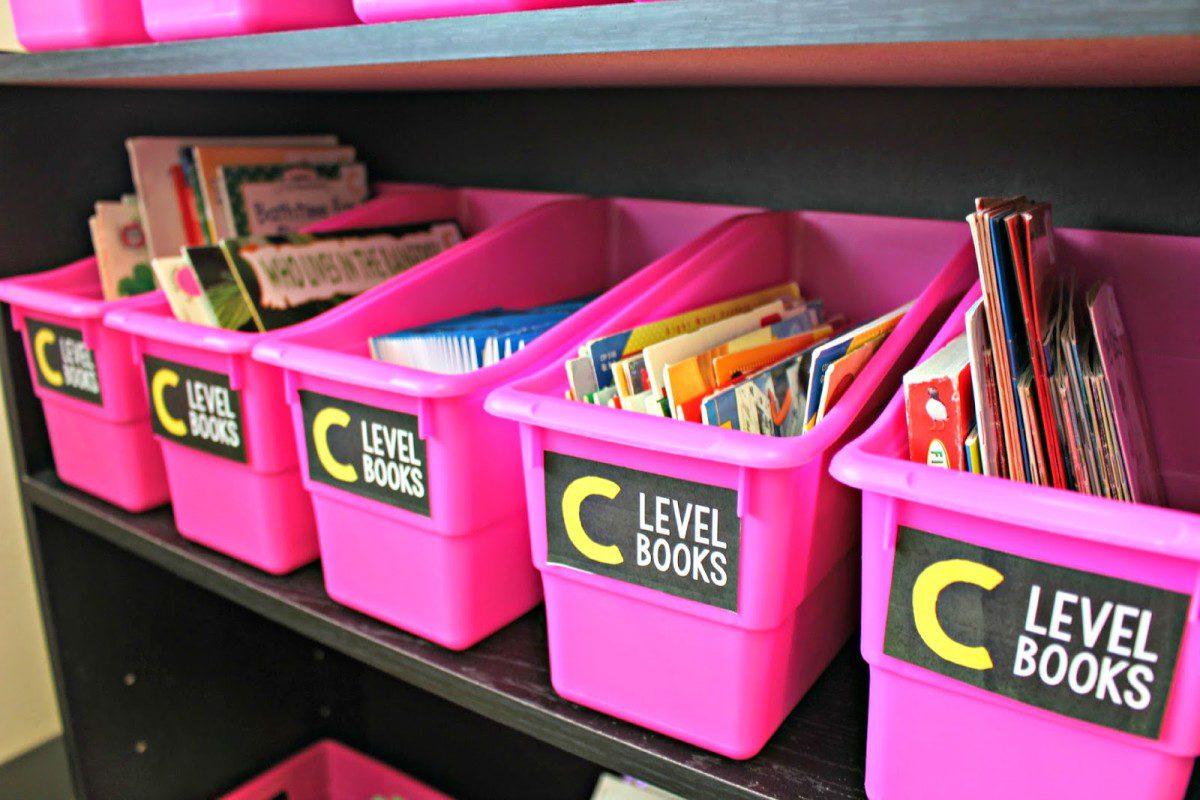 The empty boxes on the right are my student book boxes.  They will fill them with the level I tell them once reading starts. This was before school started obviously.  Sigh…so clean.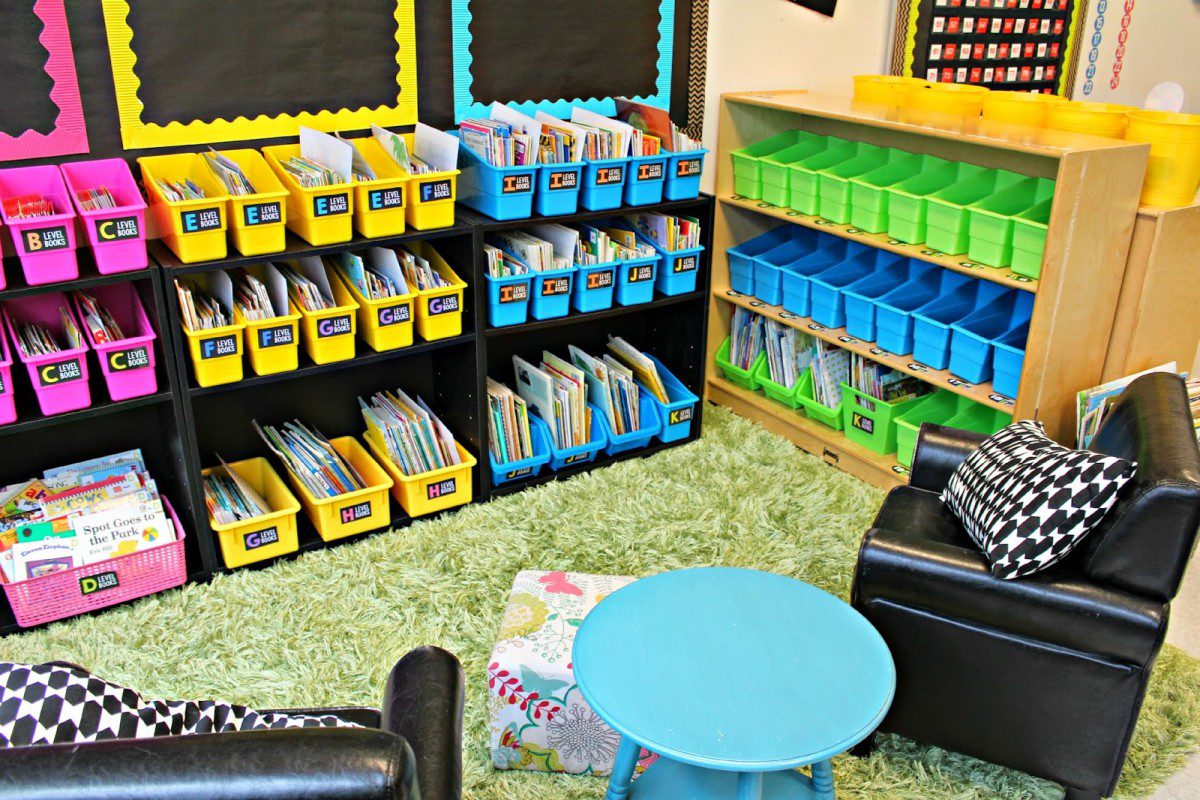 Enjoy a Book Resources
Our go-to resources for Enjoy a Book are independent reading, read to self, book boxes, Dolch or Fry's word lists and fluency phrases practice, and phonics review binder.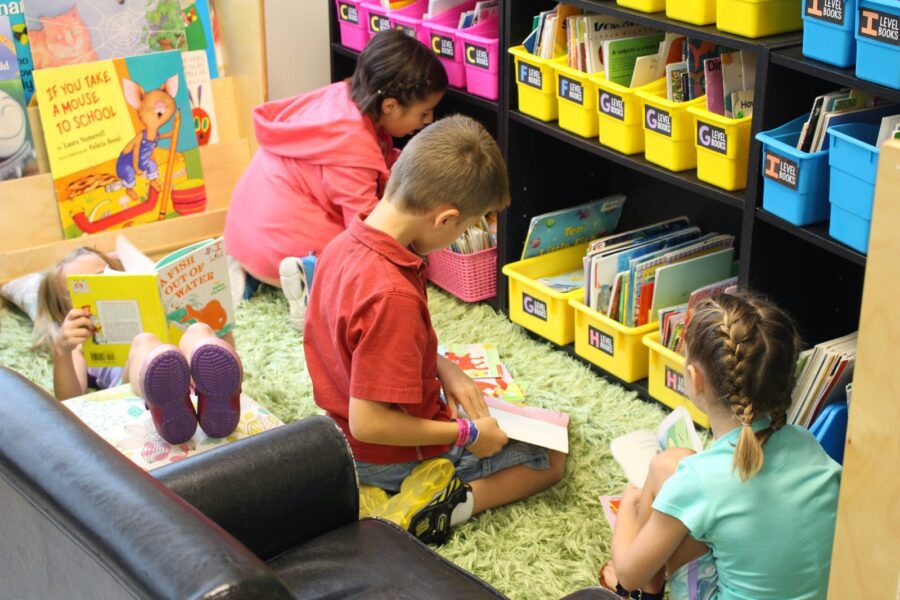 Along with the students 5-6 leveled books of choice, they also get sight word booklets (Dolch or Fry's) and word families booklets.  These provide self-paced practice all through the year.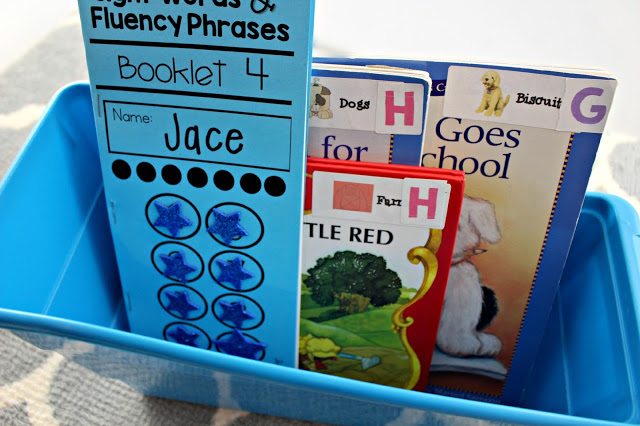 Students keep sight words books and word families books in their book boxes.  I fit in a quick quiz on Fridays during the teacher table for those who are ready to test.  They read the words and phrases to pass and level up. Each student moves at their own pace all year.  Here are blog posts dedicated to Dolch words, Fry's words, and word families.  You can read more about these there.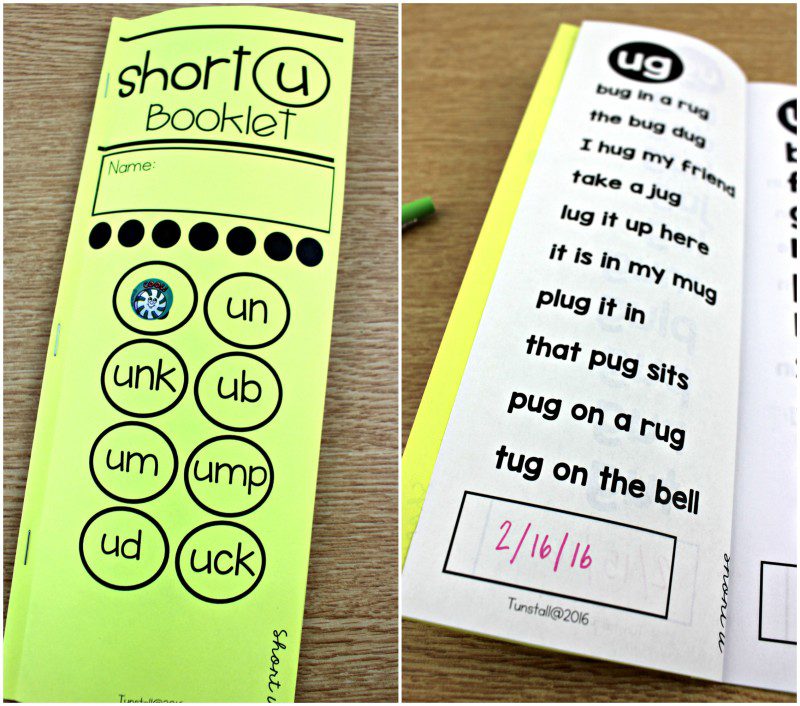 Another popular enjoy a book option is our classroom phonics binders.   These are growing binders linked to our spelling and phonics focus.  Each week I add the new patterns we have learned.  Students like to grab these phonics binders and check them out during this time.  I find that my students with learning deficits really love the built-in success of these patterns.  These have all been updated and have a clean more modern look to them now than in the picture below!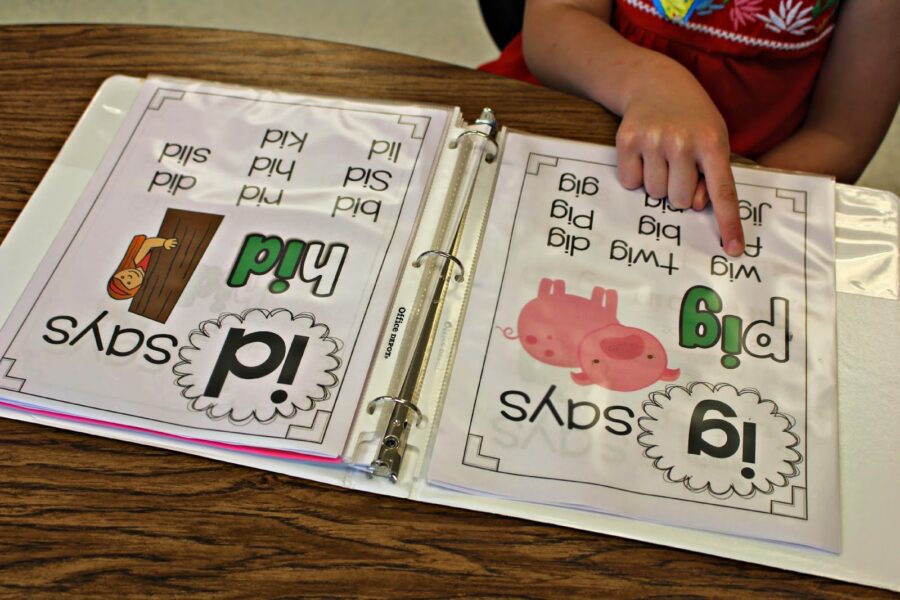 Although this next resource isn't going into student book boxes for Enjoy a Book, we use a sound wall to display our learned spelling and phonics patterns which then directly translates to decoding skills so I feel it should be highlighted here.  It is also used for our New Words station coming up shortly!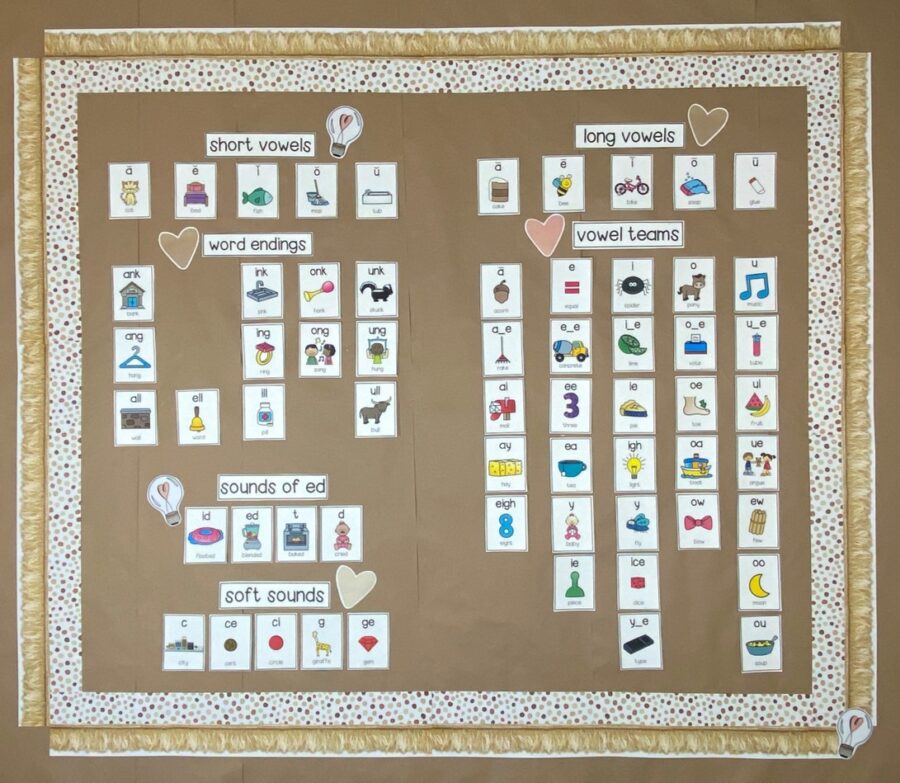 Depending on the phonics program our district requires (sometimes I am on my own) I put up different types of phonics focus walls.  Here's just an example of one type.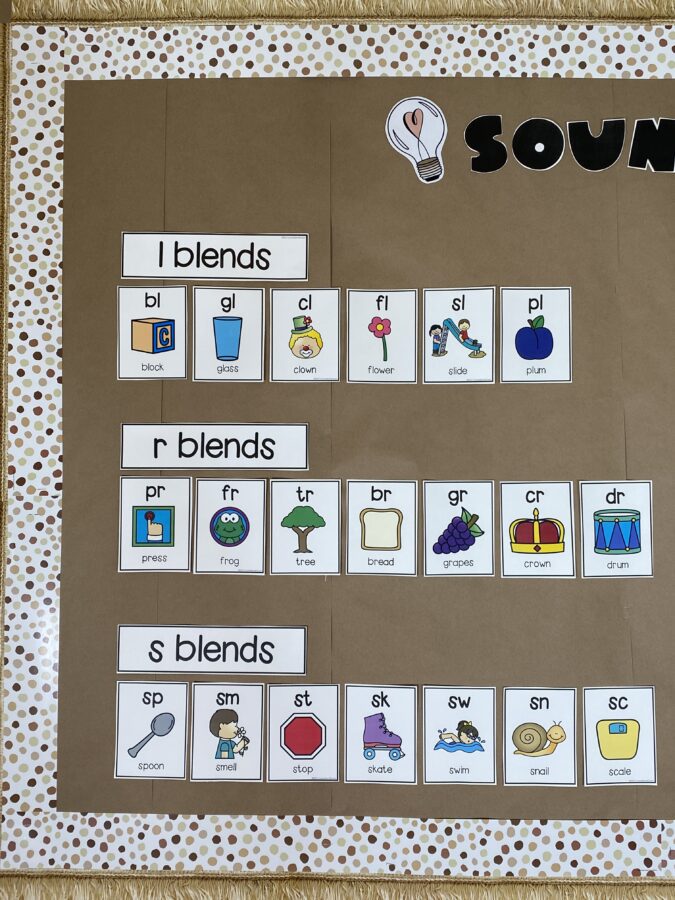 Learn more about a sound wall here.
A for Attention to Writing
This one happens to be my favorite.  At the writing table, students work on a variety of activities.  I have a shelf next to the writing table with a variety of writing papers and materials. Some days students have activities directly aligned to our writer's workshop lessons, and other days students are able to do creative writing.  This variety and structure keep this center engaging.  Students don't have a chance to get into a writing rut because they are constantly being challenged and inspired. Below I highlight what resources fill this station for the year.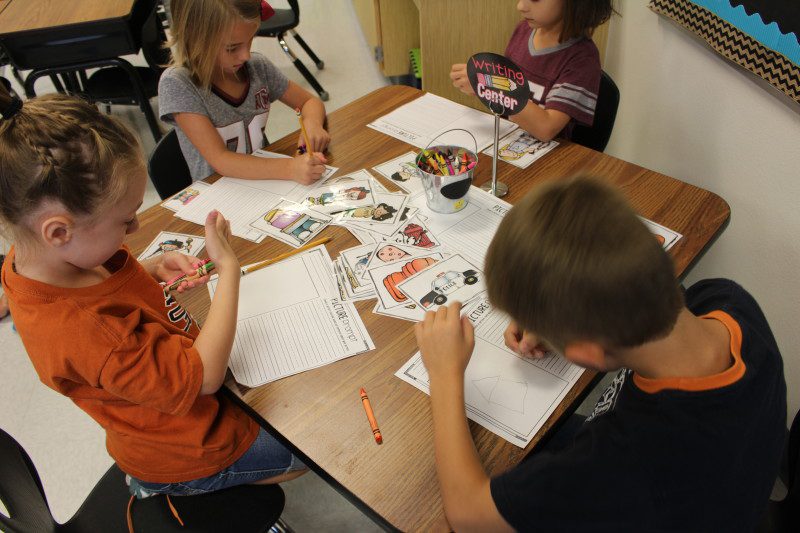 Writing Resources
First up, our writing center suitcase.  This is what it looks like but not how students would be interacting with it.  This is just a display for teachers.  When students go to the writing center, they encounter a prompt with a topic box and a variety of papers.  They also refer to the types of writing posters that we have been working on.  Not everything is out all at once.  This post goes in-depth with this resource.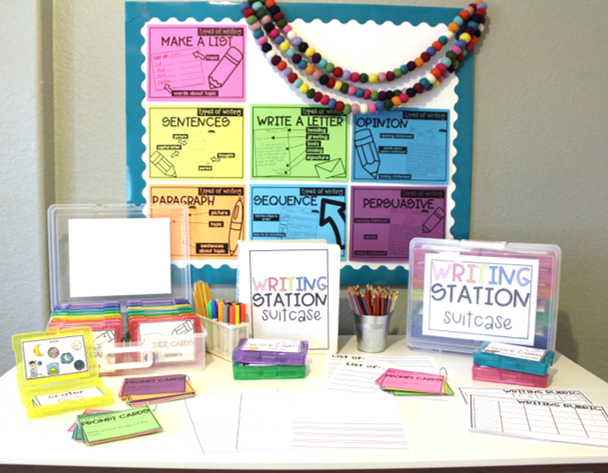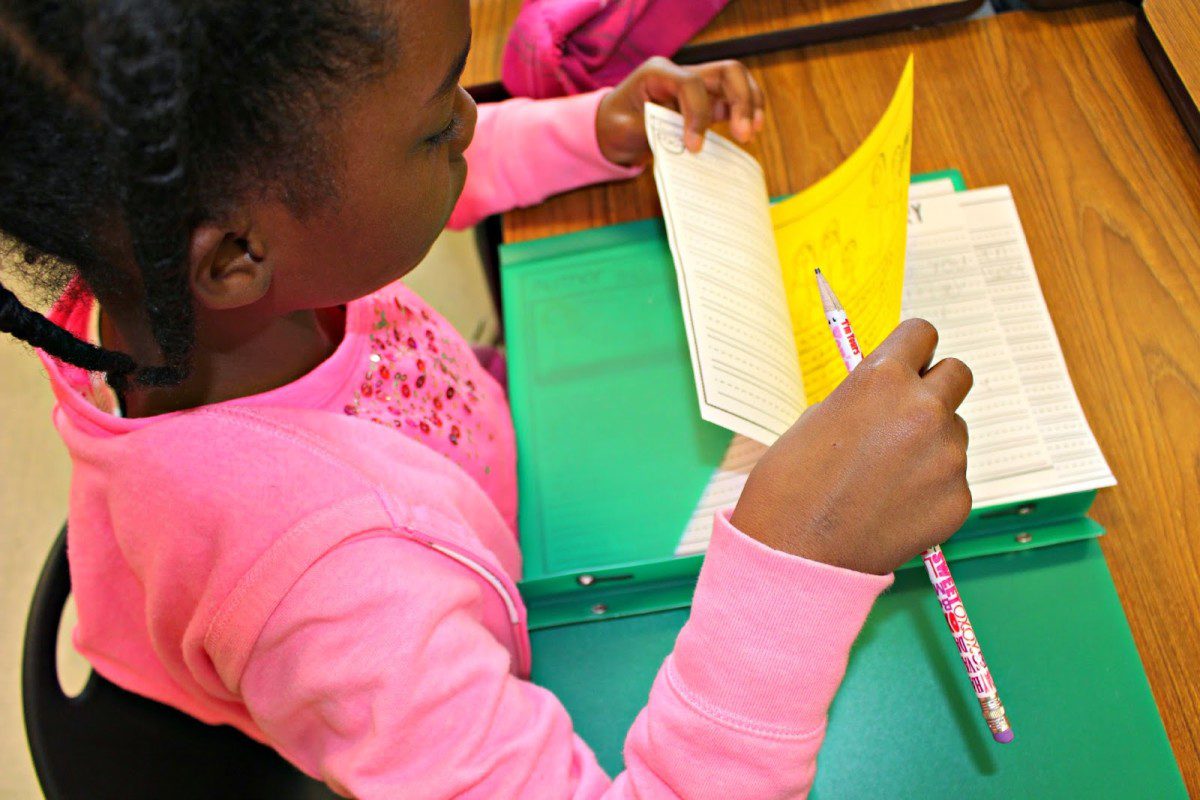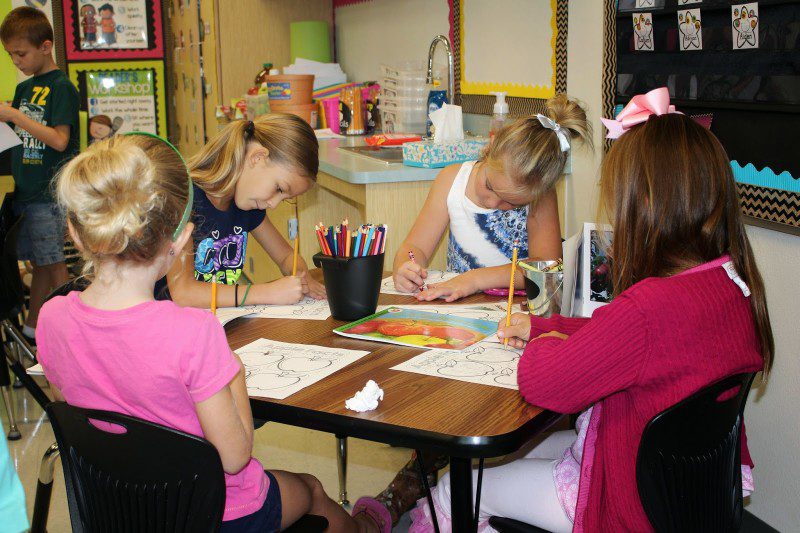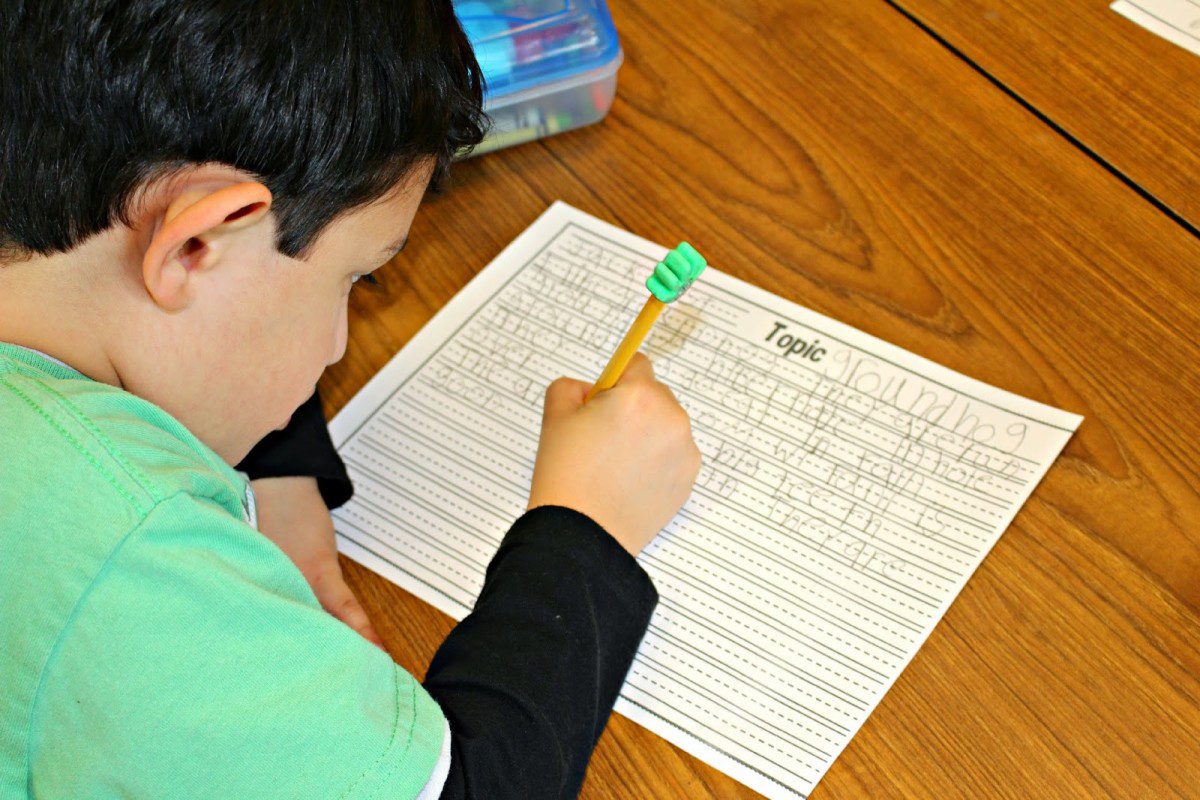 My main writing time follows a monthly focus and each time we explore that month's topics and writing focus, it spills over into our writing center time during attention to writing.  I pull writing from our monthly mini-lessons.  Adding books, props, and fun decor to really excite learners.  I do this monthly and just little touches that I snag at Target or the dollar store make a big difference.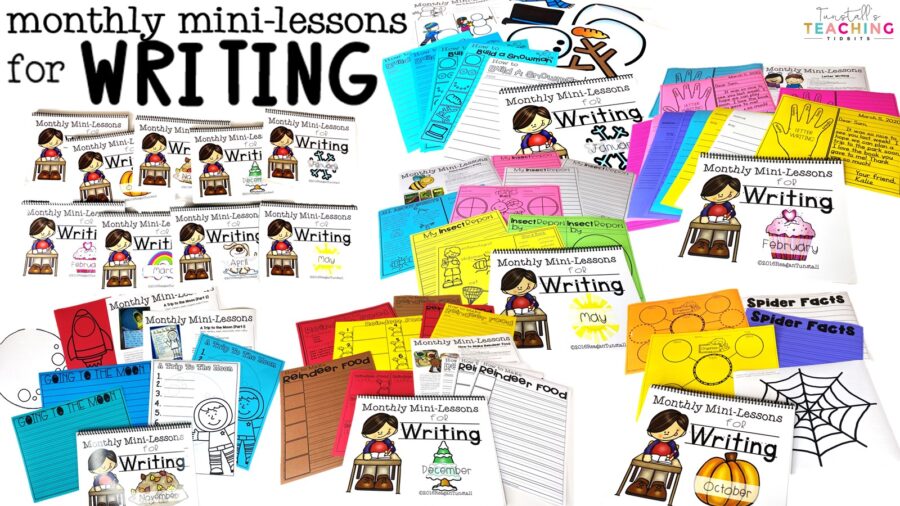 R for Read with Teacher/Friend
We are all on our reading journey together, but our reading group is a safe place where we take risks and learn together!  The small group reading table is a place where we tackle reading strategies for decoding, fluency, practice with new texts, and comprehension just to name a few.  When I see students at the reading table, we call this read with the teacher, if I don't see a group that particular day, they read with a friend.  This helps me to structure things to see students often but without forcing a group every day for every rotation.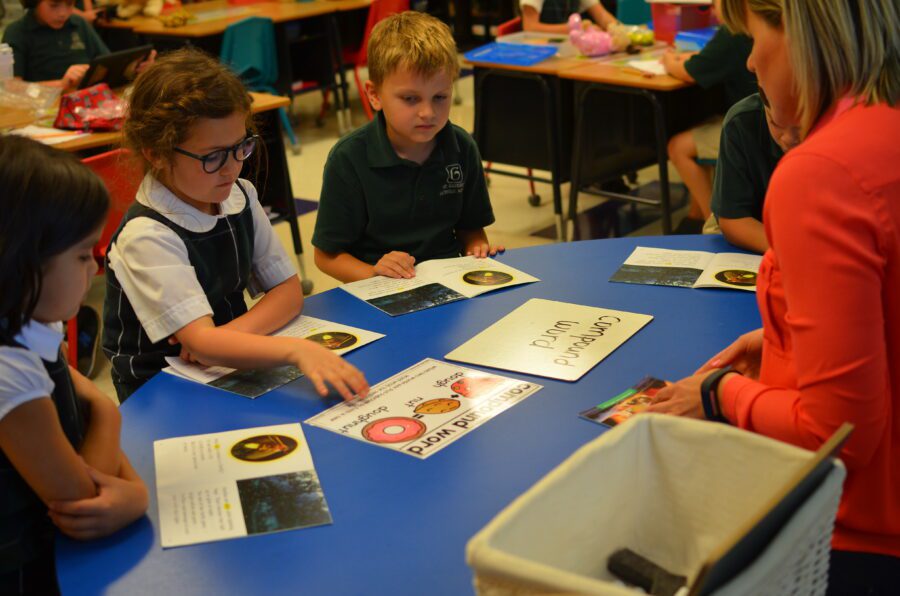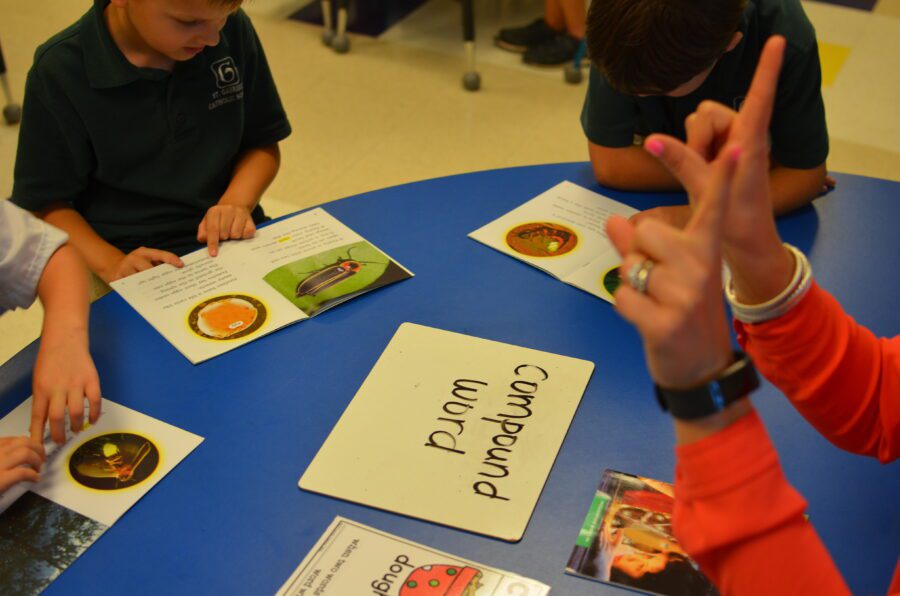 Guided Reading Small Group Lesson Flow
Familiar read/review of skills
Word study: new sight words/vocabulary
New book: strategy focus
Read
Comprehension: before, during, and/or after book read
Final closing teaching points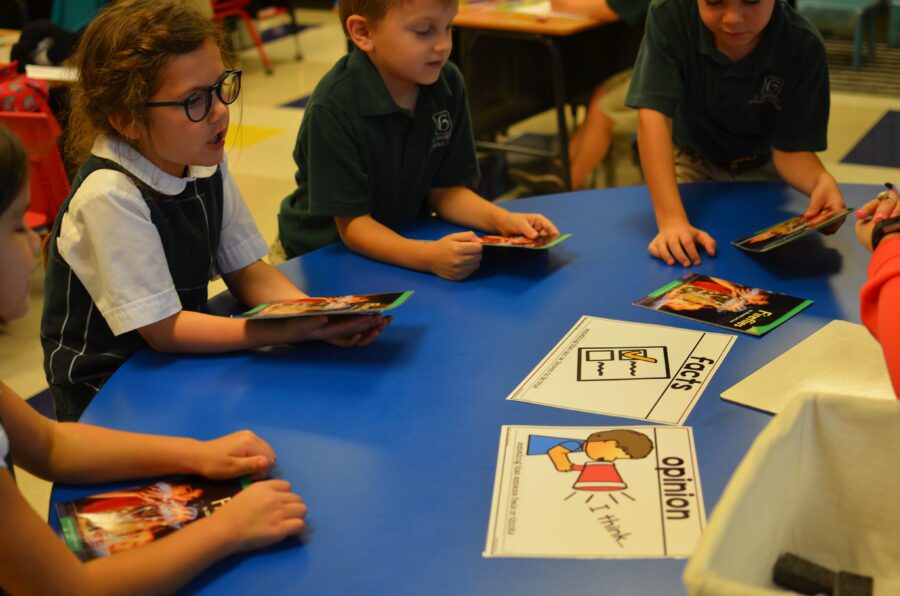 Pulling Resources for Read with Teacher
The guided reading teacher table is where I teach specific skills students require on their reading journey. One resource to help keep this packed full of learning is the Lit Kit. You can see some of the teaching posters above from the Lit Kit.  I use this resource for many of the skills and practices.  I also use it for whole group mini-lessons, and our new words station too.  It fits any reader and all of the standards so it can be used with all of my groups!  This is where I let the resources do the work for me.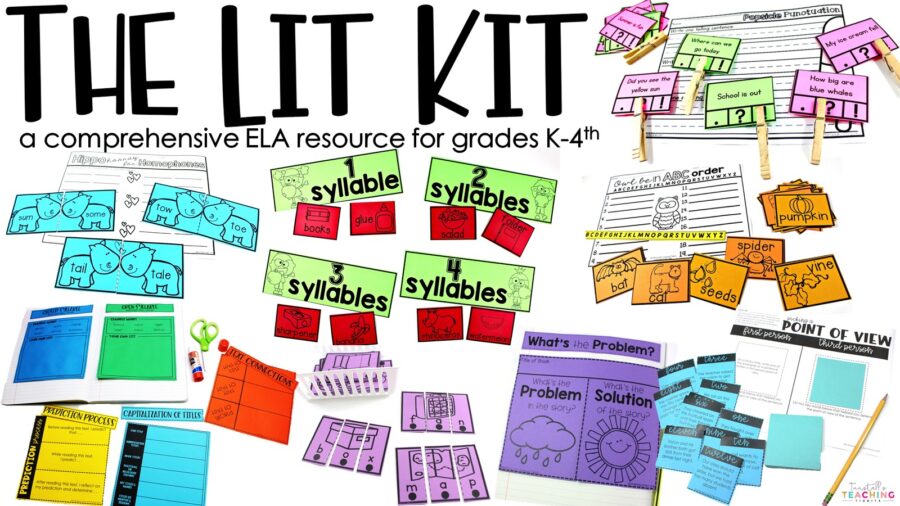 The Lit Kit
N for New Words
The new words station is all about our spelling and phonics focus for the week!  Each week I fill up a Sterilite 5 drawer tower of focused phonics and spelling activities for our pattern of the week.  Students work through the activities during the new words rotation.
Below, you can find three resources working together for the new words workstation.  On the board, I have the week's phonics posters.  Below I have the word families student booklets, and student activities both digital and printable called Flip-Up Phonics.  The Lit Kit I shared in the read with the teacher station also gets used during new words too!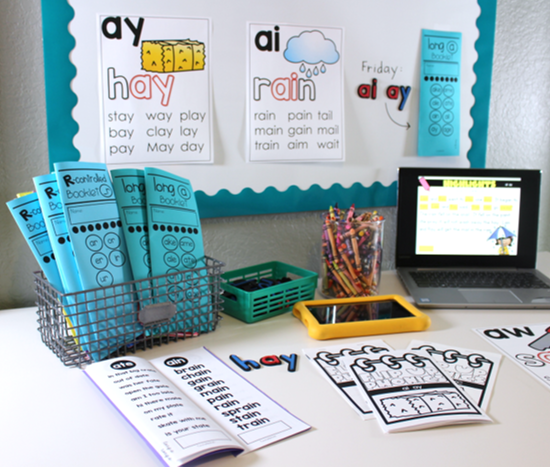 Here's another resource that students check out during new words.  Similar to our phonics posters, it is phonics tracers.  (This resource has had a full styling update since this photo.) Students trace and read by spelling pattern.  This is a great fast finisher option.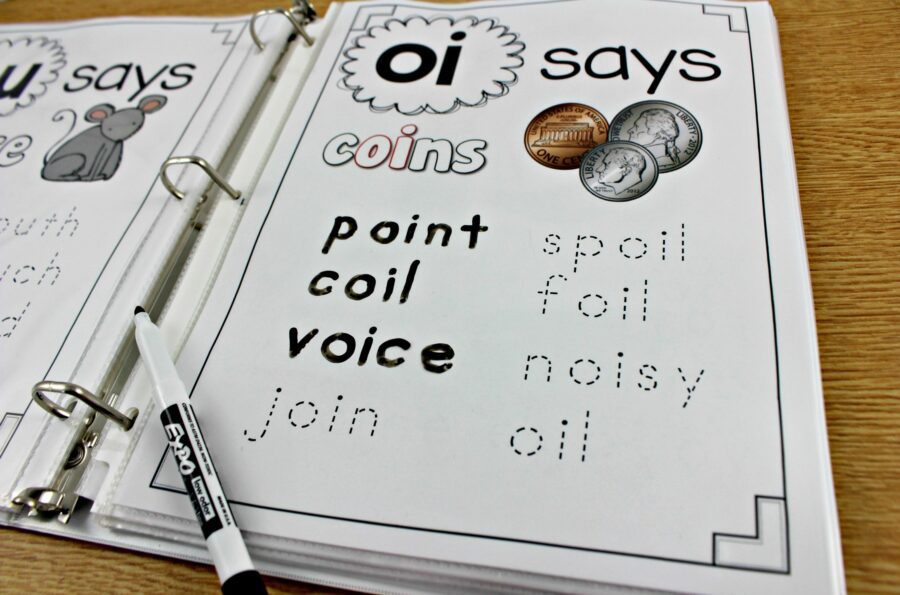 The pictures below come from my ELA Stations by Standard.  These are my favorite because I can grab exactly the standard we need.  These address all ELA standards!
Just a little organization help too!  I like to store my new words station materials by the sound-spelling.  Then I pull the bag out and everything is waiting for me! These come from the Big Phonics Bundle.  The Read and Match Cards are my favorite part of this big bundle.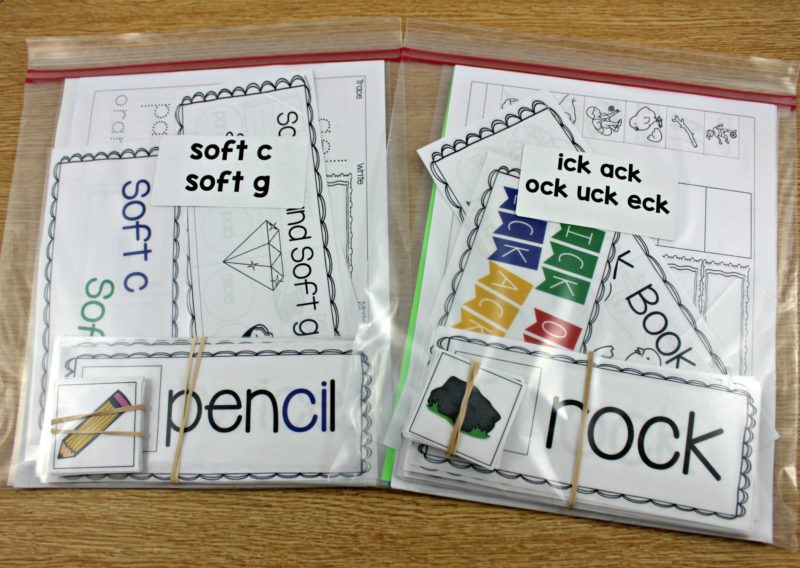 GUIDED READING TEACHER BINDER
The guided reading teacher binder is the organizational tool that holds all of my planning, grouping, documentation, and anecdotal notes together!  It is split into sections.  Planning, grouping, note-taking and documentation, and then reference.  It's everything I need for the year!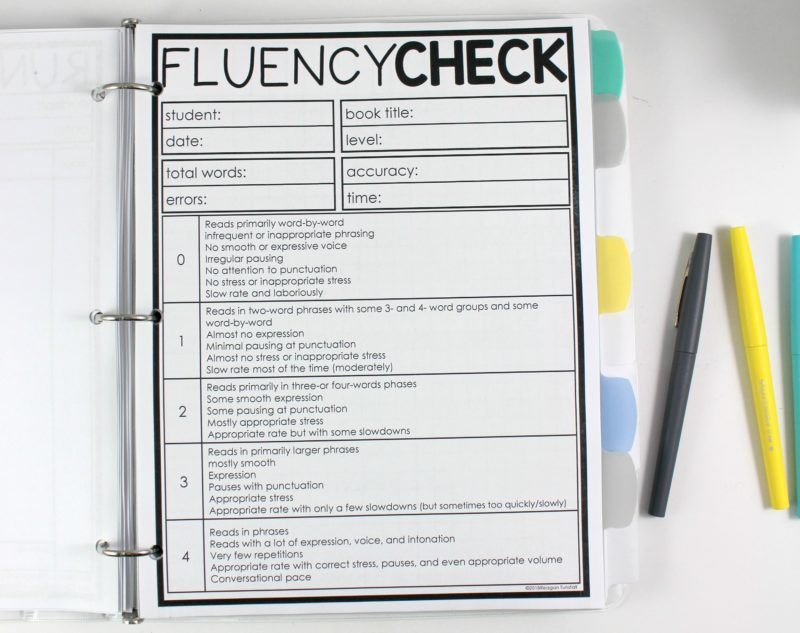 Not only does the guided reading binder have all the lesson planning and note-taking options that I want, but it also has helpful progress monitoring tools too!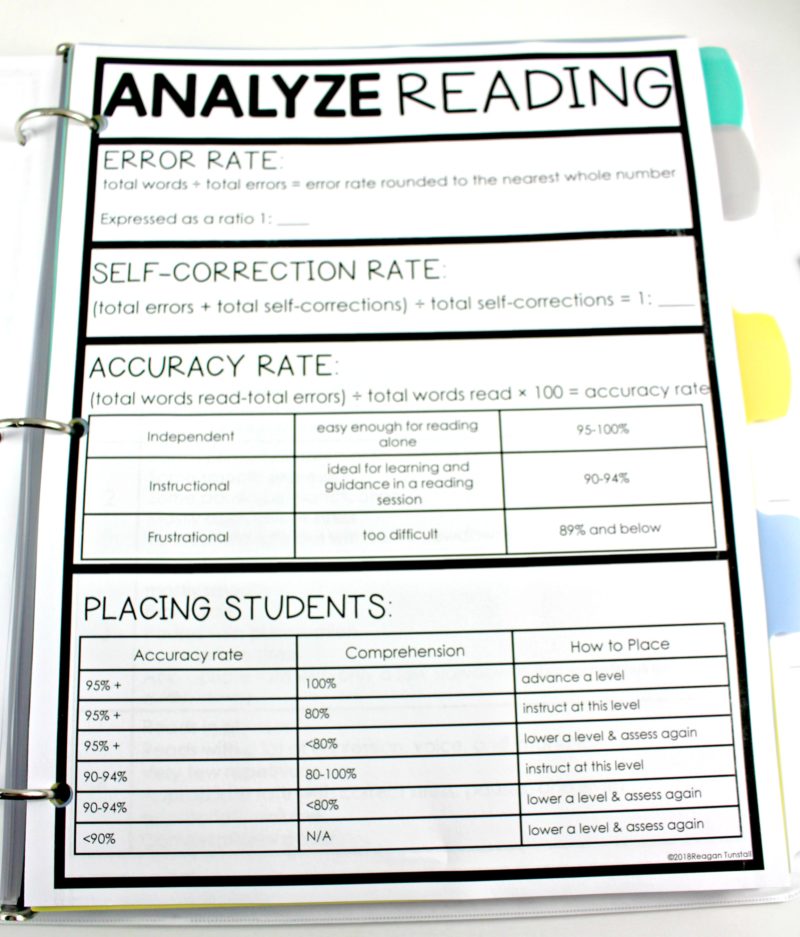 MANAGING LEARN TO READ
Using guided reading timers for your rotations or workstations creates an organized and focused management system.  Students learn the consistent routine and understand their role within the system.  The clean and cheerful visuals bring clarity to what each student should be doing during workstations whether you choose to have two rotations, six, or even ten!  The visual timers remind students of how much time is left to complete the tasks at hand. These timers can be modified by a number of groups, number of rotations, rotation choice, and minutes per round.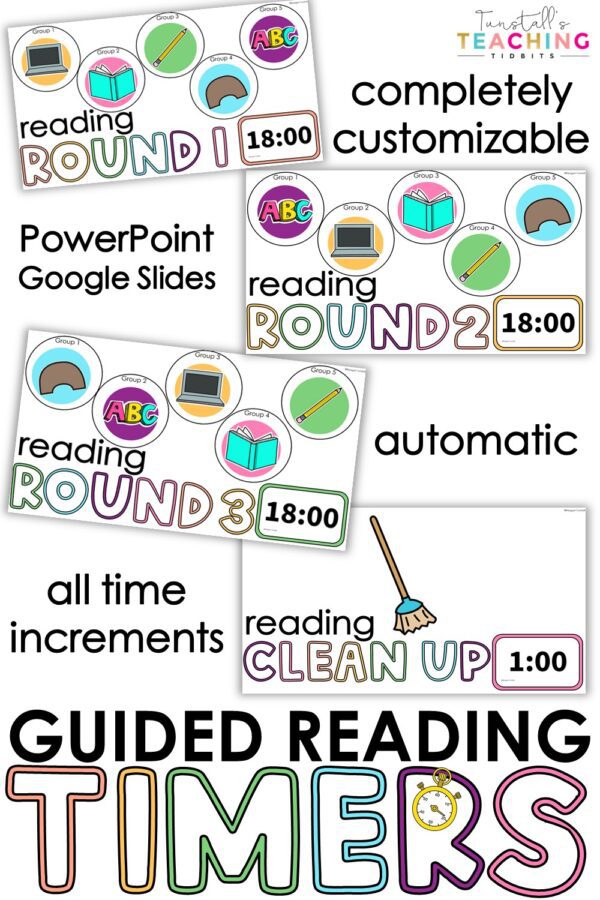 WHAT ABOUT GUIDED MATH?
Now that we have guided reading all figured out, how do I tackle guided math? This is actually my favorite subject so below I will link some great posts to get you started!