Math Journals: Getting Started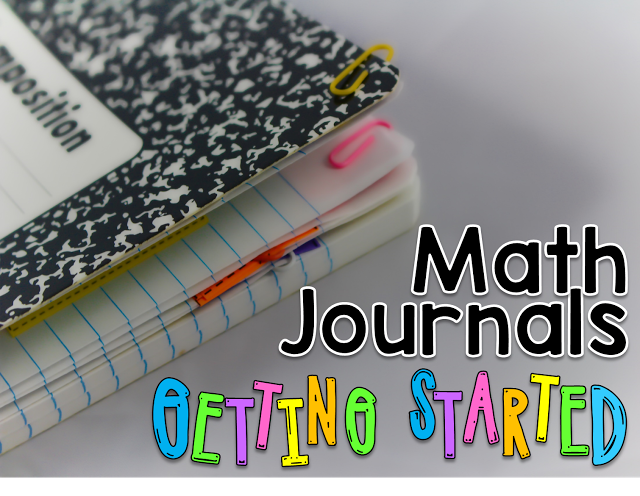 Starting a new routine in your day can be daunting!  Here are some tips for getting young learners started with math journals!
Make an example journal.  
Do not skip this step!
I don't mean along with the students.  I mean make yourself a journal that you have ready with your week's/months lessons.  You will return to your example journal constantly.  Students will strive to make a journal just like the teacher's.   Your example journal will be there when you are ready to teach an important component about journaling.  Mine lived in the basket where I kept the prepped activities for our journals.
Why make an example journal?
A resource besides yourself for students to go to for clarification
Immediate layout examples to share with students for any given assignment
Support for students with spacial awareness challenges
 Support for students with difficulty remembering multi-step tasks
A record of teaching ideas and lessons
An example of outcome expectations for student work
No wasted time during your lesson trying to cut or explain a procedure.
Now let's get into some
teaching tips

for beginning your journal journey!

When you begin the journal process with your new young learners, it is important to explicitly teach every component about making a math journal.  Leave nothing left to question.

I like to use the I DO, WE DO, YOU DO method.  (insert professory voice)

First, talk and model your way through an example journal entry.  You can even do a large mock version of this on big chart paper using it as an example journal page.  Teaching and talking your way through the entire process gives students a reference point for the entire lesson.  Use larger pieces of paper on the chart paper to explain folds, cuts, layout etc.

From there, WE DO.  Just as you imagine.  We do this step together.  Move from chart paper to allowing students to work as you do in a journal, and together do an activity.  Stop in between each micro step to discuss the process.  Talk about where fingers are holding paper and how to get the desired result.

Finally, when your students have shown a solid understanding, you are ready to let students try out one component of your lesson without you. For example you did 3 folds together and they will try the 4th fold without you.   Then just as they are gluing it down, you will discuss and assess all the steps it took for students to do that one component successfully.  Showering praise and amazement of course as you walked around to see how they did on their own.
What needs to be taught exactly? 
As we all know, young learners don't have enough time to practice cutting since the standards have become more difficult.  This is the perfect way to work on the fine motor development students need, while getting in the content they also need.
Talk about holding scissors, moving scissors, how to turn the paper when cutting.  Remember to teach dotted lines vs. solid lines.  cut vs. fold.  Always be sure to make extra copies and deliberately model messing up!  Model how to start over without getting upset, and model how gluing might fix the problem once it goes into the journal.  Not every mess up needs to be redone.  Some will work out just fine once things get put onto the journal page.
Folding can be taught.  It's something that young learners struggle to master, but some are prone to it while others will need practice all year.  Giving students tips such as pinching the dotted line, lining up sides, matching corners, creasing after- not before, can help give them a little edge in their folding skills.  Again always model correctly and incorrectly.  Talk about why it matters. (or even why it doesn't matter if students are getting too hung up on perfect lines)
Believe it or not you will automatically figure out your systems and procedures once your students are working in journals.  Let me share some of my favorite little procedures that keep me sane.  In my example journal, I clip any pieces or parts that need gluing down.  (top left corner of the above picture) This way I can manipulate the pieces while I am explaining the journal lesson without actually sharing the answers with students.  I can move the pieces around as we discuss why numbers are correct or incorrect, but when it is time for students to work they can not peek at any answers because my pieces are not glued down.
Organization
Another system I use is to help keep track of student pieces.  Depending on your classroom and supply areas you will need to make this work for you.  I used to have students keep loose pieces in their tool boxes (pencil boxes) if a lesson was going to span 2 days time.  I have also said for students to place loose pieces on the page and close them into the journal.
Another system is to have a little pocket made with a plastic baggie or paper square on the inside or back cover of your journals for students to use for small pieces.  I usually require that journals get finished within the allotted time each day to eliminate this issue, but occasionally we work on longer activities or those that have many pieces so having something in place to handle this issue is helpful.
*So are extra copies of each activity*
Also, teach your students whether they may move on to a rotation without finishing or whether finishing must happen first.  It of course depends on your structure.  I have students finish first unless it is a particularly long or multi-day journal activity. I let students know ahead of time where to put pieces and how to ensure they will be set for the next day's journal lesson to pick right up.
In my classroom, journal is one component of guided math.  Once students have shown independence and mastered stamina in working in their journals, they are ready to be independent within our guided math block.  While I am teaching a small group lesson one of the activities that students rotate through is math journal.
Style
Alright…this manner of layout can get teachers a talkin' so let me first say that you will want to teach the layout that matches YOUR instruction.  If you are using the journal as part of instruction where students work on one side of the page during the lesson and the other side of the page for the independent application, then teach to that layout.  Talk about where certain points of information will go and why it is important.
If you want students to use their journal as a recording sheet and record of tasks, than teach to that layout.  Explain how to number and to use the margins and lines to meet your needs.
Personally, I use my journal as a record of daily learning.  All our tasks whether independent or done during a lesson together will go in the journal.  I use every page front and back.  I do have certain things I want students to notice and practice such as spacing, titles, dates, and how they write the information inside.  This all comes as you teach that first round of activities.
Just as there are differing layout preferences and styles, there are also glue preferences too!  Find what works for your students and teach it.  Although we go through them like water in a desert, I prefer glue sticks.  Many of my good teacher friends feel the same, but some love using white glue instead.  No matter what you choose there will be students that struggle not to stick pages together.  Make accommodations for those that need a drying place in the room or a glue buddy for reteaching this skill.
Above all the little journal tricks, your students will find a BIG sense of PRIDE in their math journals.  All their thinking is bursting out in fun activities that they can look through and also share with others.
In the links below you can find other math journal blog posts.  From how they fit in with guided math, to pictures of students working in action.  I hope it helps you get more comfortable with the idea!
If you like scooping up things in bundles, you can get September through December in this bundle
…And January (winter) through May in this bundle!
 Second Grade Teachers!  I have journals for you too!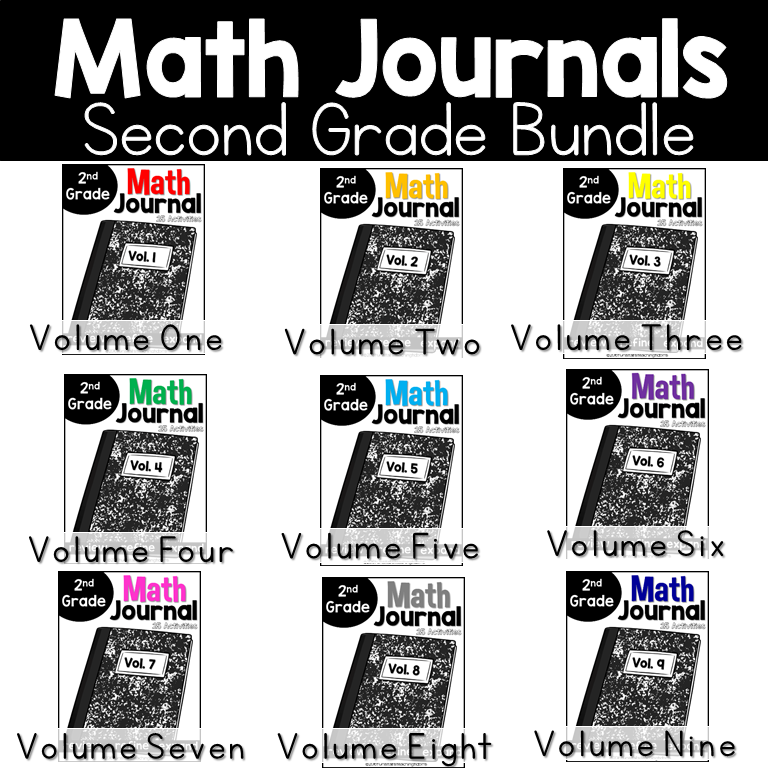 Not sure at all?  Try it free!  You can get this little freebie with some sample journal pages!
Happy Journaling!