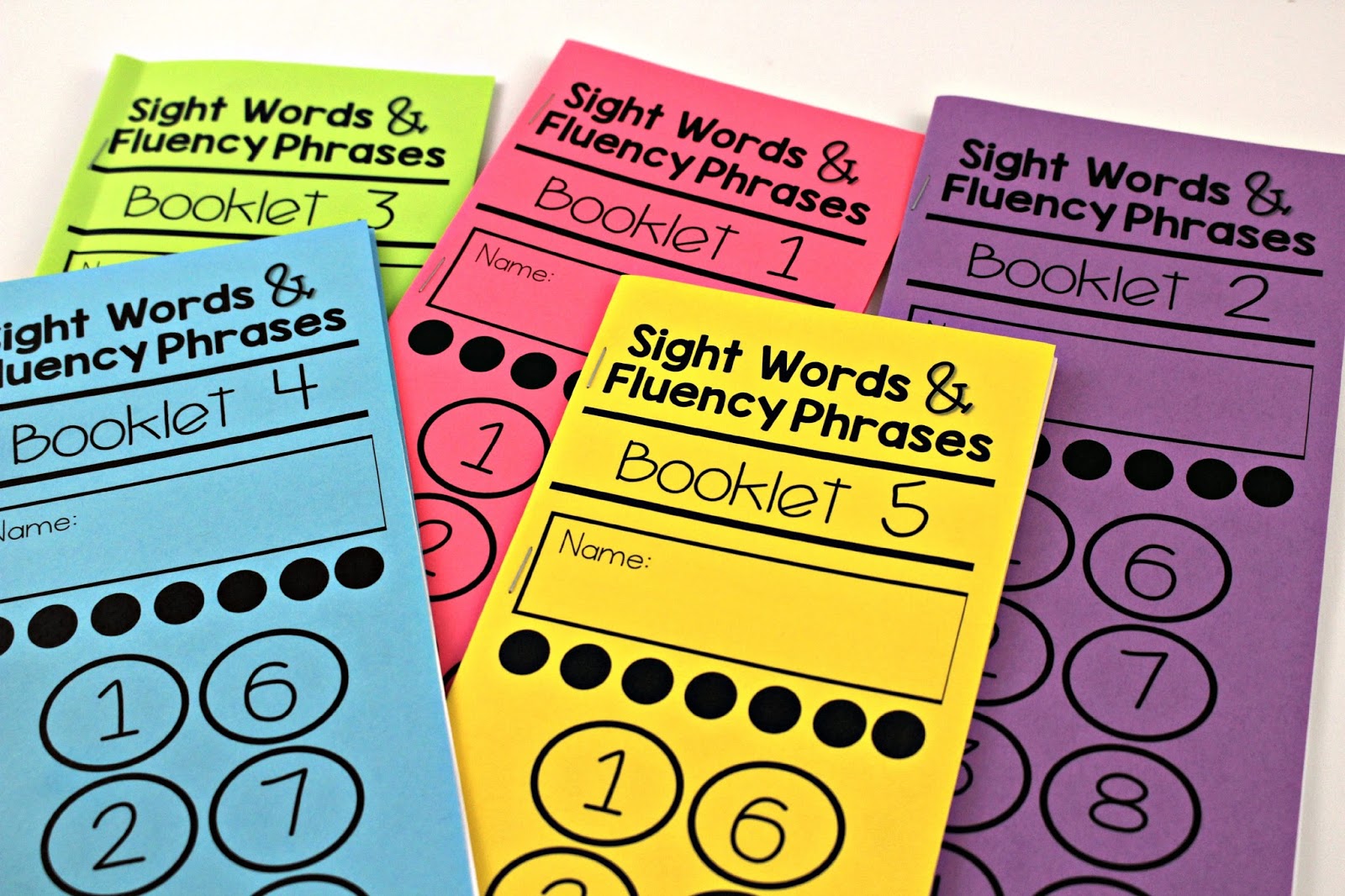 During my guided reading session last week in Tennessee , I was asked how I track sight words.  I did my best to describe these little leveled sight word and fluency phrase books, but I decided a blog post about this was definitely in order!
These little booklets make teaching sight words and fluency phrases a breeze! Everyone can move through the lists at their own pace, allowing all the varied levels of readers to progress using the same tool.  WIN.
Here's how it works:
First students start with booklet one.  Each page has 10 fry's words on the front and ten fluency phrases with those same words on the back.  When students read front and back, automatically and accurately,  they move on to the next list.  (editable template too)
Below is the very first list.  on the left, are the first ten words.  On the right, are the very beginning fluency phrases.
Once students work through an entire booklet, they graduate to the next.  If they can get through all 5 booklets, that's 500 sight words and 500 fluency phrases!
I dated the bottom of the levels to keep a record of mastery.  Below is a little mock up of how you can quickly write it in there.
My students loved to keep these in their book boxes and take home bags so they would be ready to "level up" at any time.  There are ten spots on the front of each book for coloring, stamping, or placing stickers on to show what levels have been completed.
Color coding the different levels is helpful for keeping track of the order of difficulty.  Also, these tuck perfectly into a data binder or take home folder.
I only gave the student one booklet at a time to work through.  It was a big deal to move on to the next color.
How often you check students can be up to you.  If you are a Friday assessment type of school then you can do that.  I usually did it as a quick check for one student each day at the start or end of guided reading small group time.  If a student really practiced and wanted to read their list to me, I would sometimes allow it more than once a week.   It takes 30 seconds to test both sides if a student is ready and reading with automaticity.
If I had a student reading far above the norm, I would not start them at
booklet one.  The more I used the booklets, the more comfortable I became with
the lists and how they related to my students.
According to Fry's, each
set of 100 words was a grade level.  So booklet 5 would be 5th grade
high frequency words.  I had three students get to booklet 5 in the
year.  I also had a couple that worked through booklet 1 the entire
year.  Of course everyone else was somewhere in the middle.
If Fry's are not the words for you, I also included an editable template so you can make your own word list and fluency phrases.
I keep a tool box (student supply box) on my desk with my sheets of stickers.  Allowing students to choose the sticker that they want for the cover was a HUGE motivator for them.  If you are short on stickers, they can color or stamp each level.
Now just to share a little about the conference referenced above!  Cara told me that Tennessee was wonderful, and boy was she right!  I really enjoyed my time there.  I spoke for two days, eight different sessions.  It was so fun to see these smiling faces and many more.  I know their students were missing them, but what lucky students they have for sure!!!!