The Last Week Of School Survival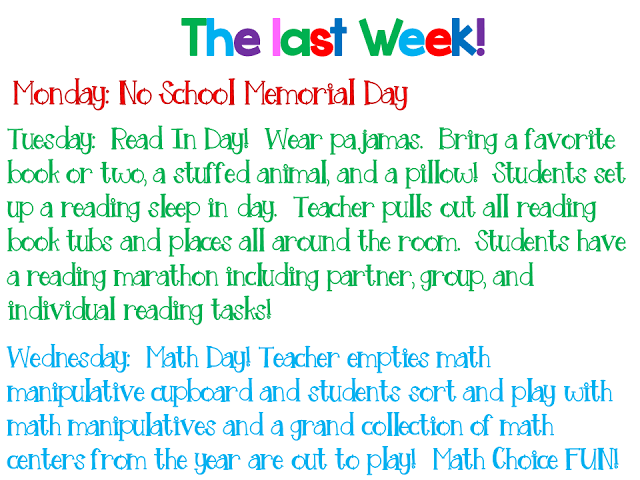 Next week is our last week.
This calls for a special team meeting in which we come up with a survival plan.
Task Number 1
What Should We Teach This Week?
Let's face
it. We've taught the standards. They are trained. Now what?!
Incorporate them into your end of year clean out and sort while allowing
them to practice their reading, math, and social skills!
This is our end of year game plan: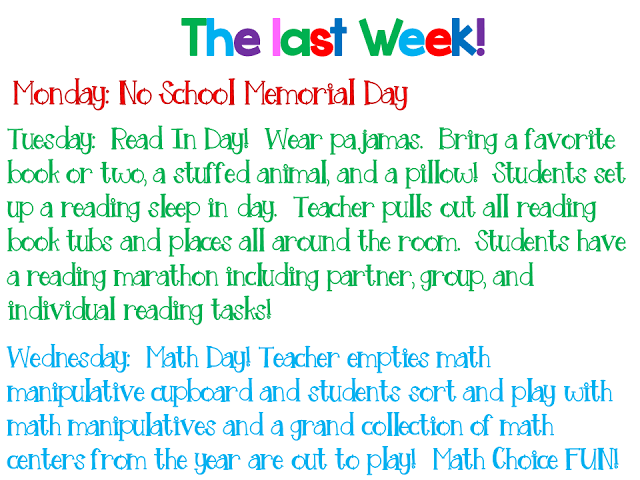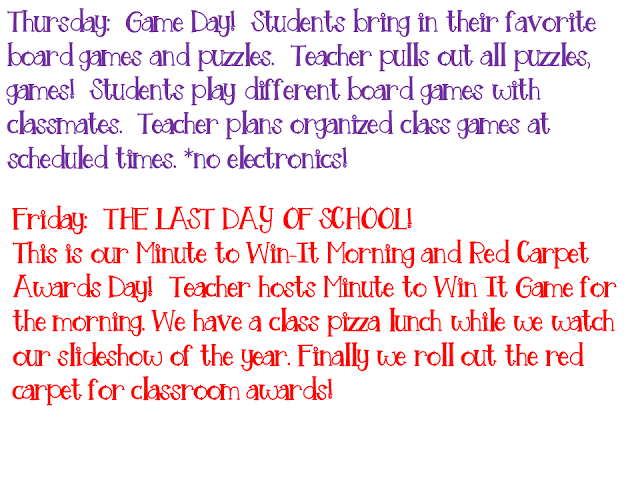 Task Number 2
BEHAVIOR MANAGEMENT
We begin the reward recess club for the last week. We get approval to have an extra recess in the afternoons of the last week. Truly it is only 3 days Tuesday-Wednesday. We don't do this on the very last day. Each child gets a reward recess card. Put these up on the cabinet and assign one student to manage it. Much like the ticket system, students get to earn 5 minute increments for being noticed for following directions. The manager will stamp each child's card as I call out the good behavior. For example, Jack gets 5 minutes for staying quiet when his table is talking. (manager stamps 5 minutes on Jack's card) I keep a tally paper so I can keep track as well. If I walk over and stand by the cabinet with the stamp in my hand the room falls silent. (I went ahead and put Monday through Friday on the cards, but for us we will only earn Tuesday-Thursday)
click to view
Task Number 3
Morning Work and Printables
What about those times of day when we need to stay busy for 15 minutes in between an end of year assembly or whole group lesson? What should we do for morning work on the last week?
Task Number 4
THE LAST DAY!!!
It's like no other day of the school year. The room is packed up. How do we maintain classroom control and provide meaningful activities?
The Last Day
I host my annual Morning Game Show! (see each game in action here)
Minute To Win It (free)
Lunch- Pizza lunch in the classroom while we watch our yearly slideshow
Red Carpet Awards Ceremony!
Below you will find the awards I use for my class. The academic awards for used for the school assembly which is separate from the "fun" personality and candy awards we do in the room.
Click to view
Click to get your FREE CANDY AWARDS!
Happy End of Year! Hope it is the best yet!