Revisit The Rise and Shine Binder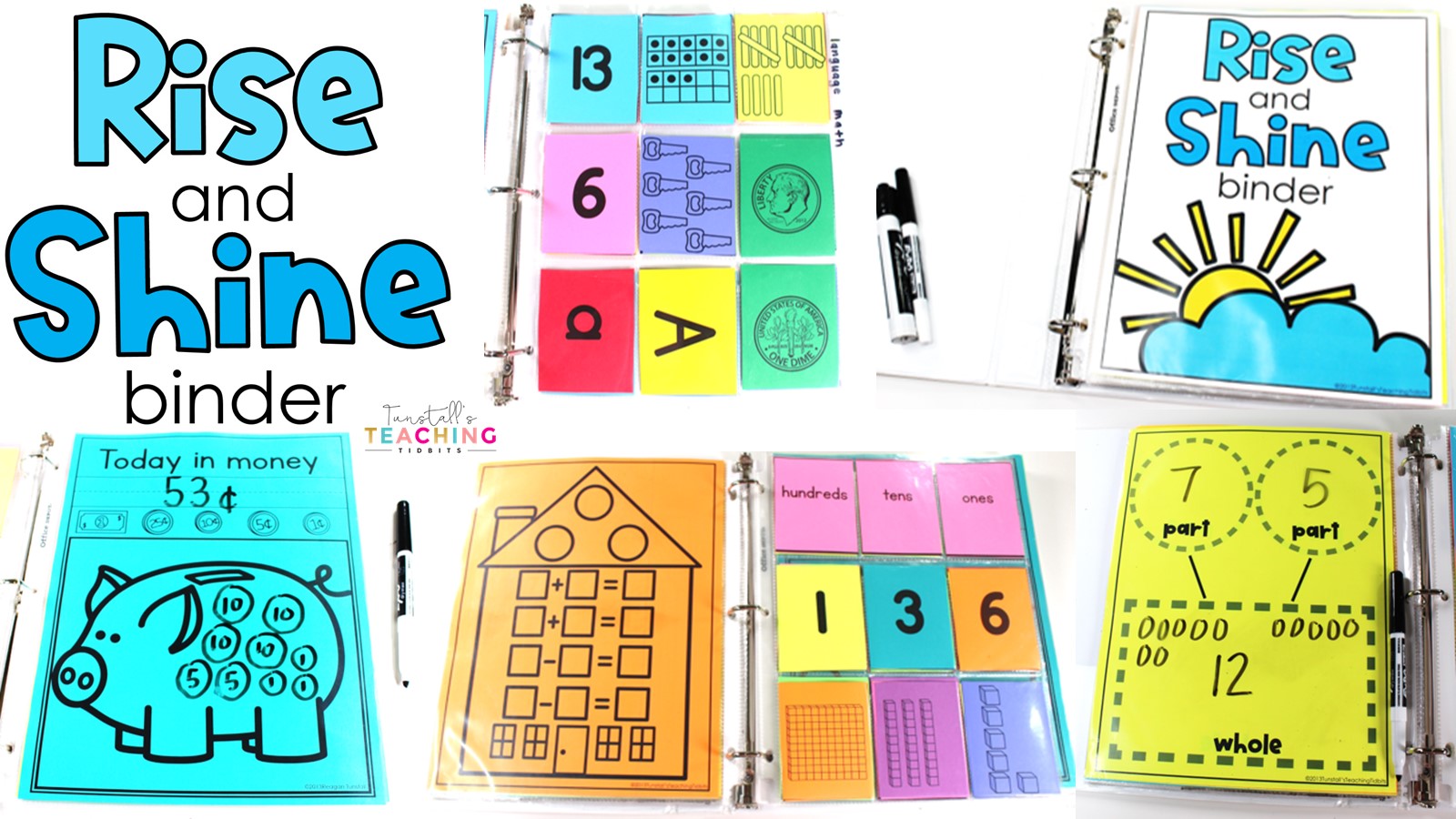 With much prompting and genius from my teaching team, I created The Rise and Shine Binder.  Since then, not only did it change my school mornings for the better, but this resource has had over 10,000 reviews!  I recently made a big update to the file, and in this post, we will revisit the rise and shine binder.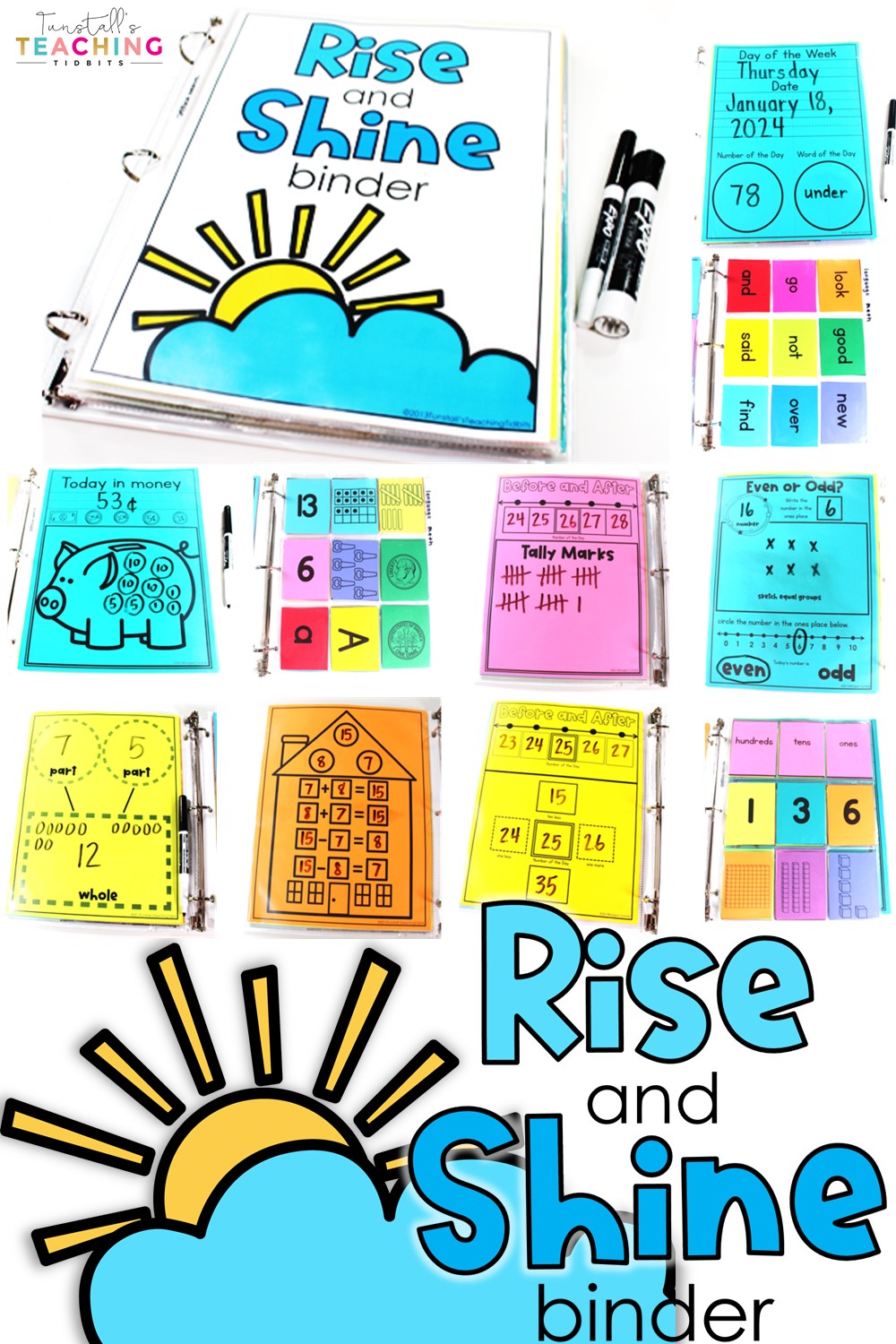 THE RISE AND SHINE BINDER
The idea behind the Rise and Shine Binder is to provide an interactive tool where students self-pace through skills as they enter the classroom and wait for the official bell to ring.  In the primary grades, we track the day in school and learn sight words weekly, so I began with calendar skills, basic math skills involving the ever-changing days in school, and simple sight word or word-of-the-day exercises.  All of these activities are independent write and wipe pages in the binder.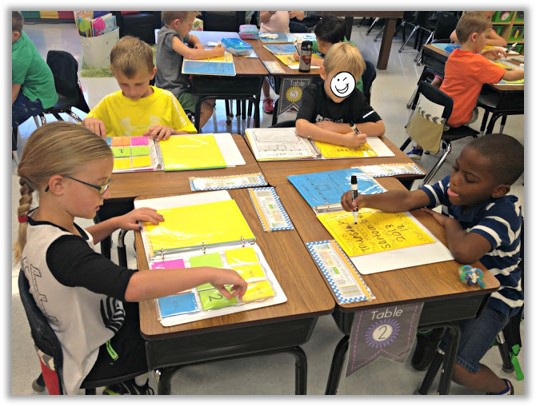 TESTED BY THOUSANDS
I created, posted, and began using the Rise and Shine Binder nine years ago.  Since then, it has received over ten thousand happy teacher reviews.  A frequently asked question is how to get the rise and shine launched.  To get it launched, I would set everything up at the end of the day for the following day.  I would point to where we keep the calendar, the date, and the number and word of the day.  I then pointed them out in a teacher example binder under the document camera of how I wanted things completed.  The first day we just did one page.  Then as time goes on, I introduce more and more.  Because we do it at the end of the previous day, they are more equipped to go right into it independently.  I walk around during the trickle in time monitoring and helping.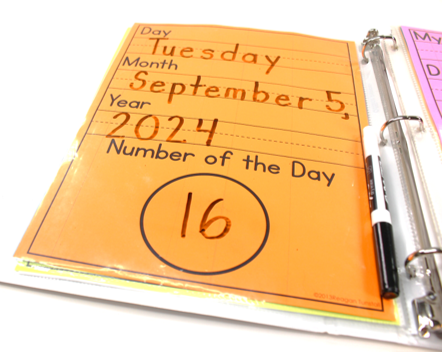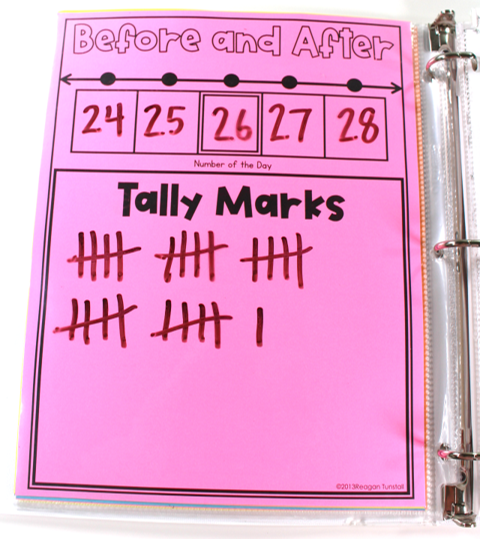 WHAT IS INCLUDED?
This file and the variety of response activities continue to grow throughout the year.  Currently, it has over 100 pages.  Many times, there is a variety of recording the same information ranging from K-2.  There is more than what students can do in a morning available for you to choose from.  This is because I like students to progress to more difficult response pages through the school year.  The rule is that they must work up to the pages we have learned together.  I am always watching the pacing to see if it's time to give them new pages to complete.  Then, we will retire pages by slipping them out and tucking them behind in the sleeve where I have the next level of difficulty waiting.  Here is an example below of two similar concepts but one is more advanced than the other.
In the pictures below, we are working with number sense, flexibility with numbers, related facts, and computation.  These are not all done at the same time.  I will retire one and introduce another one, so students roughly complete the amount I need for the time we have in the morning.  I prep everything and have them in order in the binders tucked behind.  Students are amazed when I tell them to pull a page out and it reveals a new page.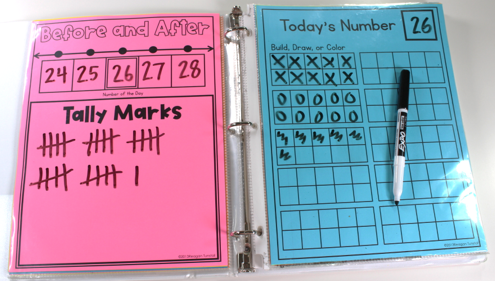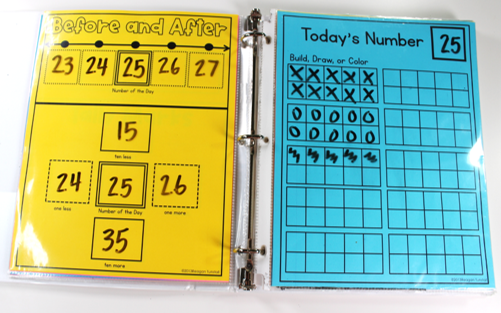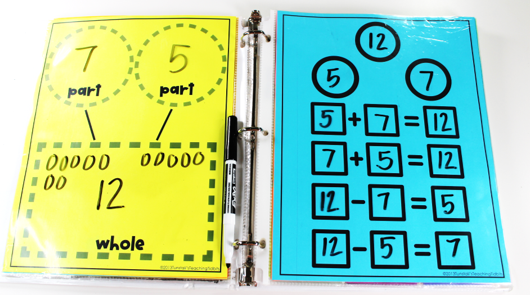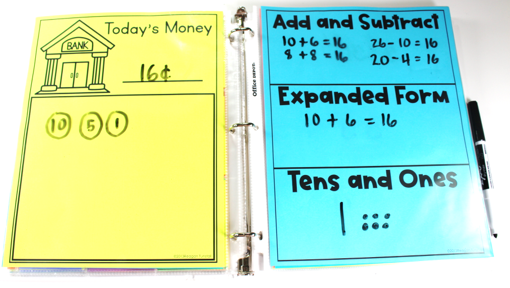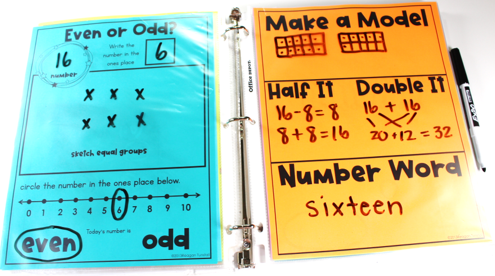 TIPS ON USE
Through the years, I have learned some tricks that have helped me keep my sanity.  Printing on card stock for the number cards helps them stay in place in the trading pockets.  Or if using copy paper, trimming them to be a nice tight fit in the pocket eliminates cards falling out.  Just in case we keep a lost a found in the room (for everything, not just this) which students know to place any pieces in they may find.  Another tip is to buy in bulk with your team.  Each summer we put a post-it on the binder pages that were destroyed.  There's always a handful.  Then for the rest, we just change out the sheet protectors and everything else is ready to go.  We use these binders for years.  Another tip is to buy a package of boys' socks in black.  This holds each student's dry erase marker and serves as the eraser.  The black color hides the dry erase mess, and the sock keeps the marker safe.  We put our socks in our supply box.
MANAGEMENT
Typically, I wander the room doing all my teacher duties like trying to drink my already cold coffee and keep track of turning in work, etc. and somehow it all works out because the skills are consistent yet different daily.  This helps students work independently.  One year we were urged to take on an upper grade student as teacher assistants.  Monitoring the Rise and Shine Binders was the first task I gave my 4th grade teacher assistant, and it was such a WIN for us all.  The students couldn't wait to raise their hand and talk to the 4th grader about their work, and I was able to really get things done in the morning.  Since that year, I have always put in a request with an upper grade teacher for a responsible assistant to help during the morning trickle in time.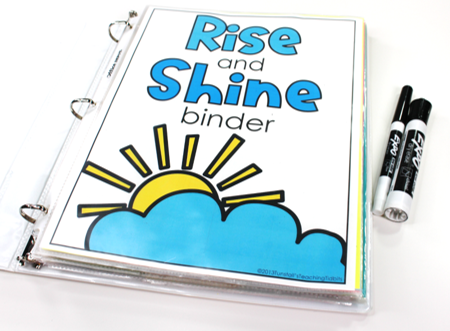 GRADING
In the primary grades, students always believe they are being graded, but with the Rise and Shine, it is practice and that's it.  I know which students are able to get creative and take things far and which can barely handle the given questions.  There are some that need accommodations like transfer help with the completed pages near them too.  It's always a range of abilities.  This is not a punitive assignment.  We don't lose our recess over not finishing the desired pages.  Some students arrive 30 minutes before the bell and some arrive just as the bell rings.  For this reason, I don't stress on binder grading.  Once students raise their hand to be checked, they are instructed to either correct something or erase the checked pages and put their sock and marker away.  That's it!  To keep motivation high, my upper-grade assistant will randomly give out stamps, stickers, or even just knuckles.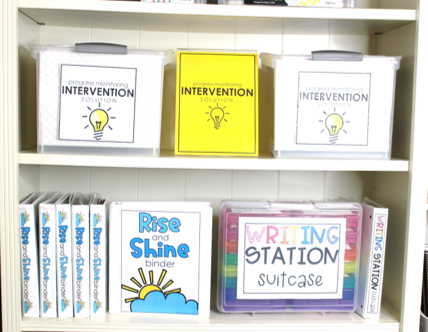 ADDITIONS TO THE RISE AND SHINE ROUTINE
One thing that I began doing through the years is to add in skill review morning work to the back of certain student binders.  Those kids who really could do more and would benefit.  I quickly realized, that's everyone.  I began by putting a week of daily language and daily math into the binders.  Then one time I was really on top of things and put a month in there.  Students know they can only do one language and one math or sometimes I say one language OR one math.  It depends on the class and the timing.  In any case, most students can get to and finish one page at least daily because I let them continue to work on it for the first few minutes after the official bell.  It's also checked by the upper-grade assistant–then torn out and tucked away in their take home folders.
Daily Language Available for Kinder, 1st, 2nd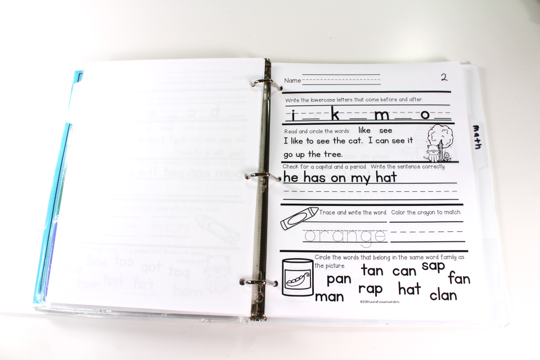 Daily Math Available for Kinder, 1st, 2nd.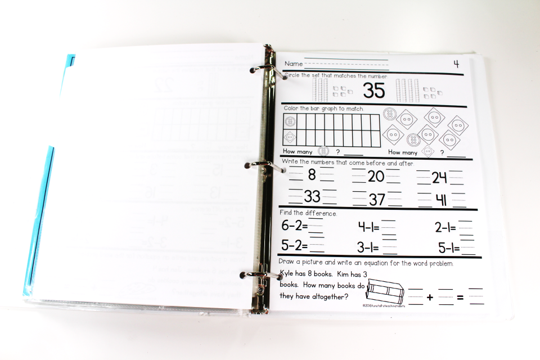 MORE FOR YOUR MORNING
Another Godsend in the morning and to kick-off my math and literacy blocks are these Digital Warm-Ups for Math and Literacy.  These blog posts below will share how use them in K-5.