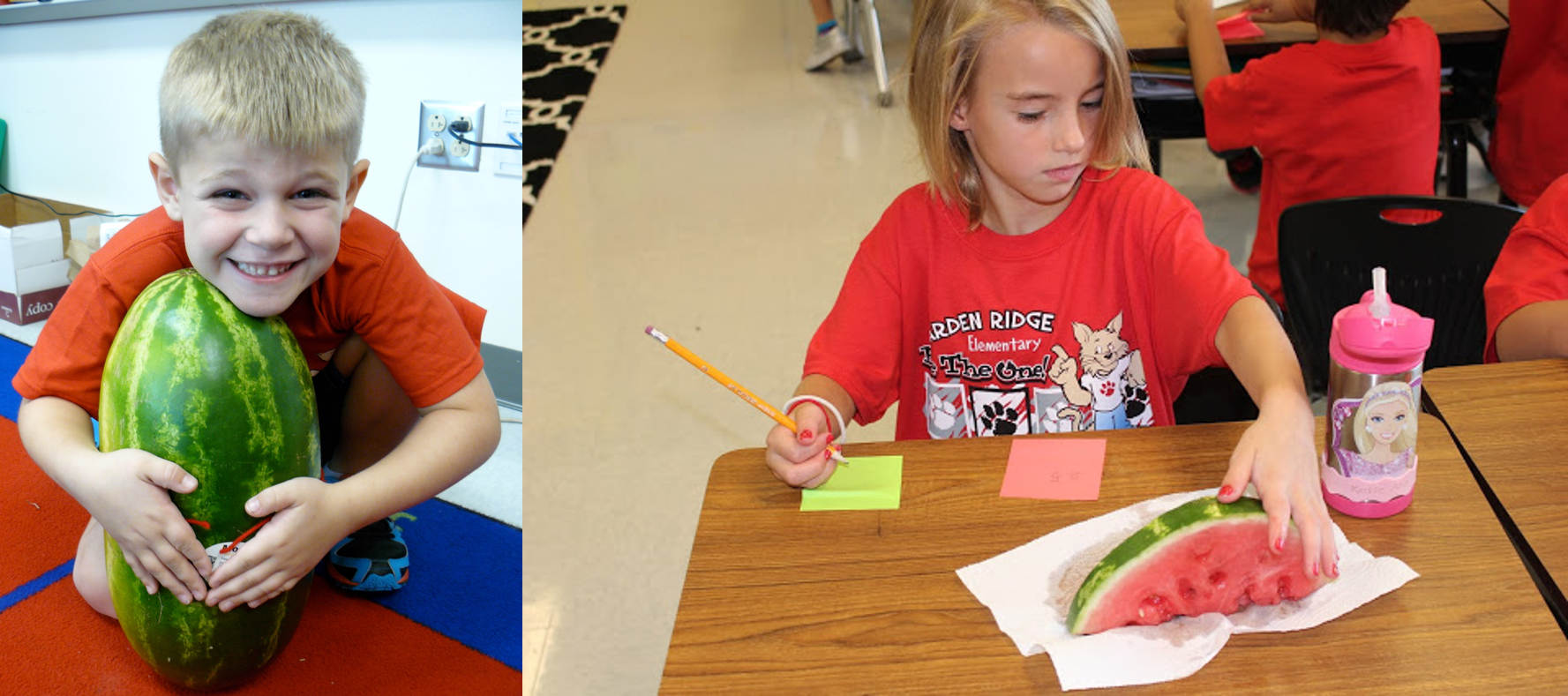 Last Summer I wrote a blog post about how we introduce our students to the scientific process by allowing them to kick off the school year with watermelon science.  It's been on my to do list to get all of the activities together into an interactive watermelon science book since then.  I am happy to share that it finally happened!  Now grab your fancy watermelon blender drink you saw on pinterest, sit down, and let's discuss…
On the first day of school each teacher brings in a big watermelon and places it in the classroom.  Exhibit W:  Among all the getting to know you first day of school activities.  Most students are too overwhelmed or nervous to mention that there's an oddly placed watermelon hanging out in the classroom, but not all of them.  There's always at least one go-getter that will work up the courage to shout, Hey why do you have a watermelon in here?!"
At this point you share with the class that you can't wait to tell them all about the science you will be doing with that fantastic and LARGE fruit!  It's a terrific ice-breaker and gives everyone something to look forward to!  So we tell our students that we have fun watermelon investigations to do all week and then on Friday we will do our final investigation and cut it open to eat it too!  Cheers erupt, dramatically take a bow, and cue music.  oh sorry I get carried away…
Here's a fun twist on the dreaded school tour! (or is that just me?)  Go on a bathroom break during your morning procedure and expectation routine, and while you are there have a teammate steal your watermelon!!  (We carry ours down to our principal's office.) When you get back to the classroom, hopefully someone will notice, but if they don't, turn on your acting skills and start asking them where the watermelon is in a my new teacher might be a little bit nuts kind of a way.  Get a little carried away and overly concerned.  Explain that you had so much learning planned with that watermelon and now we MUST find that watermelon!!!  Ask students if they can help you search the school for the missing watermelon.  Ask students to look for anything that might help us find the watermelon!  Place these watermelon tags around the school at the places you want to visit.  My teamie wrote cute rhyming watermelon clues for us last year but this is all I've got for ya folks….   Students spot these clues and feel a part of the school tour, I mean investigation, which helps give you purpose for wandering the halls with a crew of unorganized untrained students on the first day of school.  We wind up in the principals office where she has safely kept our watermelon for us.  She was just admiring it and hoping to meet us.  What a relief.  We grab our watermelon, high five our principal and head back to class.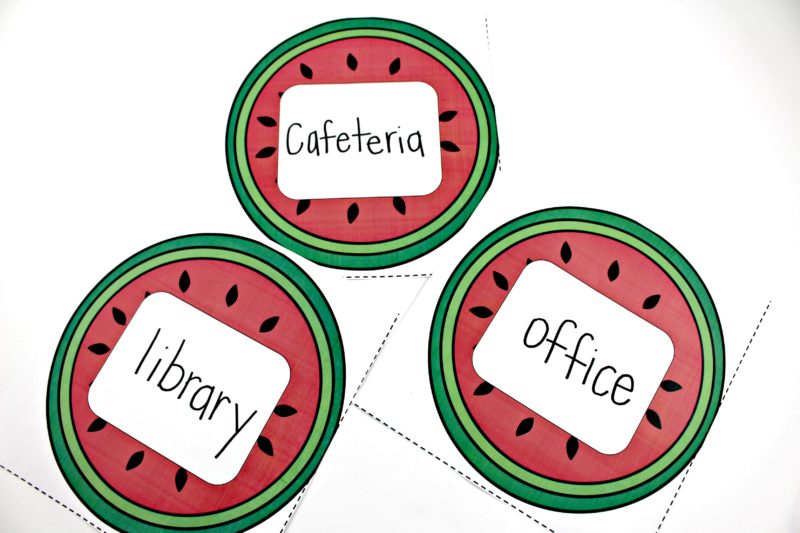 There are 6 different investigations to do throughout the week.  The first week of school is so much about routines, procedures, expectations, and more expectations.  It's not super engaging content generally speaking and in the long afternoon these activities are the perfect fit! Focus your attention on the scientific process while also getting your students thinking, sharing, hypothesizing, testing, and even….learning.  The investigations are simple.  No fancy equipment needed.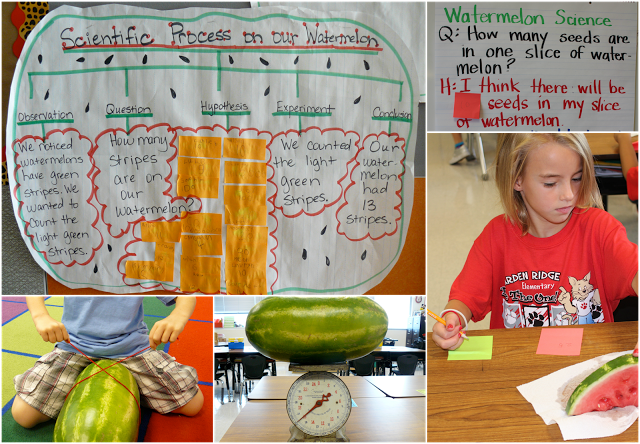 Choose to do the investigations in any order that makes sense to you and what your students can handle!  I like to do them in this order:
How many stripes does our watermelon have?
How much does our watermelon weigh? (any scale)
How tall is our watermelon? (snapcubes)
Will or watermelon sink or float? (container of water)
What is the circumference of our watermelon (yarn)
How many seeds are in a slice of watermelon? (knife)
Watermelon Science
Bring the watermelon to the carpet area with the kids.  (I carried a watermelon)
Pull out a read aloud.   The Watermelon Seed (bottom left) is a favorite.  It is even on Youtube!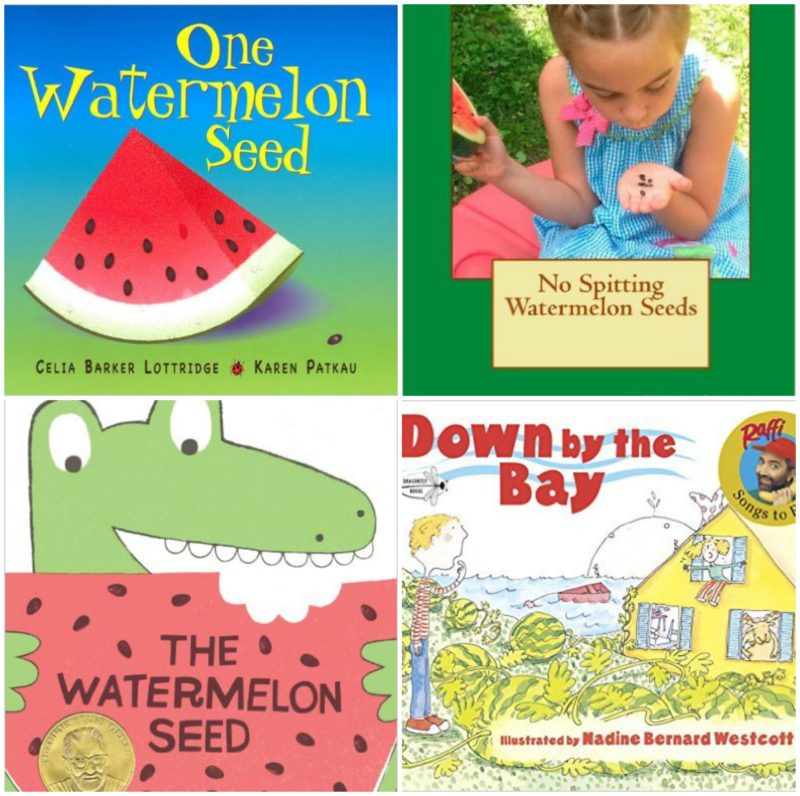 click picture to find these books on amazon (affiliate link)
After the lesson it's a nice closing activity to show the youtube video of the book you read!
Give an overview of Explain the watermelon book (show them their blank activity books) Model the example book (shown below) Allow students to color and glue their title and name on the cover.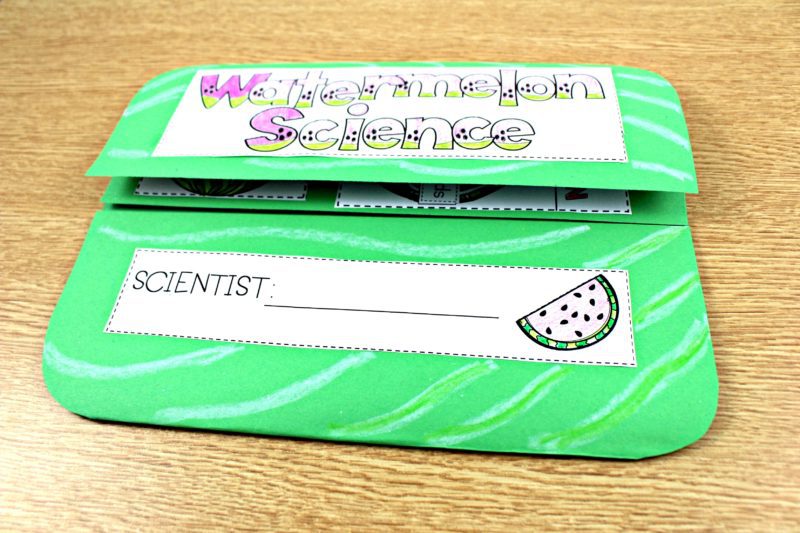 Address your students as scientists.  Share that we are going to investigate as scientists do.  Our subject is a watermelon.  First we want to gather data and make observations.  Tell me what you notice or know about watermelon.  (are you an anchor chart lover?  This is the perfect moment for one) Next, share that scientists ask questions as they observe.  Model that you have a question on your mind after hearing all the wonderful discussion.  You want to know how many stripes our watermelon has!  Decide if you are going to count the light green, dark green, or both stripes.  Next post your question and have students write their hypothesis (prediction) on a post it.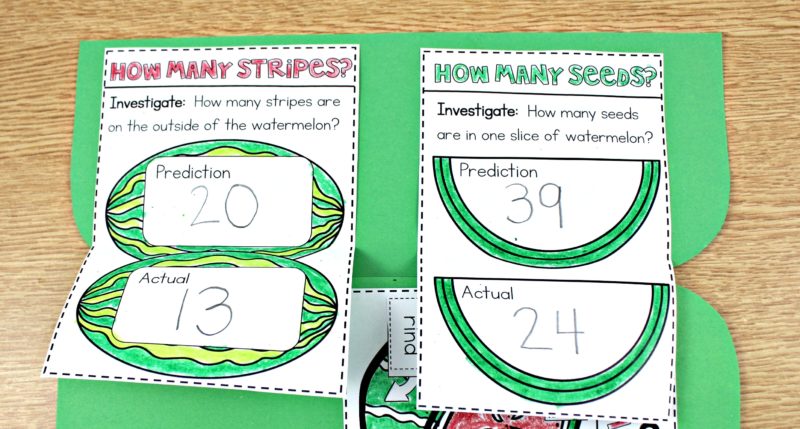 This is a teammate's anchor chart for stripes.  Mine is too left-handed to show you.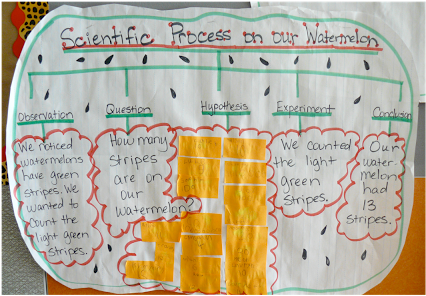 Each day we continue investigating our watermelon as we work through the scientific process.  Here's what we cover!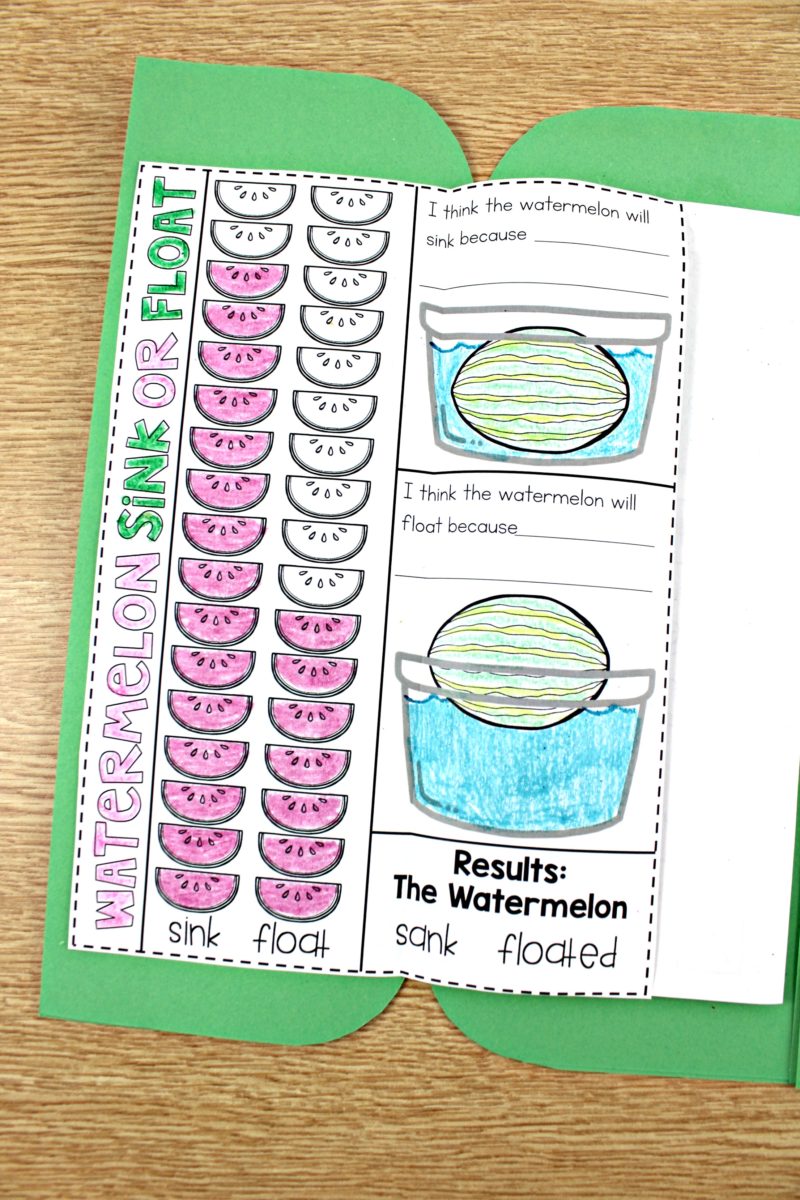 Students enjoy an expository book about the watermelon life cycle and the watermelon.  During that time we gather facts and record them just like scientists do!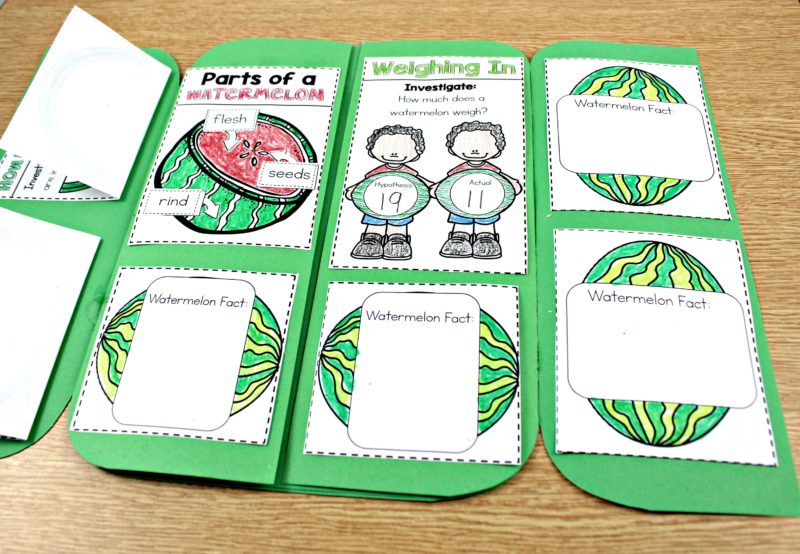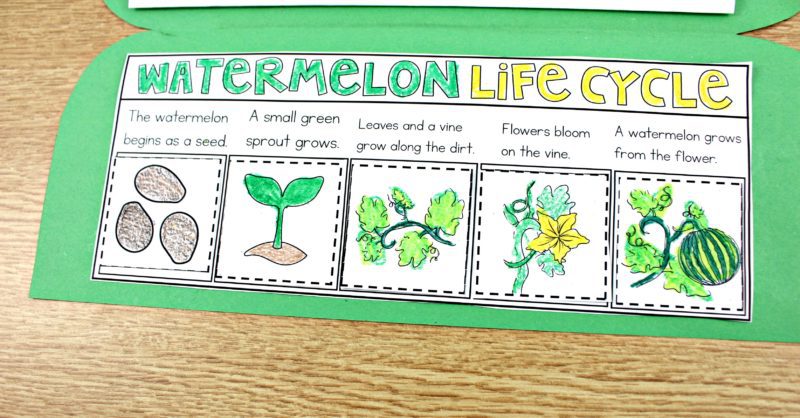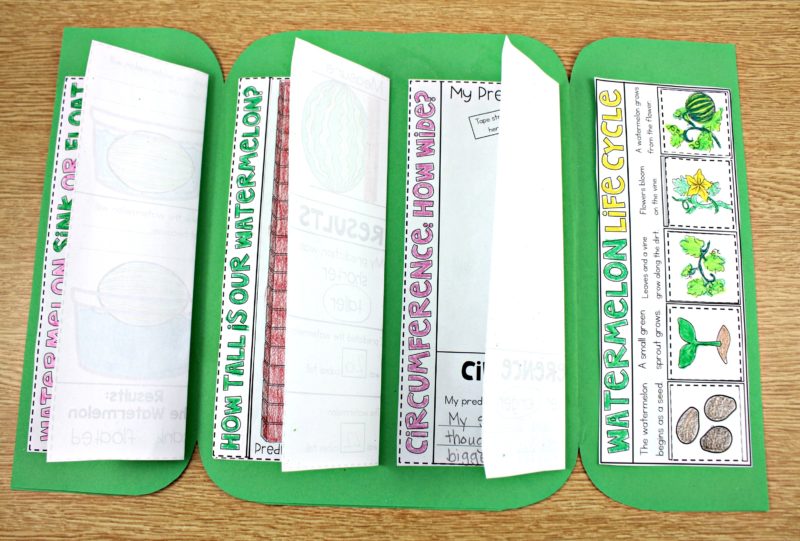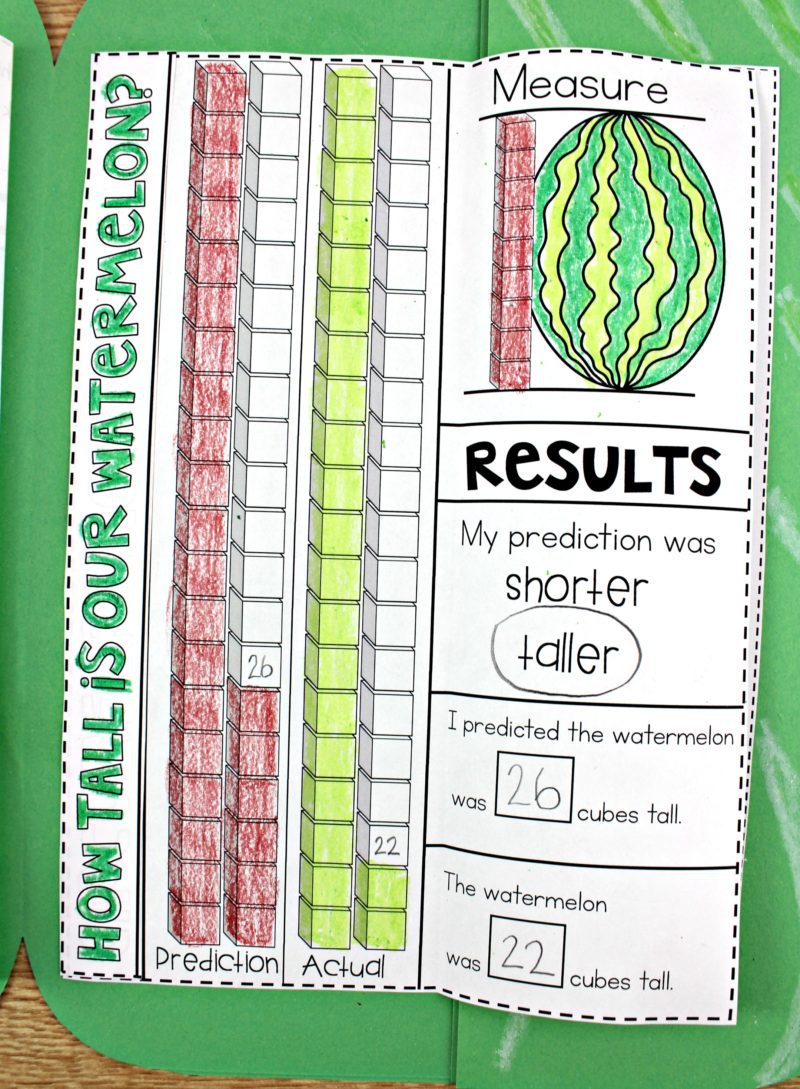 For the circumference activity,  I measure and cut the accurate length of yarn that goes around our watermelon.  One per student.  (the night before) I give students yarn and ask them to make a guess on how long the circumference of the watermelon is.  How big around is our watermelon?  Then students compare their string to the actual length of the watermelon.  Both get taped into the book.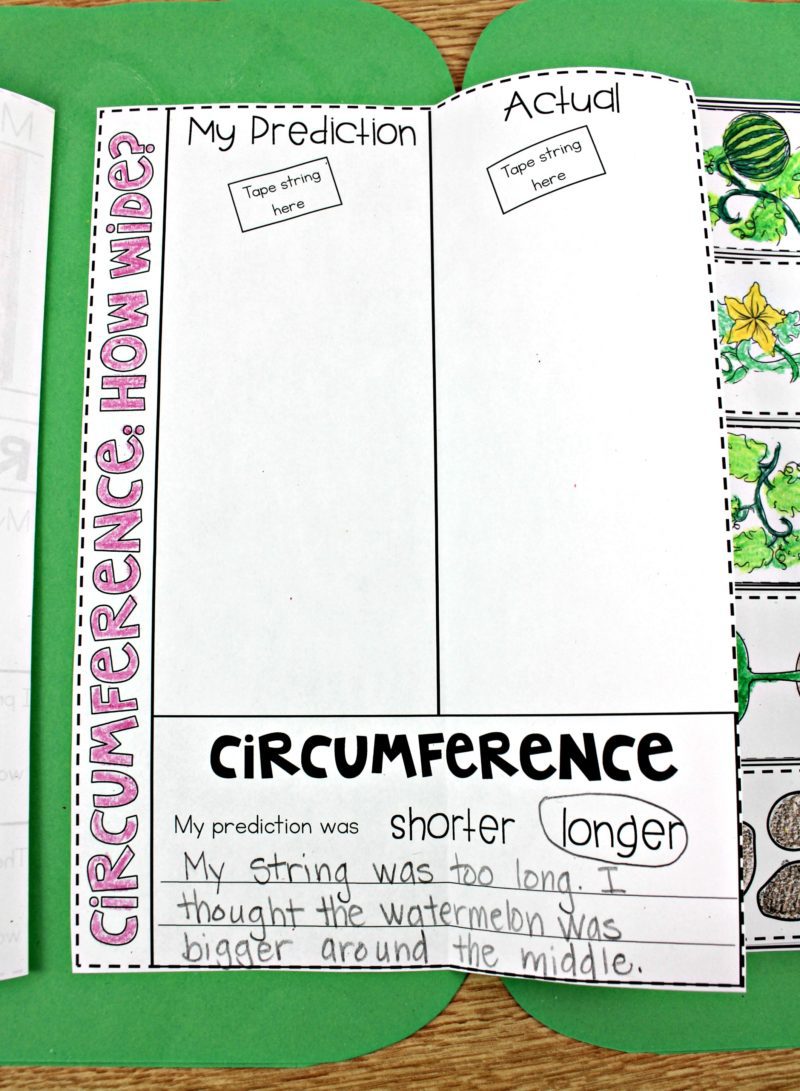 Check out this scientists' near perfect circumference prediction!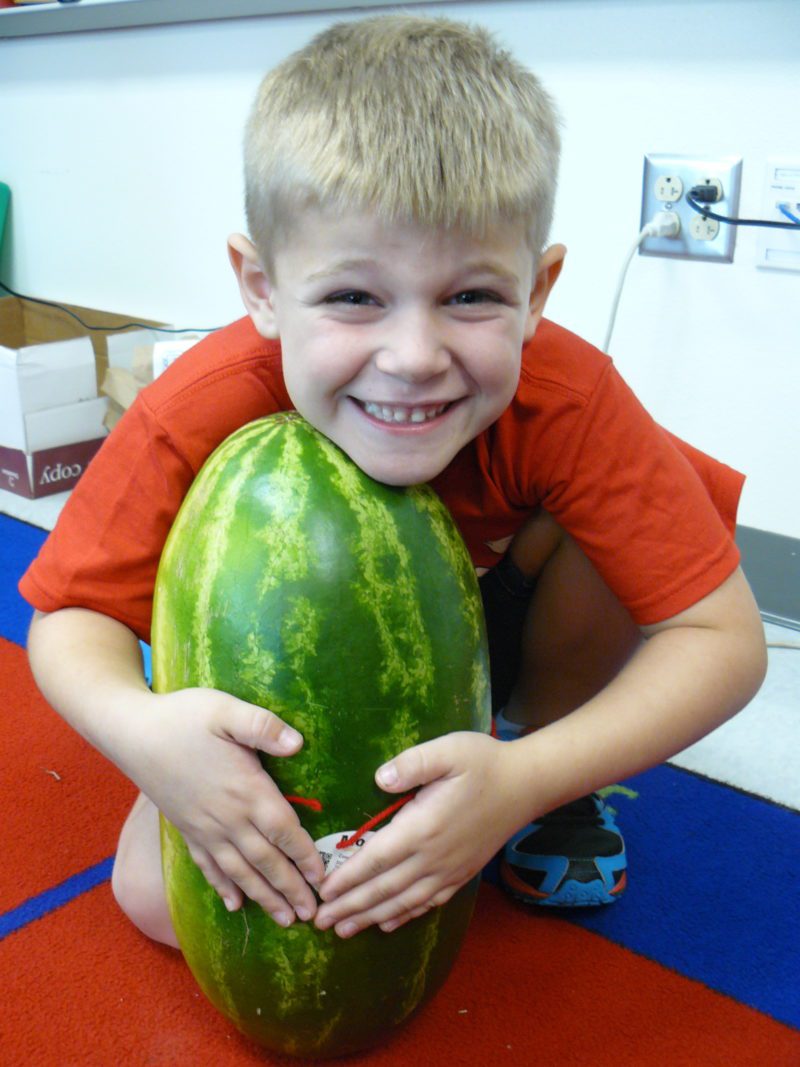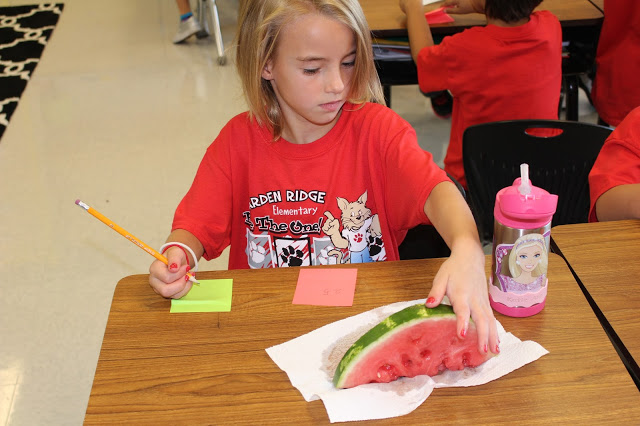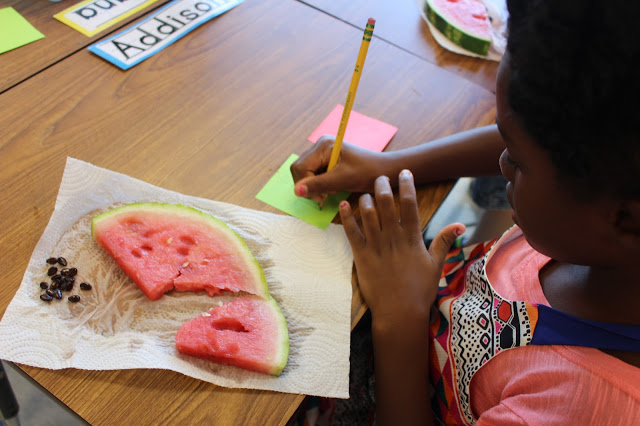 Want to do some cross-curricular teaching?  Together we brainstorm descriptive words for the outside of the watermelon and then we do the same for the inside of the watermelon.  Students record and glue their words to each area on the page.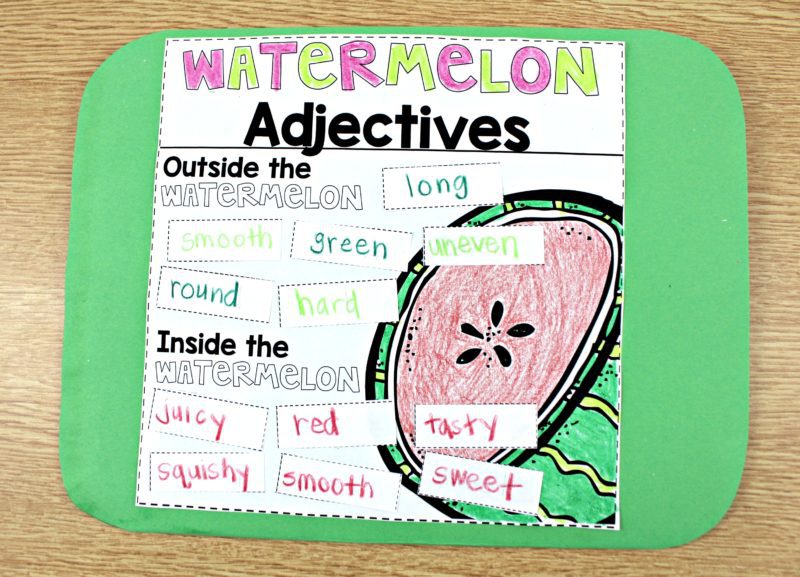 Finally as one of the first activities for students to try in our guided reading launch, I put the watermelon books in the writing center and allow students to write all about watermelon.  This can also be wonderful for writer's workshop.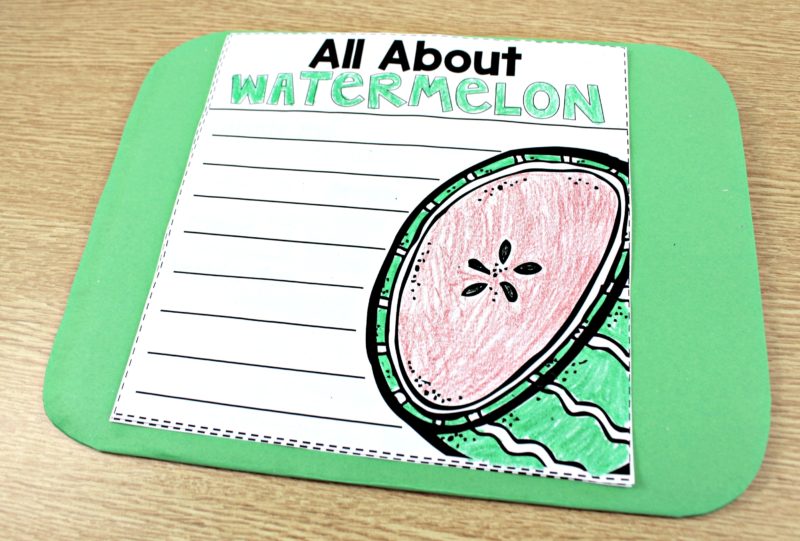 And because I know you haven't been sitting much during that first week.  You need just a few more minutes of watermelon fun to show your students while you get yourself together for the next part of your school day.
Down by the Bay is always a favorite and perfect for teaching rhymes!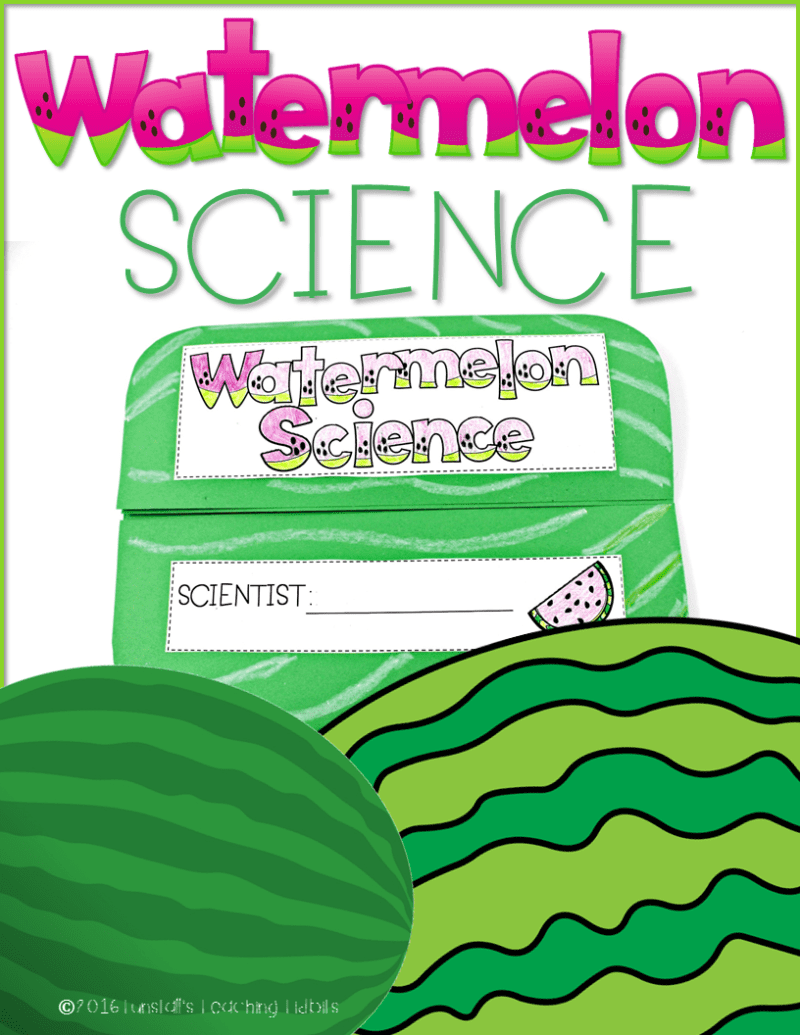 From watermelon science we move on to many more scientific investigations!  Here's a peek at some of them!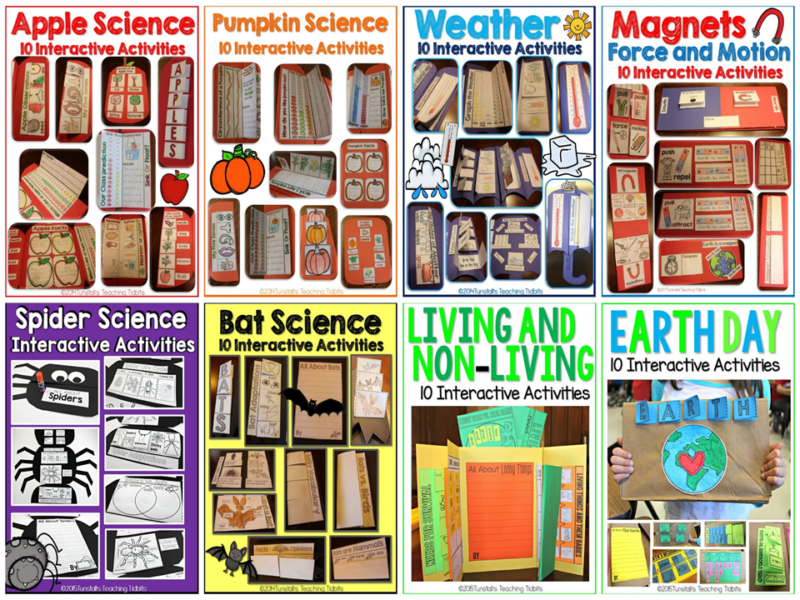 Apple Science
Pumpkin Science
Bat Science
Spider Science
Thanksgiving Past and Present
America The Brave
Magnets Force and Motion
Penguin Science
Dental Health
Weather Activities
Living and Non-Living
Earth Day/Energy