Standards-Based Snake Safari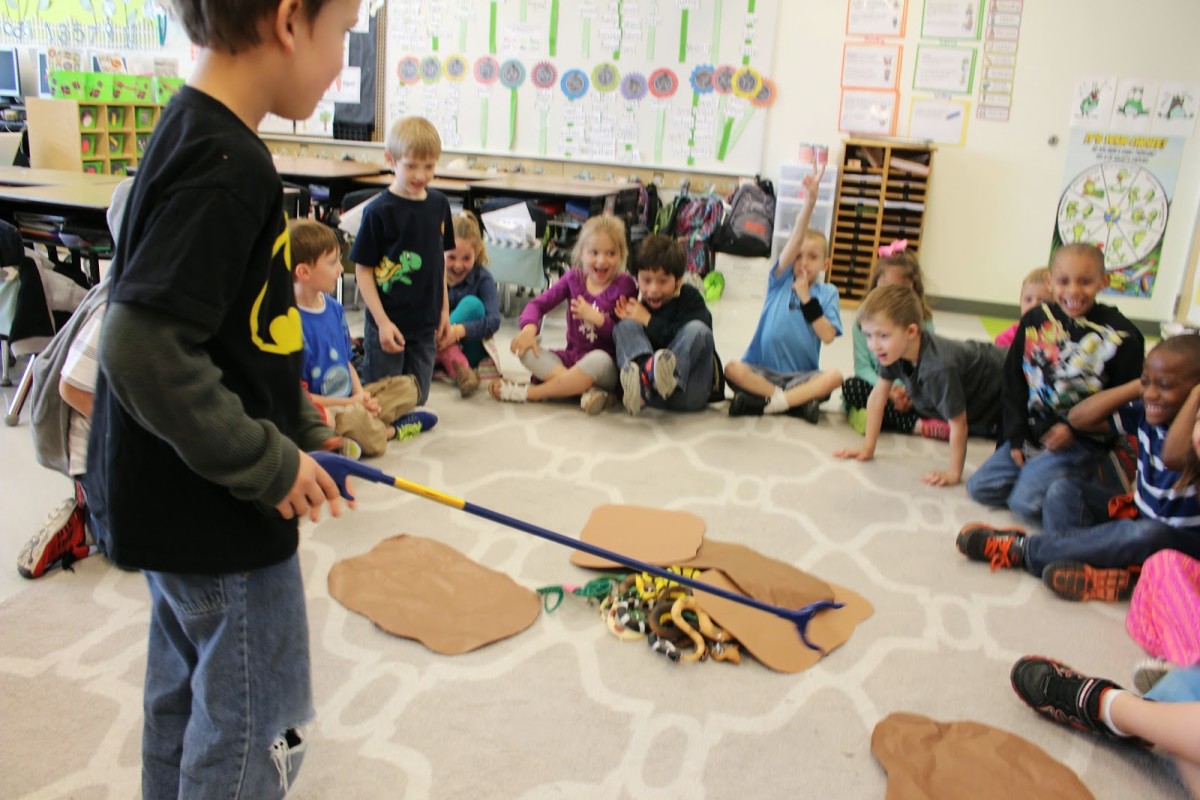 A few years ago I came across these plastic snakes in the discount bin at the local store. (I see them put out now every year at many different stores during spring) Although snakes aren't my favorite creatures, I knew that I had to have them!  I brought them home and scoured the standards to see what I could focus on with these slithery fellows.  I was determined to have a standards-based snake safari at school.   Amazingly I was able to get 14 different standards-based activities to go along with these snakes!  Talk about high engagement!!!  I couldn't wait to get to school.
These pictures are from April of 2013.  We had wrapped up our math and literacy picnic and it was time to embark on a snake safari.   I told my students that while they were at lunch I discovered some rocks on our carpet area that I was a little curious about.  I was pretty sure something was sleeping under them but I was too scared to check.   I asked them to quietly come in and gather around the rug.  They were so intrigued! They shushed each other and made predictions.  Frogs was the most predicted because a green head was sticking out of one of the rocks!
I told them I would need a very brave first grader to take my trusty pinchers and remove one rock.
They gasped, screamed, and giggled!
Once they were all revealed, I asked for snake handlers to pick up one snake at a time and show us it's belly!
Each snake had a word taped to its belly.
We clapped out the syllables together as a class
Then we agreed on the number of syllables in each word.
We recorded them on our class chart.
Later students did this as a literacy center
We also did another whole group activity using the snakes and some quick paper eggs I made up.  Snake Synonyms!
We found this sweet mom and dad watching over their eggs.
Partners carefully chose an egg from the nest of the sleeping snakes.
They were shushing each other and acting jumpy.  So so cute!!
Students came up with their synonym and wrote it out then glued it to a class chart.
Later this became a literacy center for some.  My kids that needed more support, were able to do this with me during guided reading.
Whole Group Version for Anchor Chart
Small Group Version for Literacy Center
Snakes and sight words go together wonderfully.  We took our favorite sight word review game and made a snake version called, SNAKE BITE!!!  This can be done in small group and as a literacy center.
Writing and science went perfectly with our snake themed studies, so we read books, and then sorted statements by facts and opinions.  Next we wrote snake facts in a little booklet at the writing center. After doing this lesson at the rug, I place a small tub of simple snake books (non-fiction readers) and the fact and opinion cards out with the booklets.  The students can't wait to go to the writing center and play teacher sorting the facts, reading through the books, and writing in their little booklets.
One book that really stood out was The Gum Chewing Rattler by Joe Hayes.  What a fantastic story!  Each student gets to hold a snake as I read the story aloud.  Next, we get to make our own tall tale about our snake.  Students enjoyed having a snake buddy to inspire their writing.
We reviewed our s blends with the help of our snake friends.  This was perfect for the last part of the school year because they have so many different spelling patterns in them.  It was a great informal assessment to see how students tackled those words as they sorted.
We had just as much fun during math as we did during literacy!  Sadly, I didn't take many pictures during this time!  There are 7 different math activities/centers for math.
snake fractions
In the fraction center, students also get to color fractions to match a statement such as one out of three snakes is yellow.
Every year we begin our snake safari the same way and it never gets old!  I love seeing their excitement!!
 If you are interested in the snake themed 3 total whole group activities and 11 math and literacy centers just click the picture below or find them HERE.