Morning Meeting: Let's Discuss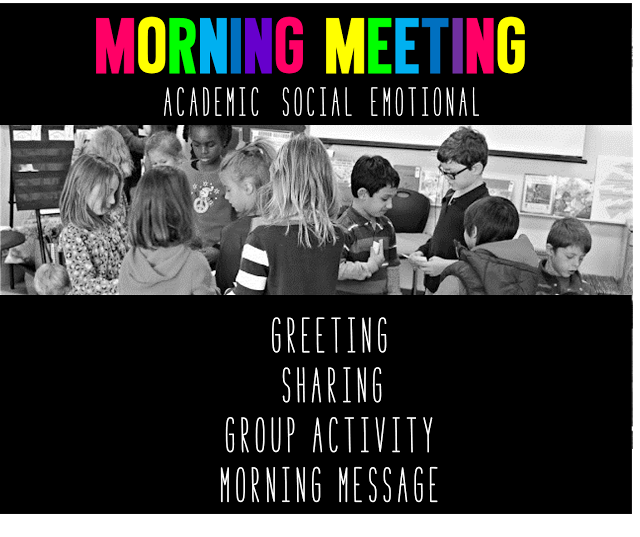 Morning Meeting
As long as I have been teaching I have had morning meeting guilt.  At first, it was because I didn't know what it was and every other teacher on the planet just nodded knowingly when it came up in conversation.  I didn't dare ask.  It was common knowledge and all.  ahem…but I missed that professional development.   And this was before the internet.  So there I was.
 I know right?  A brand new teacher in a portable with no internet invented. (to my knowledge)
Over time I searched, (hooray internet!!) read, and asked about the morning meeting.  Once I understood it, I worked at making it great for my students.  But around year ten I decided I really didn't like it.  I gave it up.  Just cold turkey.  No more writing the same four sentences that my students have already memorized and don't read anyway.  I AM DONE!
I didn't miss it.  But the guilt.  It stayed.  It nagged.  I ignored. Until I couldn't anymore.  My class was definitely missing out but I had no idea how to make it better!  I tried different ideas but nothing really stuck for more than a few days.
Let me show you what it has done for our class!
There are actually four components to the morning meeting.  I didn't know that before this. I thought it was about the morning message!  The components are:  Greeting, Sharing, Group Activity, and Morning Message.
Students carry their own experiences into our classroom.  There are so many things we can not control that enter our safe little classrooms. Thankfully we can control our classroom community.
It may be the most positive time of the day for some students with tough home lives.  Our morning meeting connects us together, gives students a sense of belonging, and sets them up for an academic day!
It starts with the greeting.  There are so many fun ways to greet!  There's no time to get bored! I have my favorites and so do the students.  In the book you will find all sorts of ways to get your students talking and connecting.
This one below is something I named mix and mingle.  Some students have the answers and some students have the questions.  Students take a card on the way to the rug and then greet the student with their match.   I use already played game cards from math and literacy centers so the task is quick and independent.  It's a stress free zone for students.
This one is called, it's May and I am going to let you go around the circle and greet each other because it's field day and I am super preoccupied right now.  What I love is that they answer each other, feel comfortable, and it's a loving environment even on a crazy day in May.
After the greeting, it is time for sharing. Insert eye roll and heavy sigh.   This is where we lose them right?  One student gets up there and rambles on about a toy and we all either have it, want it, or don't care.  I can't take it.  I almost shut the book when I saw sharing.  Let me tell you about real sharing; structured intelligent sharing!!!!
Two days a week we have class pet sharing.  This one is not in the book, but it was happening in the mornings already so I made it the automatic share on those mornings.  When the class pet returns from his adventures we get to hear about it.
The kids name our class pet when he gets delivered to our class.  This year it was Buster the Bobcat.
Buster went home with everyone 4 times this year.  His notebook was bursting with adventures.
What about the days when Buster is gone?  No problem!  There are so many great ideas for sharing that truly develop student speaking and listening skills!
There are different groupings to try with your class that keep things fresh and fun.   Manipulatives play a big part in keeping students on track for sharing.
One of my favorites this year was what I named Bear Share!  A student holds up the yellow bear and gives an opening statement.  Next the student holds up a green bear and shares one detail about the opening sentence topic.  Then two more green bears and two more details about the same topic.  Finally, the student holds up the red bear and delivers a closing statement.  drop mic.  or bears.  Because you just blew me away.
You can vary the manipulatives.  Change up how many details…ANYTHING!  Sometimes I hold up the yellow bear and give the opening sentence and they have to turn to a partner and finish the story.  You name it you can try it!  We use buttons, blocks, any colored objects!
Following sharing is my student's favorite part of the morning meeting.  The group activity.  It's a fun game, song, chant, or warm-up.
I like to mix it up with learning games and fun or team-building games.  I was reluctant to play a non academic game so early in the morning for fear of never getting them back on track for the day's work.  It was not the case at all.
I explained that it is important for us to work hard AND have fun together.  For some, I am sure it is what helped motivate them to come to school!  Be wary of competitive games that pit students against each other.  Stick to teamwork, fun, or learning games to ensure that you don't accidentally upset students at the start of the day.  Also, explain that part of playing a game is learning how to cheer for your classmates when they need you.  We spend a lot of time sharing about how good it felt to be encouraged.  We point out great manners too.
Here we are playing the get the hula hoop around the circle without letting go of our hands game.  I time them and keep the fastest time on the board all year.  We play it about once a week.  Try different sizes of hula hoops!  The dollar store has them.
The fourth and final component of morning meeting is the morning message.  It can be so much better than 4 memorized sentences!
Contrary to popular trends, I choose to write a weekly morning message.  It's a great way to lay out my objectives in kid friendly terms.  I also make sure to include vocabulary, while writing to the reading level of most of my readers.  My morning message changes over the year as my readers become more developed.
Each day we do something important to our morning message to keep it fresh.
Monday- Read it whole body
Tuesday- Find words we don't know.  Discuss them using context clues and then give them special hand motions for the week.
Wednesday- Find Conventions that the teacher wants to highlight and discuss
Thursday- Sight word detective  Find words we know.  Give clues for finding words.
Friday– Last chance to read like a rockstar!  Reflect/Review
We read the morning message with our bodies.  I have no idea how or where I picked this up, but it is wonderful for teaching about conventions while also making everyone responsible for participating!
This picture was taken in May.  I give up the smelly markers and chart paper and let them write a message at this point.  They can't wait for their turn to try it out.
This student is moving fast, so we are reading fast.  I model how to stay with the pointer.  I get really dramatic in my modeling.  It's FUN!!  If I include something new in the MM, we just make up a hand motion to go with it!  Make up your own!
That concludes the morning meeting!  But not really!  I barely touched the ideas you will find in the book!  There's so much more about the responsive classroom, classroom community, and engagement.  Let go of the teacher guilt and begin your day the way you have always wanted to!  (or maybe that's just me!)