Howdy Partners! Come Take A Tour of our Texas Studies!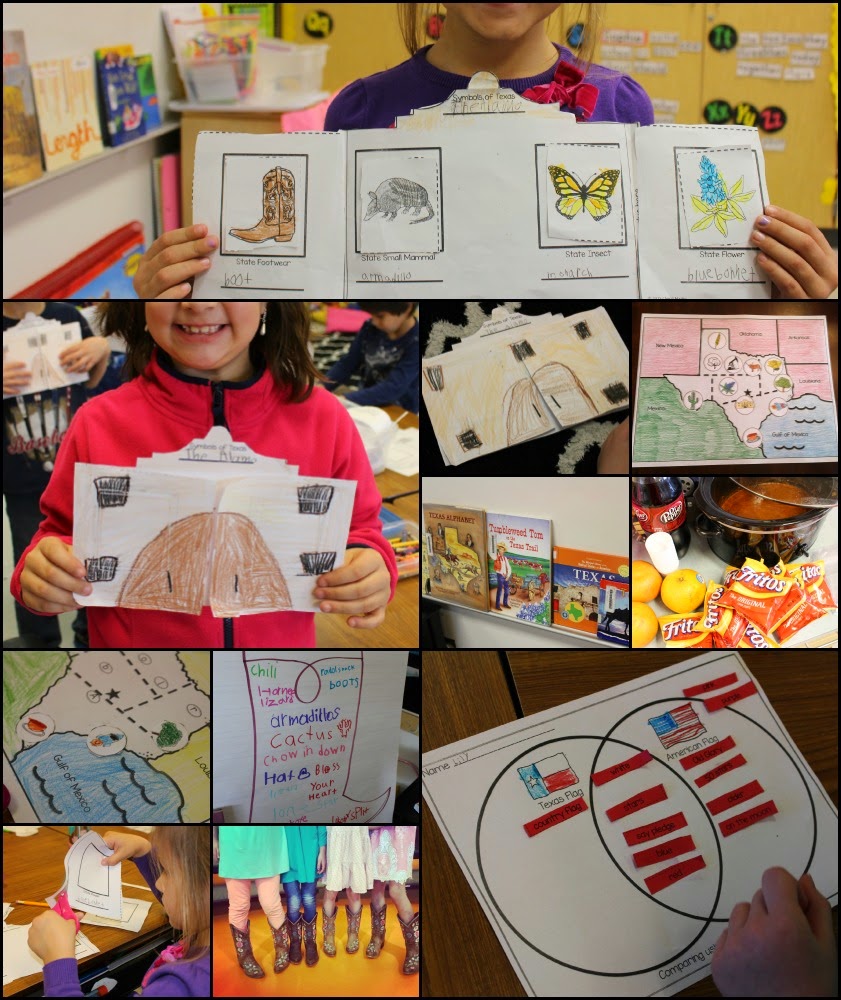 With the help of my teamie, Cheryl Martin, we saddled up and took a week long learning tour of Texas! I first taught this unit last year when I joined Cheryl's team and fell head over heels for it!
First, we kicked off our Texas studies with a Texas Symbols power point!
Here's just a few of the slides we watched together.
After we watched the slideshow, students created their very own Symbols of Texas booklet. It was a terrific way to include note taking too! They begged to watch the slideshow every single day. This book was done together at first and then independently once they understood the procedure.
We also took a tour of Texas and as we traveled around the state, we colored and glued the Texas symbols, crops, and resources along the way! The book, Tumbleweed Tom on the Texas Trail, is a perfect fit for this lesson!
We took one day to learn about the Alamo and showcase our state footwear, small mammal, insect, and flower in a fabulous Alamo foldable.
To say that the students were proud of their work is an understatement!
We also learned more about our Texas flag by comparing it to the U.S. flag that we know and love.
This flag activity is a freebie! You can get it by clicking the cover below! It will take you to Cheryl's store! Be sure to follow her and leave feedback!
We ended our week with the Tastes of Texas when we indulged in frito pie, grapefruit, and Dr. Pepper! You better believe I was called the best teacher ever more than once when I handed them a sip of soda during class. Thanks Cheryl!!!
Thursday evening we had our First Grade Program which was All About Texas!
If you are a Texas teacher and want these activities plus many more I didn't even show you, you have to check out Cheryl's new store!
Texas Trinkets is the integrated unit with many activities all about Texas
Symbols of Texas is the Texas Symbols slide show and student booklet
You can get both of these units for a bundled discount if you purchase the Texas Duet!
Happy trails to you and your students!