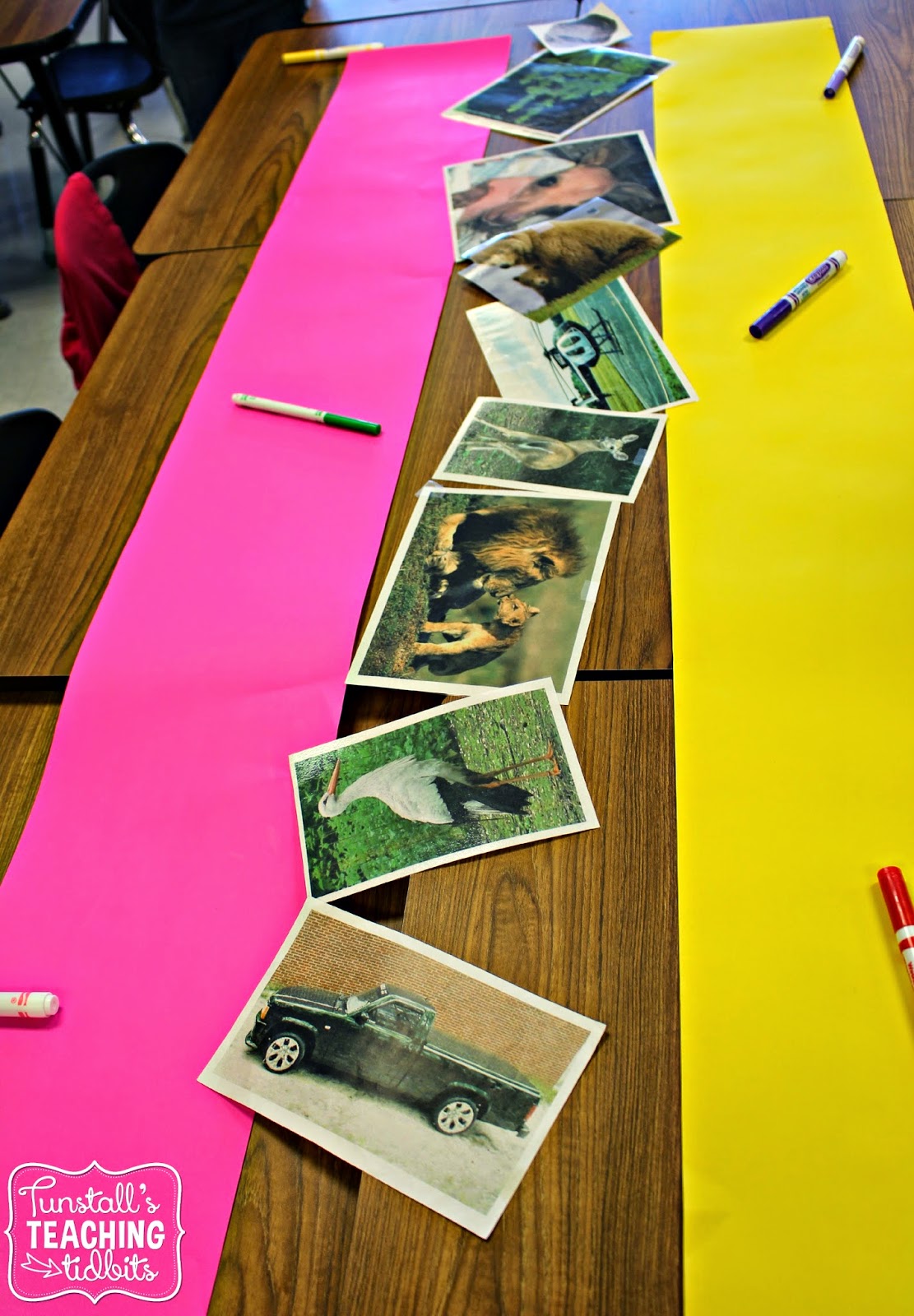 This time of year we can capitalize on our student's independence, understanding, and academic maturity! With all that greatness comes a little too much familiarity of routine for some. We are always on the search for new and exciting ways to infuse novelty into our daily routine! Here are some ways to get students actively learning in writing, science, and math!
One of my all time favorite ways to get students interested in a new topic is to conduct a museum walk. If you've been reading this blog awhile, you may have heard me share about it before. The idea is that I set out pictures or artifacts about our new topic of study.
This time, I set out pictures of living things and non-living things. I don't tell students much except that they will museum walk around the room while the music is playing. (Hands behind back and no talking) When the music stops they can stop at any table and use any marker to write a statement and a question about a picture of choice.
Most students start looking for connections or a reason all of these particular pictures are out together. Some just enjoy it and write what they see without any further thought, but all of them are engaged in the task and responsible for participating in their own way!
Interactive writing is such a powerful way for students to communicate and learn from each other. Students still refer to things that classmates wrote because they remember being a part of the process together.
Our next step was to realize that some of the items on the tables were living things and some of the items were non-living. This discovery happens naturally and causes a bit of buzz. Students that didn't initially make the connection start thinking about what they saw and confirming if this is true.
We take it further by writing what makes something a living thing.
My students were stuck at first after naming only one trait of living things. We watched a short video and then all hands were up and the kids were begging to get in on the writing.
Next I introduced our living and non-living interactive book. My students cheered because it has been awhile since we have done one of these. The last one we did was our interactive weather book in January!
Underneath the human's needs picture one little sweetie simply wrote, "sleep". It's rough returning from spring break! We were all ready to take a nap!
In the world of math we are always excited about hands on or game style activities. These two activities are just what the mathematicians ordered to get students up and excited about solving addition and subtraction problems!
This game in the picture below is called chip clip. I have a stack of "bags of chips" with both addition and subtraction on them. I also have 4 chip clips with the sums and differences. Students race the timer to take a bag of chips and solve by placing it under the chip clip that has the correct answer. I mix not only addition and subtraction, but easy and difficulty.
What I love about this activity is that you can watch what strategies your students naturally use to solve the math problems.
Best. Thinkers. Ever.
After students finish racing the timer and declare their victory, we
check the answers. When an entire stack was correct we clipped it to
the answer. This comes from my picnic pals unit.
Another game just like this one in simplicity and fun is from my MATH STICKS unit. It is called Popsicle stick!
I wrote a variety of addition and subtraction problems on sticks and students had to race the timer to solve. They place the popsicle stick on the correct mat like a finished ice cream. They begged to do this game over and over! It will definitely be going in a math tub next week!
What fun things do you use to keep your students excited and actively learning?