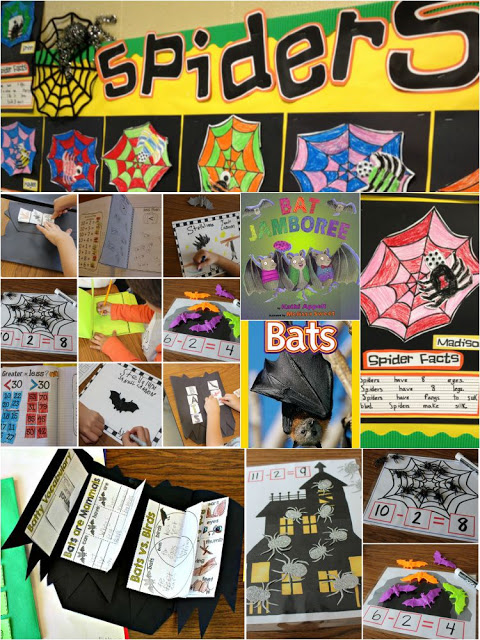 There is no shortage of novelty themes in October! It can also be a little overwhelming at times to choose what is best for meeting the standards while having a blast too! Here are some ideas for incorporating spiders and bats into your learning! (For pumpkins read this post)
First up, creepy crawly spiders! I love motivating writing with arts and crafts. Writing facts is a terrific way to encourage stretching sounds. Students are pumped about what they know and want to show you on paper! The materials used for this project are sharpies, oil pastels, and a zillion googly eyes. 🙂
Spider math centers make independent practice way more fun than a worksheet! Just add some fun seasonal poms, spiders, and bats to make those little dendrites hum with happiness!
Review of addition and skip counting thanks to spiders!!!
Use these links to grab some goodies for your studies on amazon!
If you didn't catch my post on this little interactive spider book packed with spider science and writing check it out here.
Now to bats! I can't help but start with the art and writing fun!
This watercolor project
Every year we enjoyed Stellaluna by Janell Cannon and we completed a week long book study.
click the book to find it on amazon
It's kind of a big deal! It is simple enough that my first graders can do it in October. In the picture below students are working hard I place one of the little bats on their table and that just makes life the best.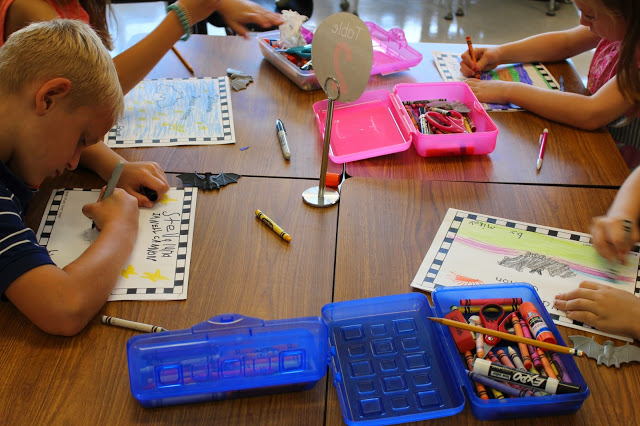 There are 4 activities to do with the book and then a grading rubric that I stapled to the packet for their scores. Oh the excitement.
Students also get to see bats in their math centers of course!
Last year I took the exciting science, vocab, and writing connections we make and turned them into a bat book bursting with activities!
Here are some non fiction bat books that that create fantastic lessons during this time!
click the covers to find them on amazon
I love these fiction bat books too!
click the covers to find them on amazon
October can be a long and tiring month for teachers! I hope this can provide some excitement while filling up those empty places in your lesson plans! 🙂