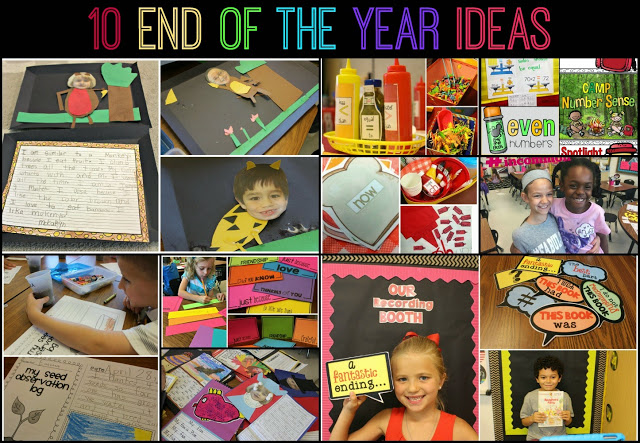 It's the end of the year as we know it. Not only is motivation at an all time low for students, teachers feel like we don't have much left to cover!
We have covered all the required information for the year, now what!?!
Here's 10 tips to help close out the year #likeaboss.
10. Remember those fun props and manipulatives that went away after their designated week/month? Bring them back out and incorporate them into what you are capable of doing now!
9. Try a themed unit that you wanted to try earlier in the year, but were too under pressure by other pressing objectives to try! Give your whole day a focus and bring the what are we going to do today happiness back into your schedule! I am about to launch into a big camping theme in my room! We will be using my Camp Number Sense unit and Cara's Camping Capers!
Another complete theme with LOTS of free ideas!
8. Take time to play fun classroom games! For six free and easy games to play with your students,click the picture! Can you guess what these girls had in common?
7. Let's take this outside! Outside
Learning Hunt
Grab your whiteboards and pencils and head outside! Plant 10 learning activities around the school grounds and then take some time to hunt for learning! I placed 10 activities in plastic sleeves. Upon discovery, either hand each student a little half sheet to complete or have students write in their own notebooks at each station! I will post my 10 questions for my class once I get them uploaded! 😉 I am also thinking this would be a terrific monthly activity for next year!
6. Plant and plant again! Have you planted seeds yet this year? Try some experimenting this time around! Plant one in cotton balls, dip a potato half way into a clear jar with water. watch what happens. Try comparing two different types of seeds and record differences and similarities! It's great for inspiring writing and for critical thinking!
5. Dive into book studies! Find an author that you can explore! Create portfolios (folded construction paper) with reading responses and illustration inspired crafts!
My Favorite authors/series to study
Leo Lionni
Eric Carle
Tomie DePaola
4. Bring out the colored paper! Get your students excited to work with bright and fun materials! (we love Astrobrights paper) Spruce up your writing supplies with a couple new sets of colored pencils or skinny markers even! Give them a little freedom and extra privileges!
3. Use their little faces! I make multiple print outs and sizes of their cute little faces. We use them in our writing and crafts. It adds ownership and perspective!
2. Student led learning (with technology!)
Have students respond to reading by creating an oral book review!
iPad Book Reviews Unit
Rubber snakes at Walmart for $1
Not cool with snakes? How about precious little puppies? See what we did HERE.
I hope this has helped spur on some ideas! Have a great idea too!?! I would love for you to share in the comments!