Guided Math in First Grade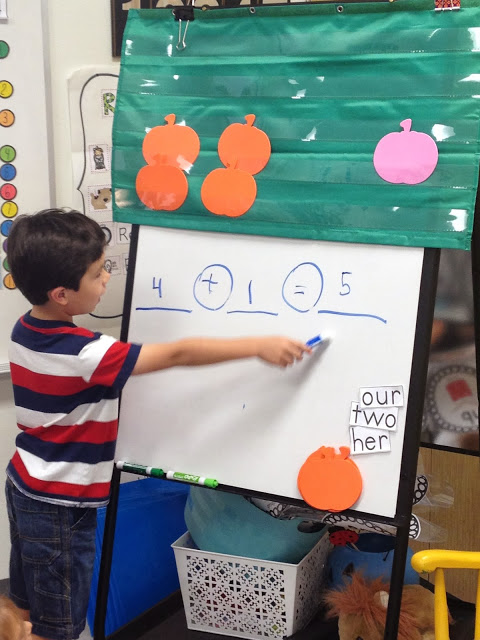 I am hoping this post will help answer some questions I have been asked lately. But let me set us all straight because I am not an expert outside of my own little classroom. This is what works for me this year plain and simple!
The breakdown of our math lessons goes as follows:
10 Minute Math Meeting (warm-up) (whole group)
This varies daily, but the general idea is that students take out whiteboards and we work on a couple spiraled questions in test taking format. To see more about this click here
Math Mini Lesson (whole group)
This is the targeted skill of the day/week. We will do a mini lesson together as a class.
This was a lesson on related facts and using symbols to represent our math thinking. We took a set of objects and wrote both an addition and subtraction sentence to represent what was happening.
My itty bitty math focus wall holds the essential question, big idea, and some teaching visuals which help keep me on track for the week. (Visuals from A Teacher's Math Resource)
If you are looking for a system for math rotations I use STACK! It's been a lifesaver for me! More about STACK.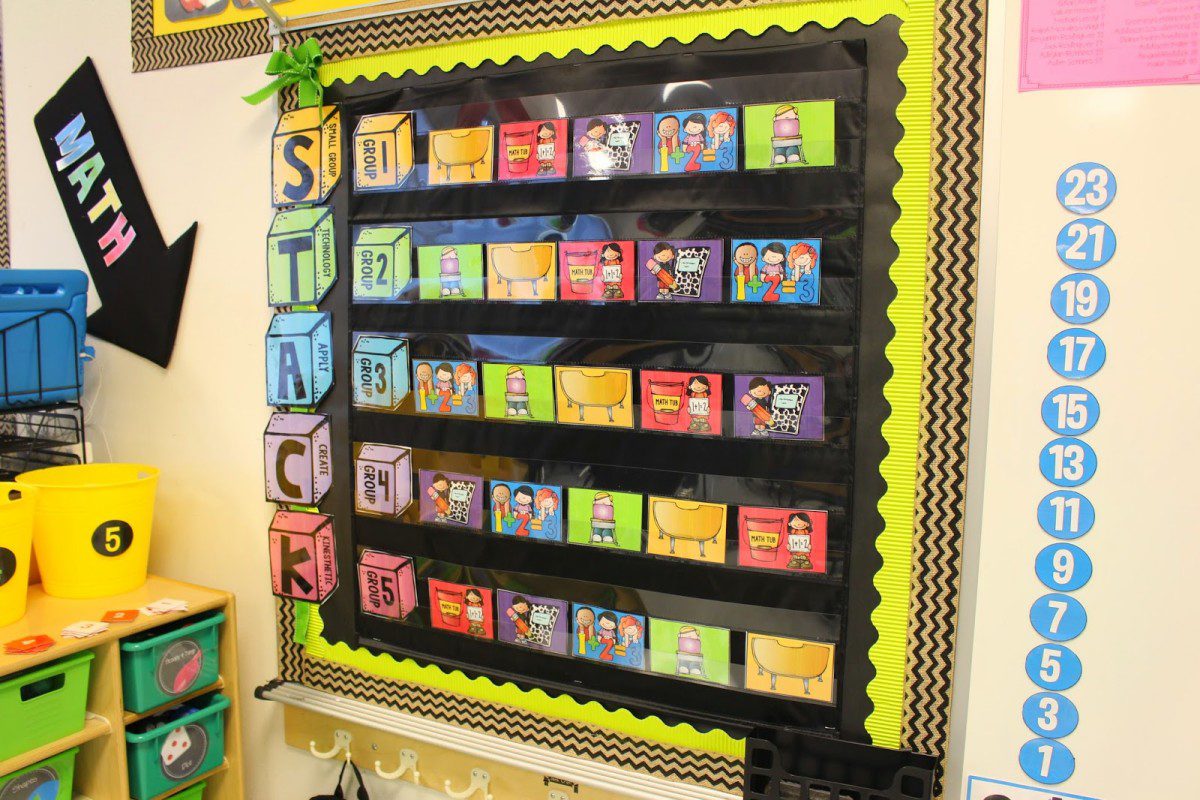 Math journal
Math journal is either a journal entry that corresponds to our lesson, or a skill practice page that addresses what we are learning in our lesson. Whether or not the independent practice activity will go in the journal, it is still considered journal time.
Here's what our math journals look like:
Before beginning guided math stations, every student gets the journal activity either passed out to their desk waiting for them to get to journal, or it is something I have placed on the Elmo that they are to solve and show work for, respond to, or explain for critical writing. That way when it is their journal time there are no "I need the paper" issues. They already have what they need on their desks.
(Pictured journal activities come from Plenty of Pumpkins or Nutty about Numbers link below in post)
To help stay on top of checking their work I have them bring their journal to my table when they come for their guided math. I do this once or twice a week depending on how independent they may be with a concept. For a post just about math journals click the picture below.
One helpful hint I have is that I don't let students go to the next station (math tubs follows journals on purpose) until they finish journal. This way I ensure the independent practice gets done. They are highly motivated to go to a math tub, so they work hard to finish during the allotted time.
MATH TUBS
I
keep 5 math tubs out in our math area. One for each day of the week. I fill them with seasonal independent activities. It is a favorite time for my students!
These tubs sit on top of this shelf of manipulatives which makes it very easy to change them out or grab something that is needed by either myself or a student. I also keep an objective there by the tubs to show their purpose in our math block. If you need math tubs, I have math centers for every month of the school year in my TPT store.
Here are a couple examples of activities students have been doing in math tubs with a partner
Pictured tubs came from
Math with Technology
Our math with technology station is on the computers. My students go to Johnnies Math Page and play a specific game that matches the skill of the week. This was a place value game a couple weeks ago. I love Johnnies Math Page because it is free and it has many different games that have the same skill set. My students really enjoy the games and they are skill centered. Another site I use is illuminations ten frame.
This isn't the best picture, but you can see a computer group in action below.
TEACHER TABLE
When kids come to my table for guided math, it's my chance to really see how they are grasping the concept and to talk with them about the learning.
Ipod/Ipad
We found 5 old Itouch devices or old Iphones and turned it into an app station one year.
I added this one later in the year. Mostly because my groups were large and my two groups of 6 were causing each area to be crowded and troublesome. This allowed me to have groups of 5 and 4 which made a world of difference. The apps we currently use are TeachMe1st Grade and the Subitize Tree. My class is obsessed with both! 🙂 If you don't have access to technology, another idea is to have another round of math tubs. It isn't ideal, but it will allow you to spread them out more in the room.
Logistics
My math stations are only 10 minutes long each.
Our guided math rotations are set to a timer and a chime goes off when it is time to rotate
The students will see the next set of rotations on the projector (or wall) and clean up then move.
I hope this crazy long post brings some clarification to your math block. After you get your students (and yourself) it will be your favorite part of the day! If you want to see more resources just click below.