Managing the Guided Math Materials Mayhem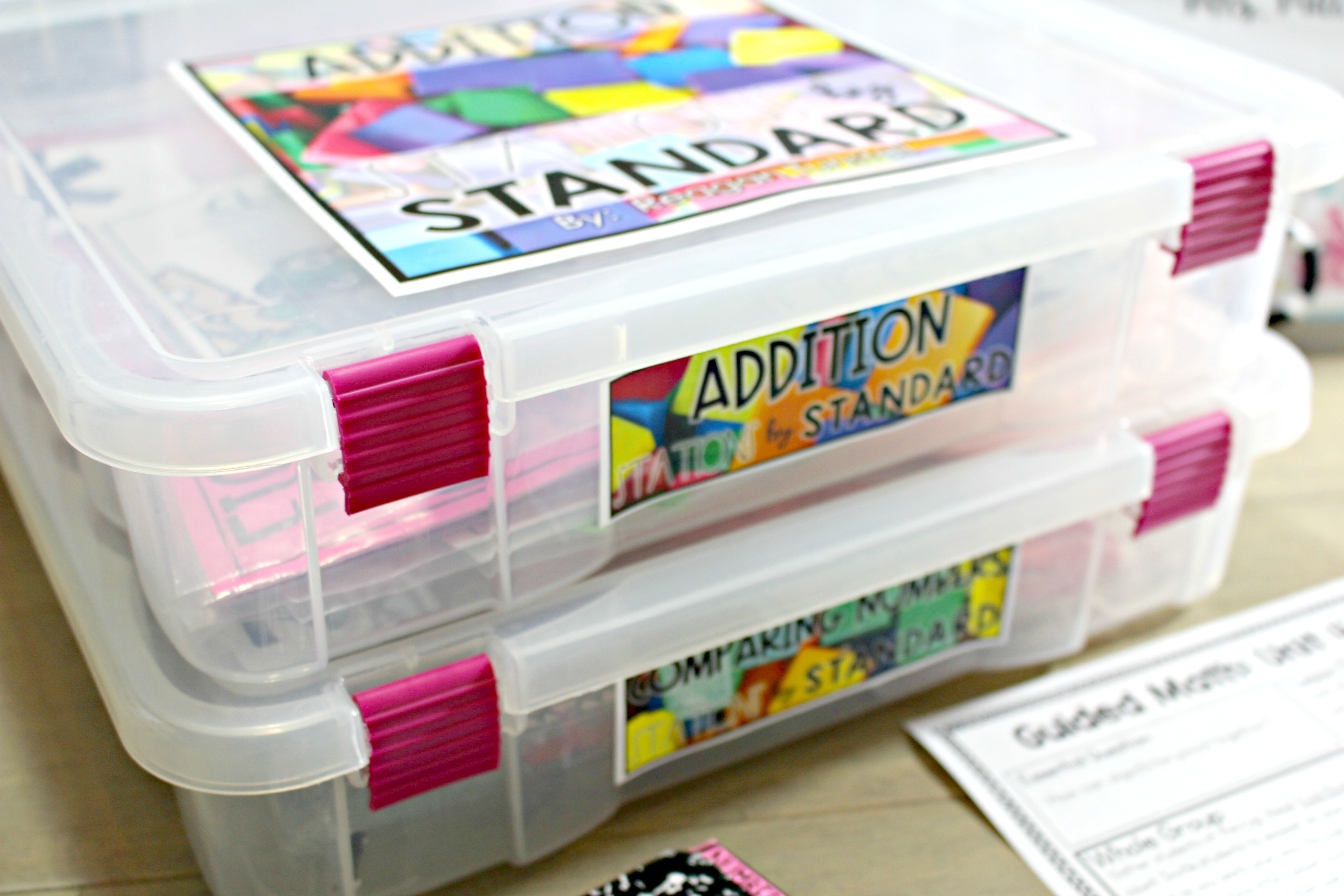 I frequently get asked about the organization and management of materials for guided math.  One of the biggest mountains to climb when implementing guided math is having the right materials and managing them weekly. Managing the guided math materials mayhem can help us be calm and ready to teach!  Let's dig in!
The Guided Math Teacher Binder
First up, I am excited to share a new organizational tool to help with 4 distinct parts of guided math!  This guided math binder keeps track of planning, anecdotal notes, RTI, progress monitoring, and documentation, as well as student and group tracking!  Whew!  let's peek inside this resource that can be used for any grade level.  There are a variety of pages for every section so you can find the right fit for your needs.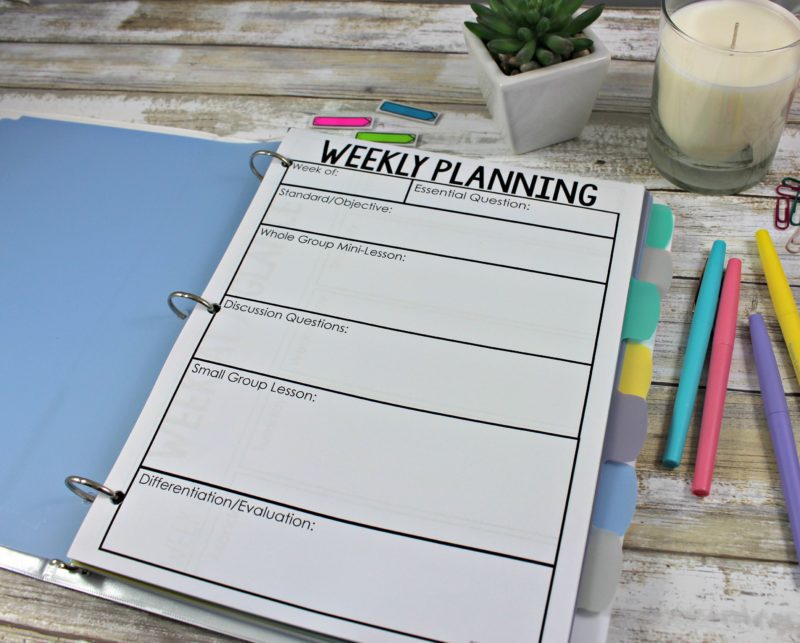 You can write in the binder or you can use the Power Point version to type into the binder.  We all have our own preference.  For me, I like to write in my anecdotal notes as they are happening, but I like the clean typed look for lesson plans.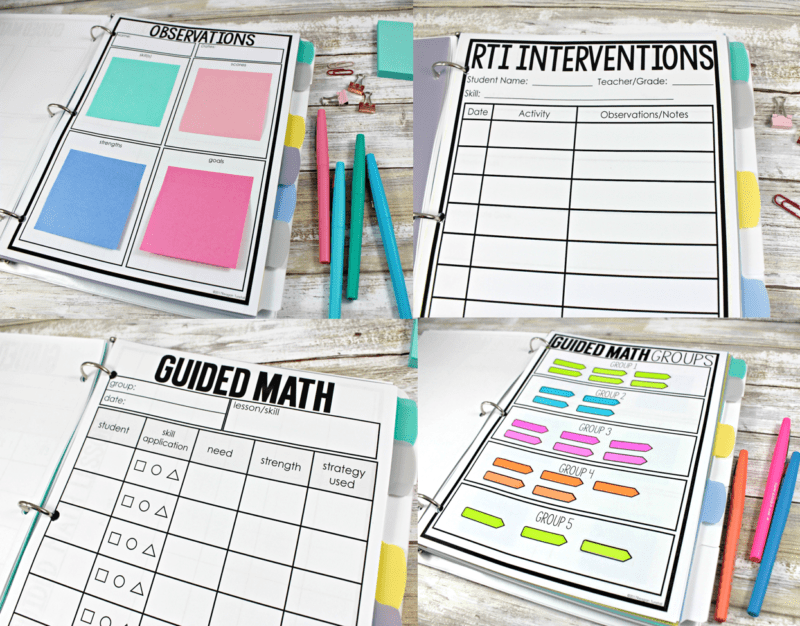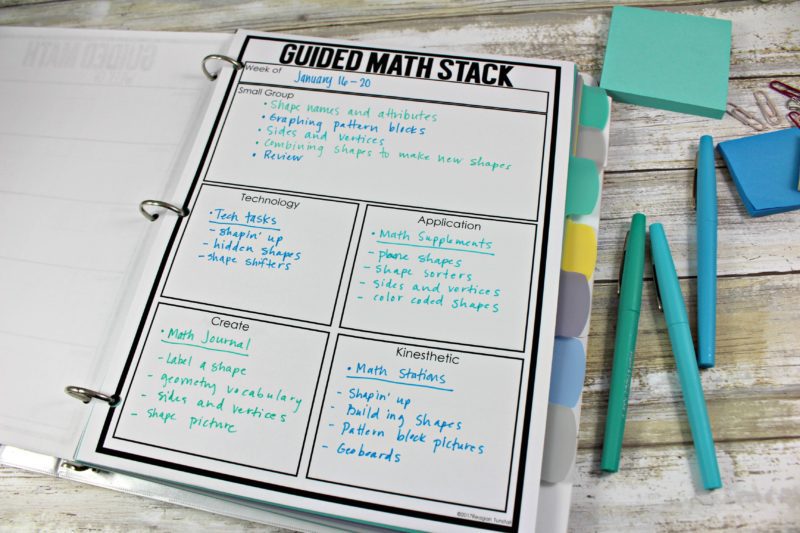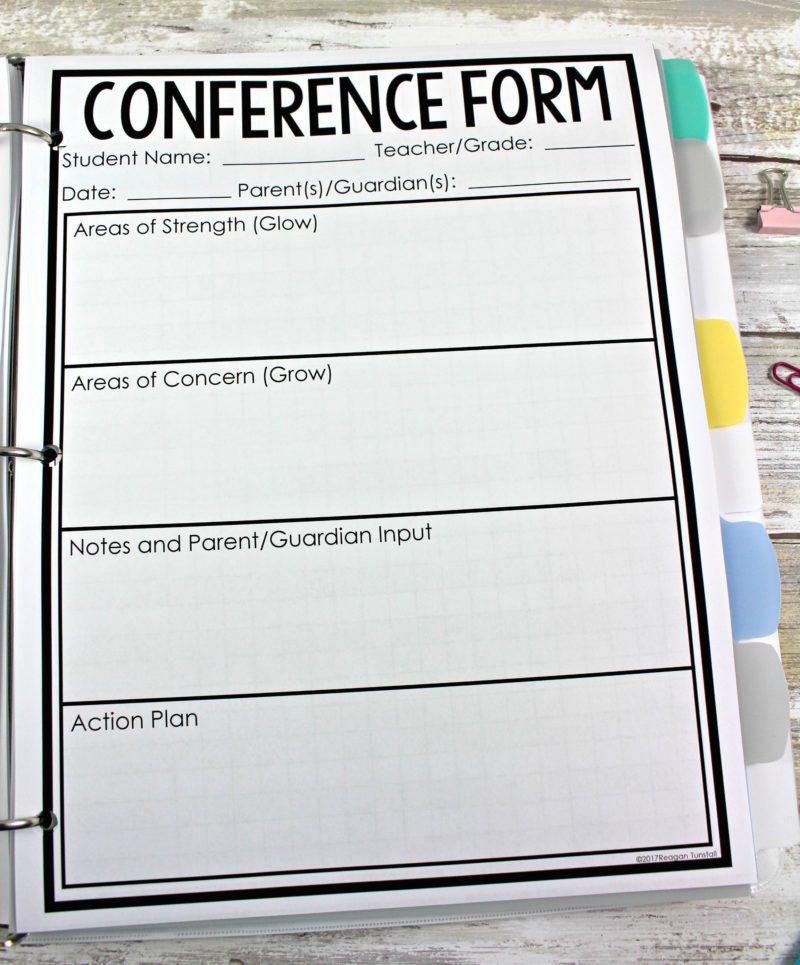 In the download, I share some some ways to take anecdotal notes using both a rubric 1-4 and a shape code.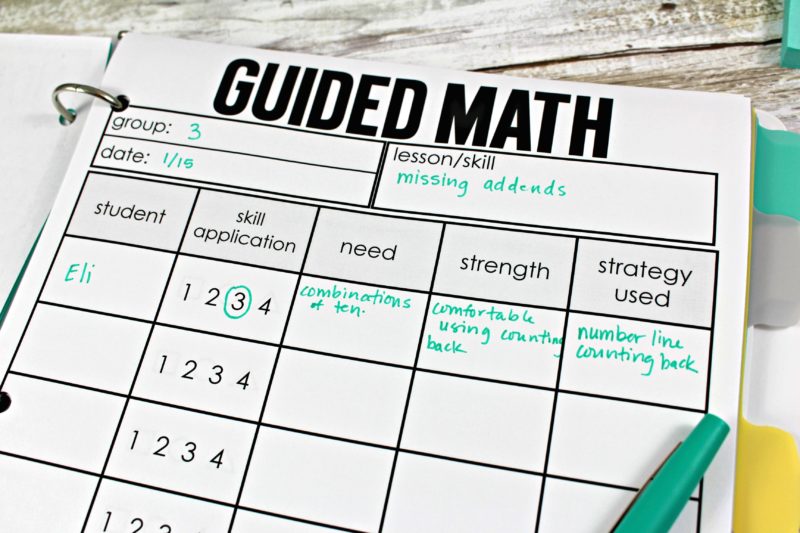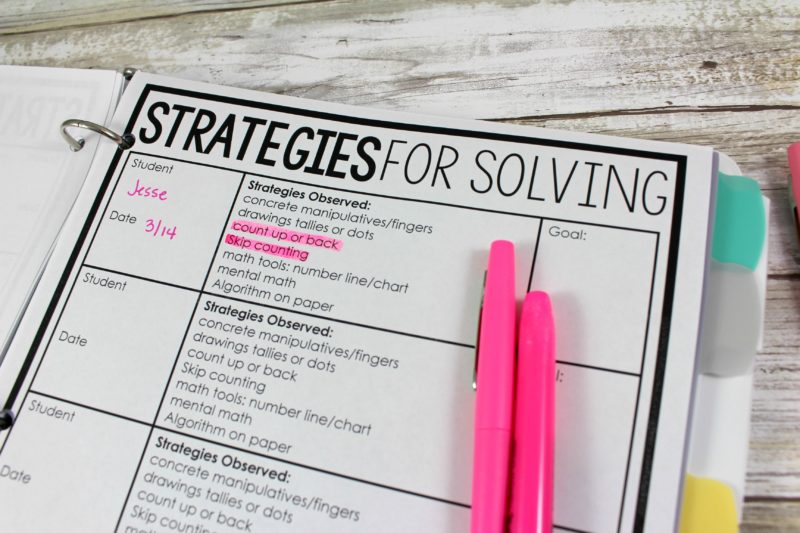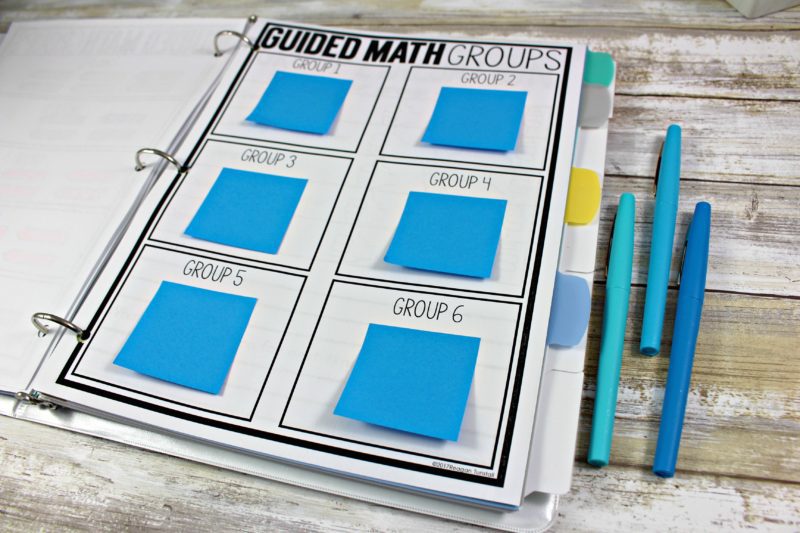 Perhaps the best part is picking out the cover style that you like best!  It's those little perks that make planning more fun!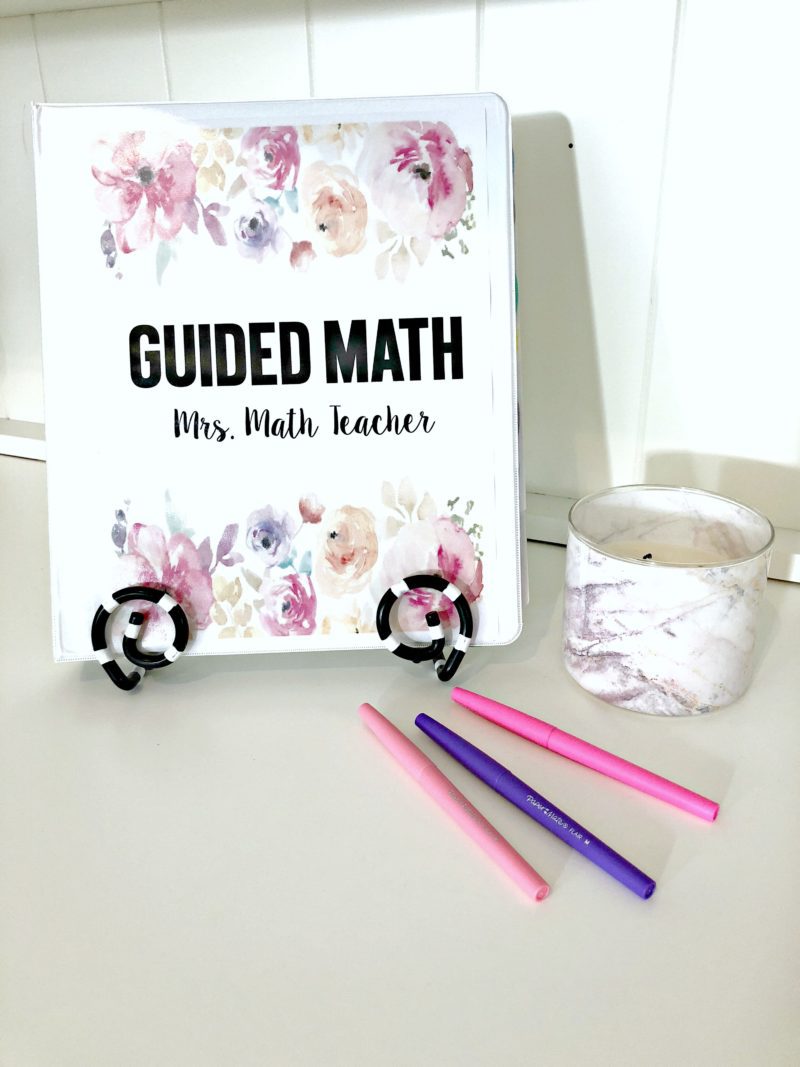 Guided Math Lessons and Centers Grades K-4
I suppose now that we know what we will teach, we need to prepare for the materials in the lessons!  GAH… At first this is a daunting task, but once the time has been invested, math becomes magnificent.  We can grab and teach with engaging activities every day!  I am going to share materials for K-4 in this next section.
Here's a peek at a day of kindergarten guided math.  We've got our addition lesson about ducks for whole group and small group and we have prepared math workstations and a math journal activity.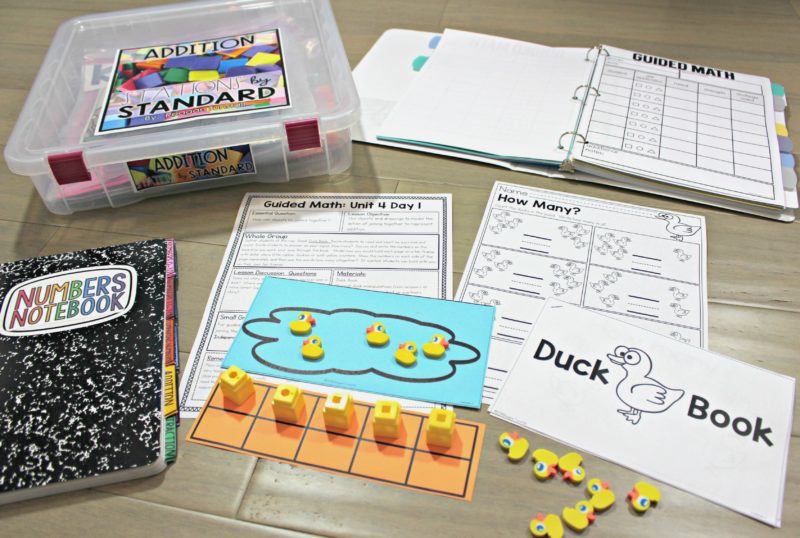 I like to put my station activities in gallon size clear baggies and then in these 12 x 12 tubs.  The labels are free and correspond with the stations by standard line of products. If you are in need,  I have math centers for all grade levels K-4.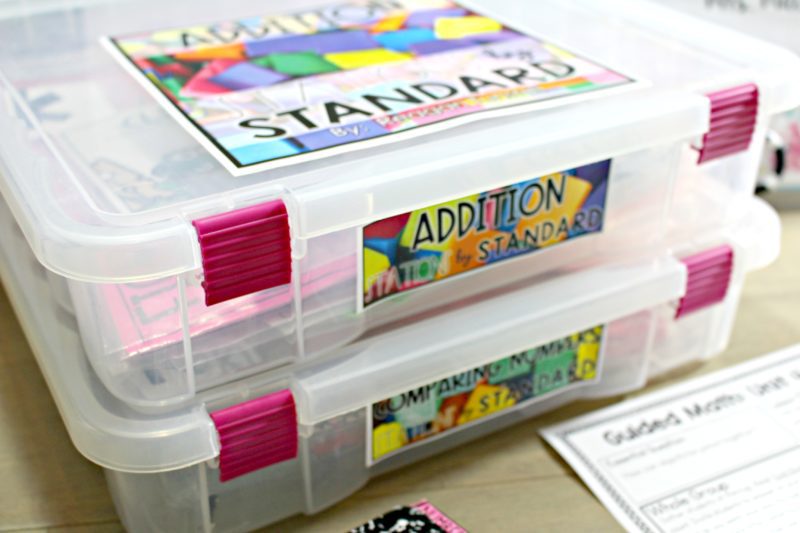 Free Labels K-4
Kindergarten Spine Labels        Kindergarten Station Labels
First Grade Spine Labels        First Grade Station Labels
Second Grade Spine Labels        Second Grade Station Labels
Third Grade Spine Labels        Third Grade Station Labels
Fourth Grade Spine Labels       Fourth Grade Station Labels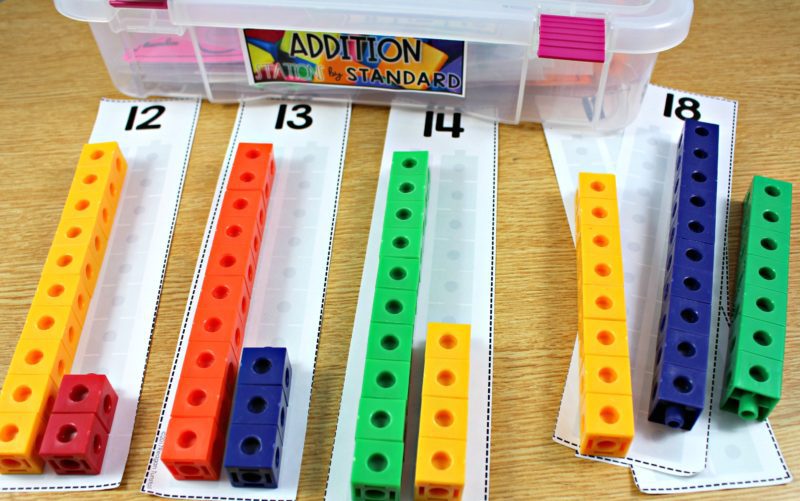 Kindergarten Math Materials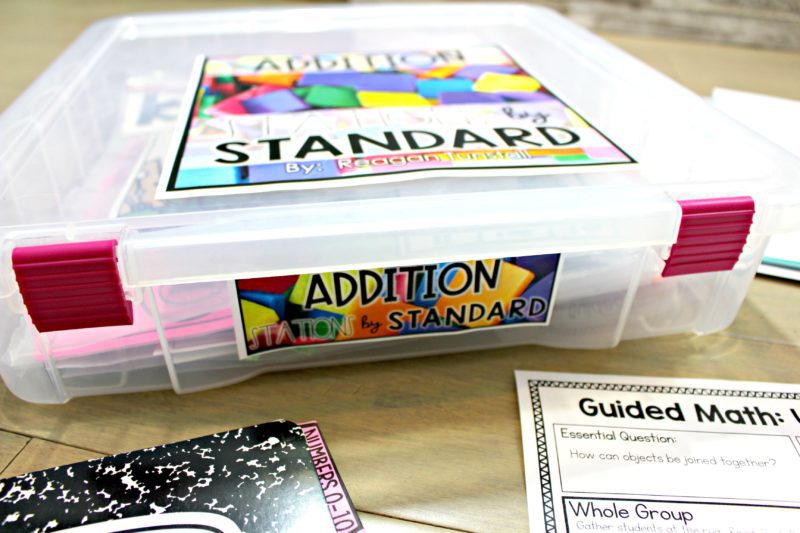 Here's a first grade day of guided math.  The guided math mini-lesson done whole group, and then the small group task cards.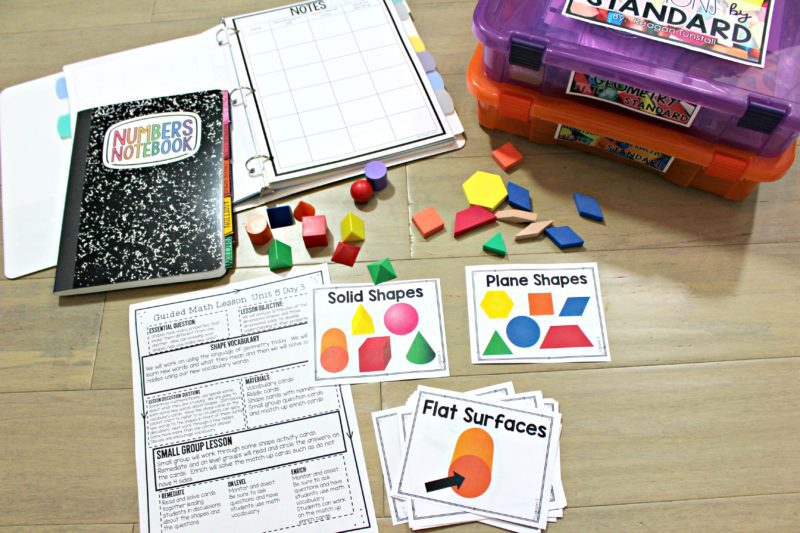 Workstations for students to do around the room.  Check!  Ready to go!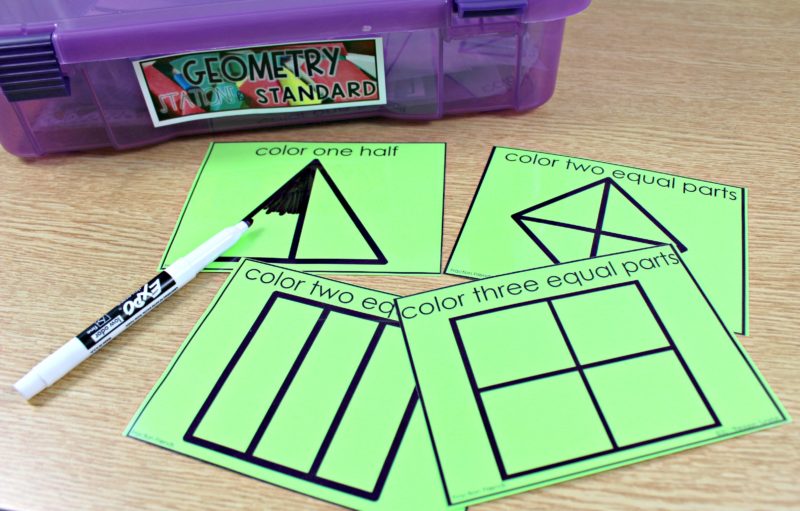 First Grade Materials
This second grade multiplication lesson below has students using write and wipe cards.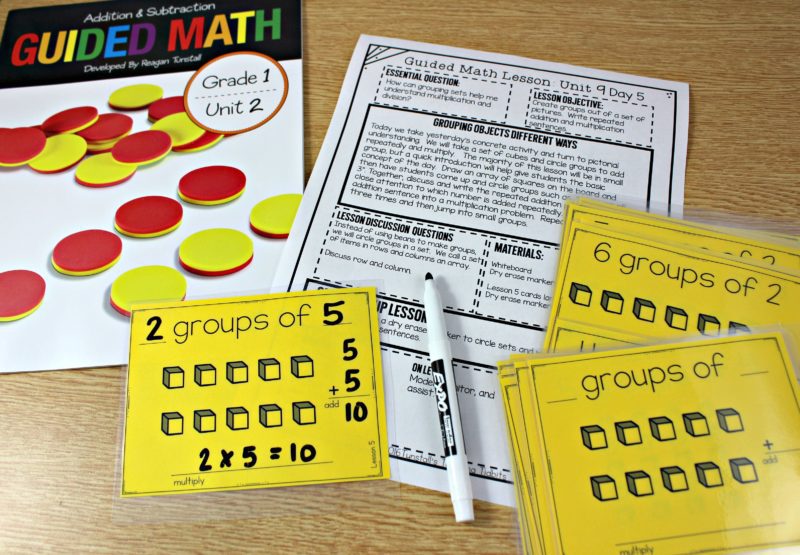 Here's my money stations for second grade.  Let's peek inside!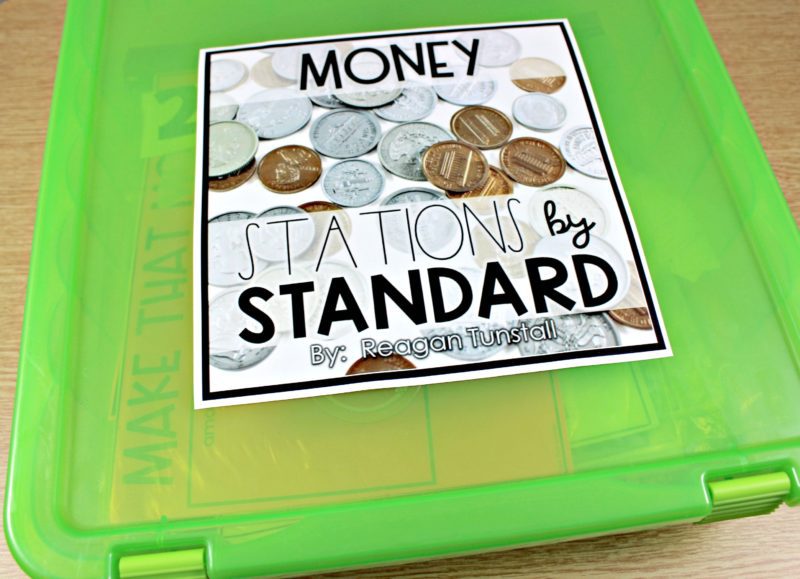 I like the size of these tubs because they accommodate full size baggies and keep everything orderly.  Plus I can fit manipulatives or the guided math lessons binder right in the same tub.  I put the grade level sticker in the corner of the baggies because I prep every grade level.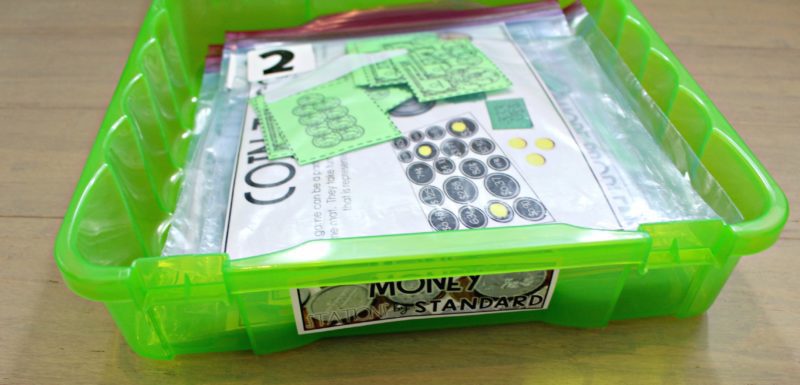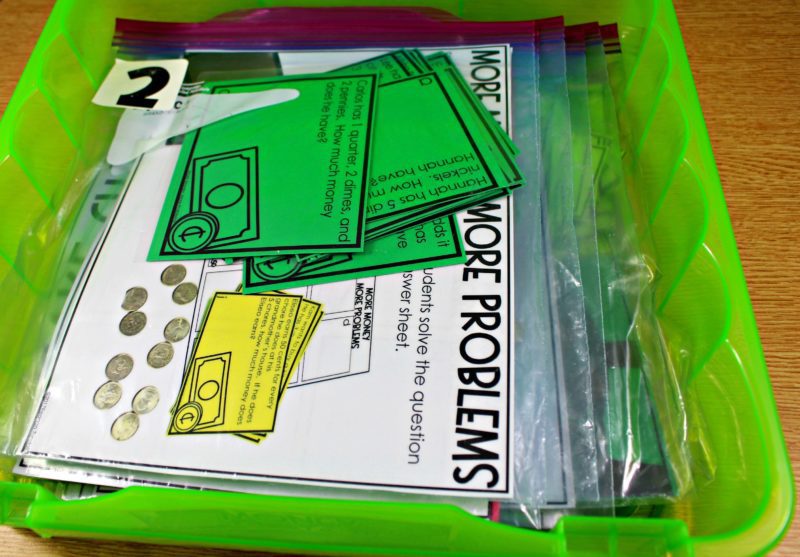 Second Grade Materials
2nd Guided Math Lessons Bundle
When we get to third grade, I tend to use the binder more for storing the lessons.  I still use the tubs for the station games.  The free binder spines and centers labels are also available for third and fourth.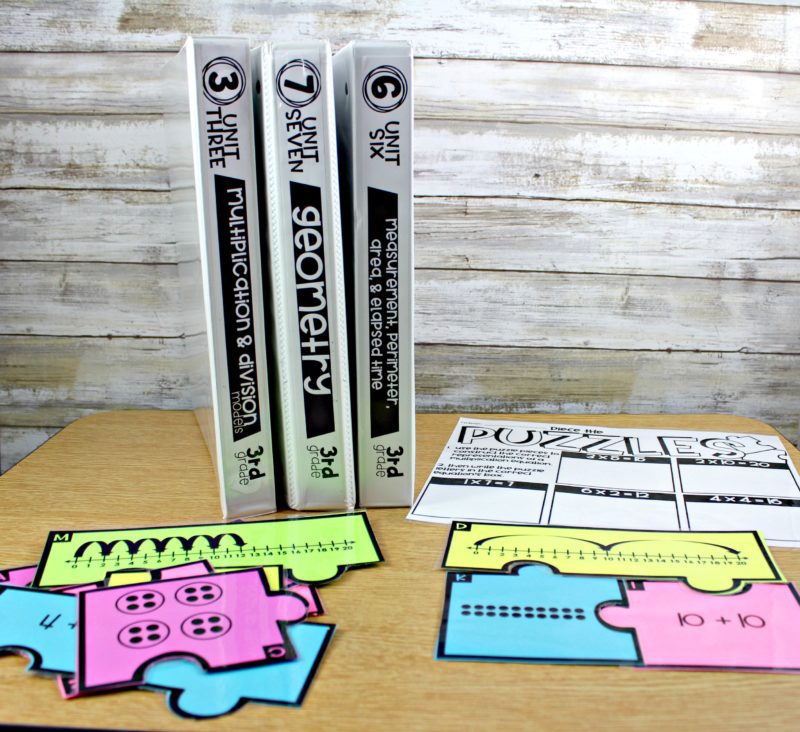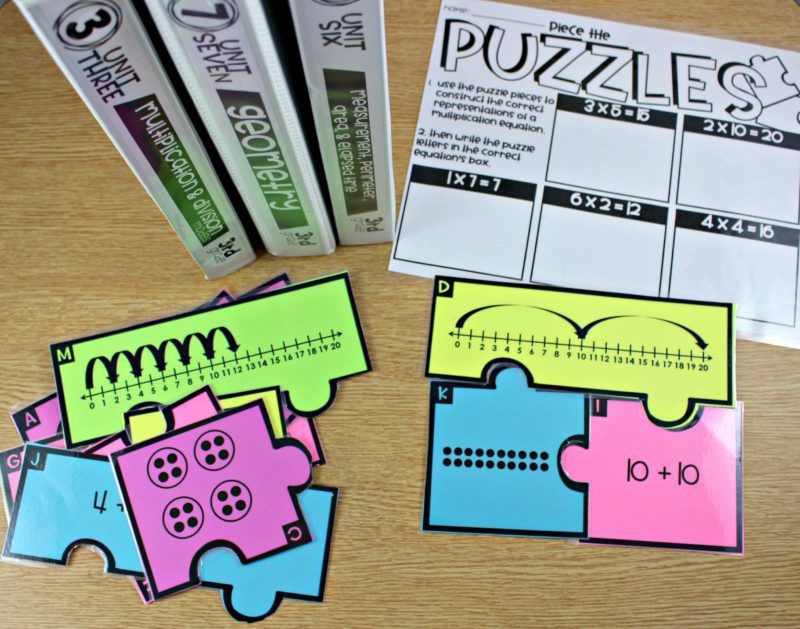 The third and fourth grade guided math lessons incorporate more paper based work, but also allow for lots of hands on understanding.  This lesson below is on elapsed time.  Students are taking notes in their math journal for the whole group portion of the lesson. (Teacher key included) Next they will work through the strategy in small group with the teacher to try out the strategy themselves!  In a math rotation, they can do a math journal activity to practice the strategy in the journal for application.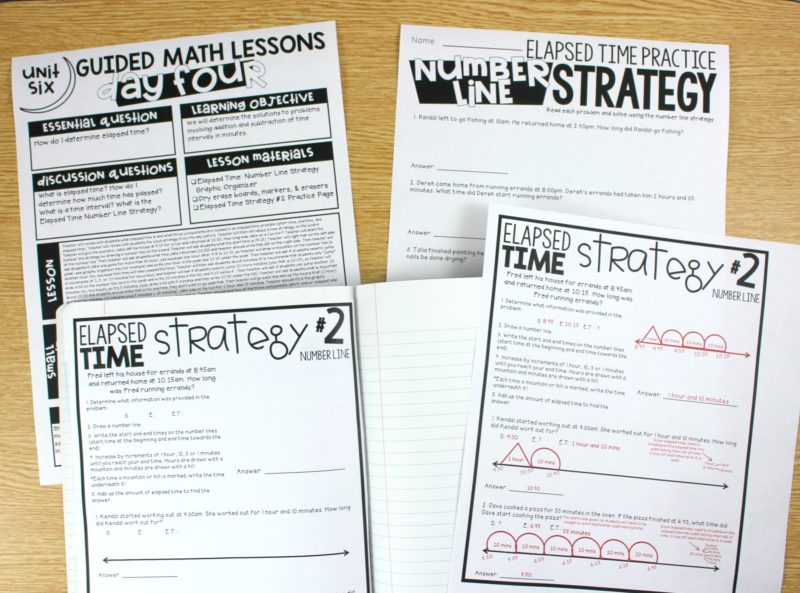 Third Grade Materials
3rd Guided Math Lessons Bundle
Third and fourth grade levels also begin each day of math with a POTD- problem of the day!  This spiral review builds through the different lessons and makes a great record of learning.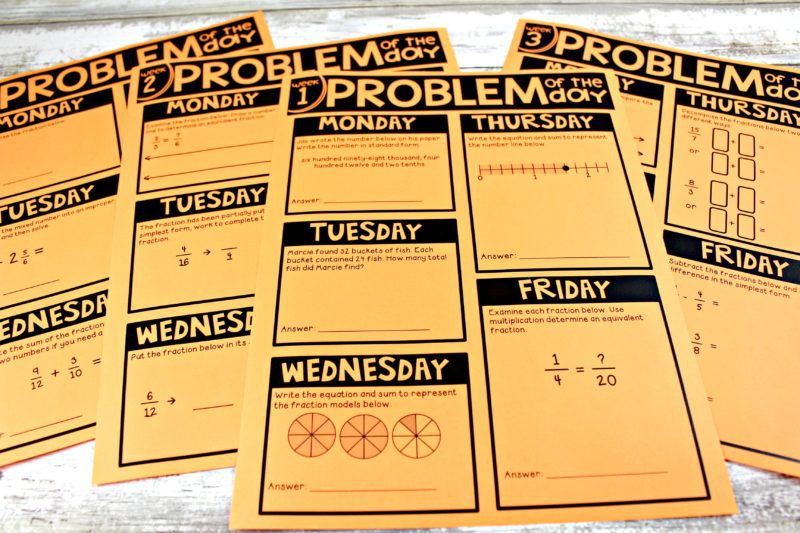 4th grade fractions have never been so fun!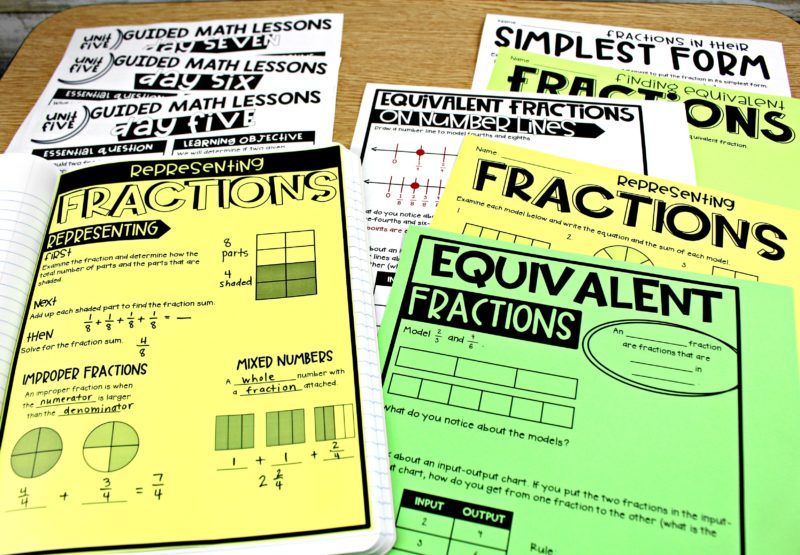 There are a year of 4th grade centers to match the guided math lessons!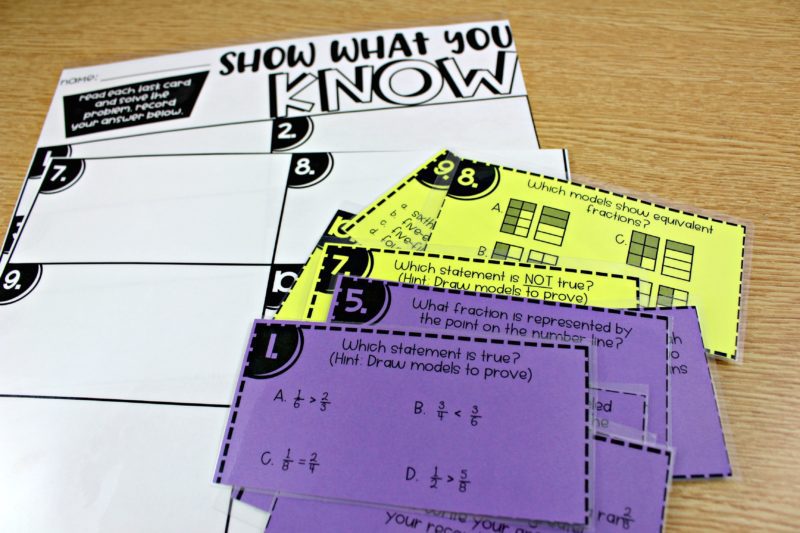 4th Grade Guided Math Materials