Spelling and Phonics – Step by Step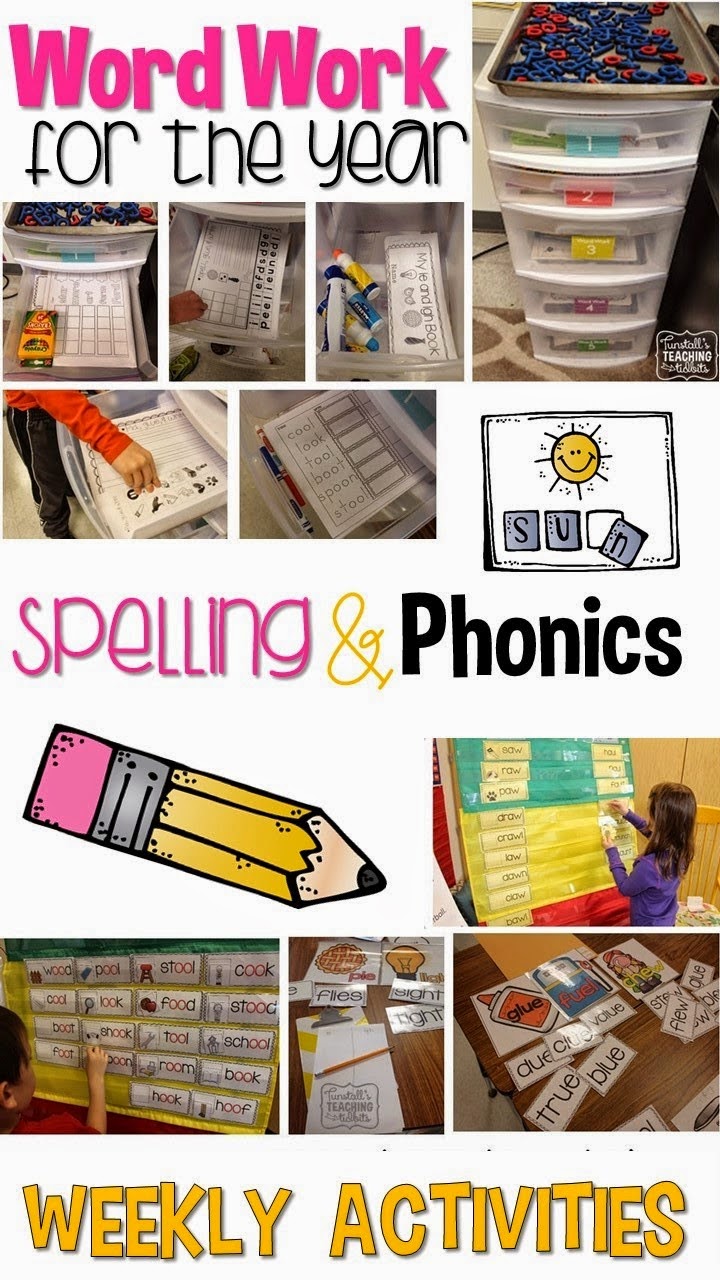 Here's what works for us!
First up on Friday afternoon I stock this 5 drawer unit with the activities for the following week. This is a picture from last year. This year, the unit is black with the days of the week going down the drawers. Honestly, it didn't make a difference! The students know to work down the drawers-one per day.
Now I'll break down each drawer and what they do!
On Monday, students practice the new pattern of the week. For the first half of the year this is a read and match activity. Students read and words and match a picture to the words. This is the most effective way to be sure they are actually decoding the words rather than just sorting by a pattern without reading the actual word. Also, this has become a mini-vocabulary time too because many times there are unfamiliar words in each pattern.
During the second half of the year students become so great at this that I change it up and have them sort and record the words. They like to draw a little visual of each picture because they are so used to that format by this time!
On Tuesday, students will build, color, and write their words. This helps the kinesthetic learners as well as the visual learners to see the pattern. Students must color to match the letters. This helps them distinguish vowels from consonants.
On Wednesday, students are ready to trace write and match their words. This is a big favorite because I keep skinny markers in this drawer and students are allowed to do the tracing part with marker. #joy Later in the year, this turns into build and write which is a bit more difficult but very effective!
Next up, dabber books! Students look at a picture and choose the correct spelling out of three spellings. They write it and then dab it. These are big favorites because of the fun factor. I like them because they have to read all three words to know which is the correct spelling. I am strict on the handwriting so it's good practice for them!
Friday, students take a picture and write a sentence using the spelling word depicted in the picture. This is a perfect culmination of our week! If you need grades, this is a great one.
Here's an example of our short i week.
Here's a snippet from our very beginning week of short a. Because we do the same type of activities each week, students are independent. The first week I sat with them and we decoded and matched together. Now they do not want my help at all! 🙂 #success
All of the drawer activities for the year can be found in one bundled packet. It has 25 weeks worth of phonics and it is still growing! It is almost half the price of buying each individual packet. I recently added the last of the blends as well as double final consonants.
Some questions I have received….


What do you do with the students that finish quickly!?!


My students get their sight word/word wall practice in when they finish the drawer activities.
We use these packets.
What about students that can't keep up with the weekly pacing and begin to be overwhelmed by each new pattern and each new week?
This was a big concern of mine for so many years. Development is not one size fits all! Some students need countless repetitions and exposure to internalize these sound spelling patterns. Because of this, I created flipping for phonics flip books!
Students beg to keep them in their book boxes.
Every product in this post is on sale as a thank you for all the positive feedback and interactions! It sure makes my day! Have a great week!